Bombardier Challenger 600 / 601 / 604 / 605 Charter: Rent the long-established Heavy Jet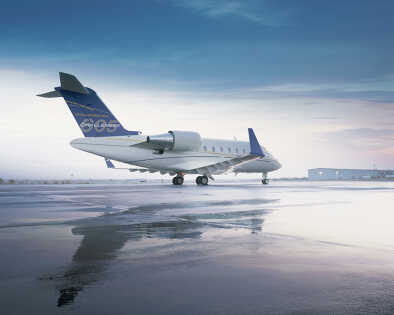 Canadair began financing the development of the LearStar 600 as early as the end of 1975 and then purchased the design for a widebody business jet in the spring of 1976. The program was also supported by the Canadian government at the time.
After Bill Lear's departure, the jet was renamed Challenger 600 in March 1977. In the same year, the conventional tail unit was replaced by a T-tail unit. The first prototype was unveiled on May 25, 1978, and made its maiden flight on November 8. Transport Canada granted certification to the CL-600 on August 10, 1980.
The CL-600 platform underwent continuous development: in 1995, the Challenger 604 was introduced as a comprehensive improvement on the Challenger 601. It was equipped with more powerful engines and a larger fuel tank. In addition, its wings and tail unit were structurally improved. Ten years later, in 2005, the Challenger 605 was introduced with innovative avionics and a modernized fuselage. Ten years later, in 2015, the Challenger 650 followed, the - as of 2023 - current model of the popular series.
The 500th Challenger aircraft was delivered in May 2000, and the 1000th was delivered some 15 years later in December 2015. The majority of the delivered models remain in service.
Source: Wikipedia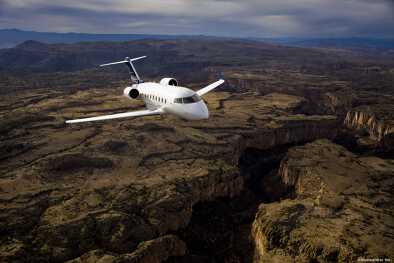 Advantages of a Bombardier Challenger 600 / 601 / 604 / 605 as a rental aircraft:
Extra-wide aircraft cabin: The Challenger 605's extra-wide cabin allows passengers to stretch out and relax on long flights. In addition, the spacious cabin allows for increased productivity by providing more room to work without feeling cramped. The cabin also offers ample space for entertainment with state-of-the-art technical equipment easily accessible in the spacious aircraft cabin.

Reliable performance: In addition to its impressive speed and range, reliable performance is a key advantage of the jet. The aircraft systems have been consistently tested and developed over more than 25 years of operation. In addition, the robust systems and engines are based on a proven airframe that is continuously tested.

Advanced cockpit functionalities: One benefit of the Bombardier Challenger 600's advanced cockpit features is the enhanced situational awareness available to the pilot. Furthermore, the aircraft is equipped with a synthetic vision system that displays a 3D representation of the terrain on the cockpit screens. This enables better navigation in poor visibility conditions, such as fog or darkness.

Super comfortable: The spacious interior offers plenty of room to make yourself comfortable on long flights. The comfortable seats exude a sense of luxury. Soundproofing ensures a quiet and relaxing atmosphere for all travelers. Overall, the super-comfortable cabin of the Challenger 600 is a great benefit for those seeking a first-class flying experience.

Popular bestseller: The Challenger 600 series is not only a popular bestseller, but also a sought-after charter option. Thanks to its reputation for reliability and comfort, it's little wonder that the Challenger is equally popular with pilots, owners and charter customers. The aircraft's high prevalence also means that there is a large supply available for charter. Even finding and booking a flight on this luxury model at short notice should therefore be possible for many popular travel destinations.
Disadvantages of a Bombardier Challenger 600 / 601 / 604 / 605 as a rental aircraft: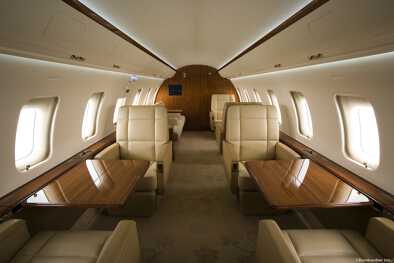 No longer in production: A possible disadvantage of chartering a Challenger 600 or 605 could be that it is no longer in the current portfolio of the Canadian aircraft manufacturer. This means that it is not equipped with all the cutting-edge features, nor will it benefit from future innovations. This factor should be weighed against specific travel needs and preferences.

Limited short-haul capability: The Challenger 600 has the advantages of a heavy jet but is not the most suitable or efficient option for short-haul flights. Because of its size and weight, it is not as maneuverable and has higher fuel burn than smaller and lighter alternatives.
The bottom line is that the Challenger 600/605 offers first-class value for private business travel: It combines its spacious, comfortable cabin with a long range. It allows nonstop flights to many popular destinations around the world. In addition, these long-serving aircraft are considered very safe and are equipped with the latest technology. Overall, chartering a Challenger 600 or 605 is an excellent option for travelers seeking a luxurious and reliable private jet experience.
If a Challenger is not available, there are attractive alternatives: The Dassault Falcon 2000LXS, Gulfstream's G280 and Embraer's Praetor 600 are the three main competitors to the mighty Challenger jet: the Falcon 2000LXS offers a spacious cabin and a long range, making it a good option for longer trips in particular. Gulfstream's G280 stands out for its high speed and advanced technology. It is the first choice for tech-savvy business travelers who value minimizing flight time. The Embraer Praetor 600 offers both luxurious comfort and efficient performance. The private jets of the Brazilian aircraft manufacturer are particularly appreciated by design-loving aesthetes. Due to their comparable performance characteristics and a similar size, all three jets are serious alternatives for a planned trip in the Challenger 600 or 605.
Aircraft data / Technical data (variant Challenger 605)
| | |
| --- | --- |
| Aircraft category | Large-Cabin Business Jet |
| Manufacturer | Bombardier Aviation (formerly Bombardier Aerospace) |
| Model | Challenger 605 |
| Number of units produced | 288 |
| Production period | 2006 - 2015 |
| Engine | 2 x General Electric CF34-3B Turbofans |
| Price | $26.7 million (list price at launch) |
| Crew | 2 Pilots |
| Toilet | 1 x rear |
Performance
| | |
| --- | --- |
| Take-off route | 1.780 m |
| Landing distance | 846 m |
| Maximum speed | 870 km/h |
| Range | 7.408 km |
| Maximum flight altitude | 12.497 m |
Capacity
| | |
| --- | --- |
| Passenger capacity | 13 |
| Maximum payload with full tank | 588,76 kg |
| Capacity of the most common rental variant | 12 |
Cabin
| | |
| --- | --- |
| Cabin volume | 32,6 m³ |
| Cabin (length x width x height) | 8,61 m x 2,49 m x 1,85 m |
Source: Bombardier
Frequently Asked Questions (FAQ)
How much does a Bombardier Challenger 600 / 605 Business Jet cost?
A Bombardier Challenger 600 family business jet costs between $1 million for a used model of the original Challenger 600 and $32.4 million for a new Challenger 650. Current sales data shows that a Bombardier Challenger 605 costs between $11 million for a 2007 model and $15 million for a 2015 model. An older 1983 Challenger 601-1A model costs about $1.3 million
How far can a Bombardier Challenger 605 / 600 jet fly?
The original Challenger 600 is a large business jet capable of flying up to 5,500 kilometers at a speed of 850 kilometers per hour. The newer Challenger 605 has a range of eight flight hours and around 7,400 kilometers. It can accommodate up to 12 passengers.
How does the Bombardier Challenger 605 differ from the Challenger 650?
The Challenger 650 is the latest version of Bombardier's popular Challenger 605 business jet. It features improved engines, a redesigned cabin and increased passenger capacity. Compared to its predecessor, the business jet has 5 percent more takeoff thrust and manages with a shorter takeoff field length. More modern, larger galley equipment allows for more efficient food preparation. Comparable to the Challenger 650, it is equipped with the more modern Pro Line 21 Advanced avionics system from Rockwell Collins.
How many Bombardier Challenger 600 aircraft have been sold so far?
The General Aviation Manufacturers Association (GAMA) has been publishing sales figures for business jets since 1996. The sales figures for the Challenger 600 series include the 601, 604, 605 and 650 models. Starting in 2020, the Challenger 300 and Challenger 350 models are also included. In total, 853 of the series have been sold since 1996. According to the manufacturer, the 1000th jet since the series was launched was delivered in December 2015. If we add the number of aircraft sold since 2016 according to the official statistics, we arrive at 1,157 business jets of the series sold by the end of 2021.
Source: Gama Aero
Who owns a Challenger 600?
Famous U.S. personalities such as Christian writer Joyce Meyer and actor John Travolta own a private jet from the popular Challenger 600 (CL-600) family. Meyer owns the original Challenger 600 model, according to media reports, while Travolta, who was also a long-time brand ambassador for Bombardier's fleet of business jets, owns the more modern Challenger 601. Nigerian billionaire and father of musician Davido Dr. Deji Adeleke recently added a Challenger 605 to his fleet.