Dassault Falcon 2000LXS Charter: Rent the French Large Jet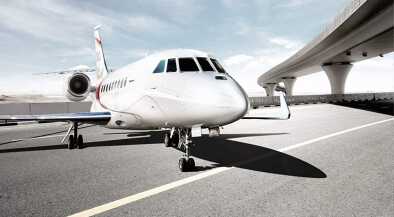 Dassault began developing the Falcon 2000 in 1989 to complement its portfolio of business jets. The goal was to build an efficient large aircraft that would live up to Dassault's reputation for excellence. The original Falcon 2000, which entered series production in 1994, was built as a smaller, twin-engine alternative to the three-engine Falcon 900.
In 2003, Dassault replaced the engines to achieve a longer range with comparable fuel consumption. The new model was called the 2000EX. The following year, the Falcon 2000EX EASy was developed, equipped with a new avionics suite. Pilots benefited from this innovation, thereby improving situational awareness in the cockpit with a reduced workload when flying.
In 2009, Dassault made an apparent adjustment with the addition of Aviation Partners' so-called blended winglets. Combined with other innovations, the 2000LX variant improved the fuel capacity, range, and climb rate of the now established large jet.
In 2013, the first examples of the Falcon 2000S were delivered. Most notable was its improved runway performance: It managed a significantly shorter takeoff and landing runway than its predecessors. The fuel tank volume was also reduced, shortening its range by around 900 kilometers.
Also in 2013, the aircraft manufacturers also began production of the Falcon 2000LXS, which combined the best performance features of the 2000LX with those of the 2000S. The LXS offers the runway capabilities of the S model, but also does not sacrifice the long range of the 2000LX.
Due to its excellent range, a modified version of the 2000LXS is also to be used as a maritime reconnaissance aircraft by the French Navy under the name Albatros. Deliveries of the jets, some of which will be manufactured in India, are scheduled to begin in 2025.
Advantages of a Falcon 2000LXS as a rental aircraft: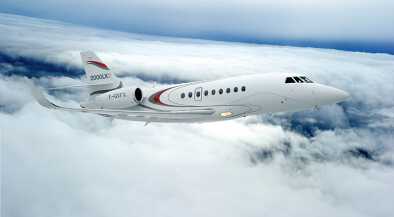 Transatlantic range: With a range of 7410 kilometers, the Falcon 2000LXS allows comfortable travel from Europe to transatlantic destinations. Direct flights from Geneva, Frankfurt, or London City to the east coast of the United States are possible, as are private flights to Mumbai in India. Thanks to its improved short-haul performance compared to previous models, travelers also have access to smaller airports such as departure or destination airports.
Powerful performance: In terms of performance, the French aircraft builders can benefit from their experience in building fighter aircraft. For example, the connection of the wings to the fuselage was taken directly from the Dessau military aircraft and is considered unique in the industry. Inside the luxury aircraft, it makes its performance felt through smooth and controlled flight behavior even at high speed or in light turbulence
Sophisticated cabin configuration: The cabin of the state-of-the-art business jet is equipped with the latest entertainment systems. It features a quiet, spacious, and modern cabin that can accommodate up to 10 passengers. The Falcon 2000LXS is typically equipped with two cabin zones for either productivity or in-flight entertainment value. The cabin ambiance combines professionalism and exclusivity with coziness and comfort.
Short field takeoff and landing option: The modern jet has the ability to reach short and difficult runways that other jets avoid. One example is the short landing field at La Môle Airport in St. Tropez. Passengers benefit from a shortened overall travel time by covering a greater proportion of the distance in the fastest and most direct mode of transport.
Global spread: Around 90 Falcon 2000LXS business jets are currently in operation worldwide: around 70 percent of them have their home base in North America and close to 30 percent in Europe. Especially for travel between Western Europe and the East Coast of the USA, acceptable availability of the large Falcon rental aircraft can be assumed.
Disadvantages of a Falcon 2000LXS as a rental aircraft:
High acquisition costs: With a new price of around 35 million U.S. dollars, the popular Dassault Large Jet is no bargain. Even for used models, buyers still have to dig comparatively deep into their pockets: a five-year-old Falcon costs around 65 percent of its new price. However, the rental costs are at least slightly cushioned by efficient consumption and lower operating costs.
Comparatively low penetration: With around 90 models sold, there is no guarantee that a suitable jet will be within reach at all times and in all places. The chances are better with technically and capacity-wise comparable alternatives: Both the Bombardier Challenger 650 and the G280 from Gulfstream are in circulation in larger numbers.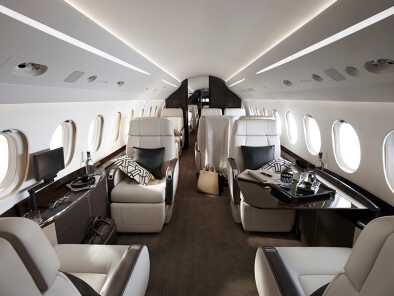 Overall, the decision to rent a Falcon 2000LXS is an excellent choice, especially for longer trips with multiple passengers. The long history of the Falcon series, with 7 civil variants, has allowed Dassault to continuously optimize the luxury jet without saying goodbye to long-standing proven features. Since its introduction, more than 600 aircraft of the series are in service.
With its transcontinental range, excellent short-haul performance, and luxurious cabin, the Falcon comes into its own, especially on long or long-distance flights. The interior of the French private jet is spacious, stylish, luxurious, and quiet. For travel to destinations less than 6000 kilometers away, the Dassault Falcon 2000S could be considered a comparable alternative with a shorter range.
The enthusiasm for the high-performance business jet is also shared by the industry press: in 2016, it was nominated by the renowned Rob Report in the "Best of the Best: Business Jets" category.
Aircraft data / Technical data
| | |
| --- | --- |
| Manufacturer | Dassault Aviation |
| Model | 2000LXS |
| Number of pieces produced | 96 |
| Production Period | Since 2013 |
| Engine | 2 x Pratt & Whitney PW308C |
| Price | Starting from 35.100.000 USD |
| Crew | 1 Pilot, 1 Co-Pilot |
| Toilet | 1 (back) |
| Aircraft category | Large Jet |
Performance
| | |
| --- | --- |
| Take-off route | 1.425 m |
| Landing distance | 689 m |
| Maximum speed | 685 km/h (Mach 0,862) |
| Range | 7.410 km |
| Maximale flight altitude | 14.326 m |
Capacity
| | |
| --- | --- |
| Passenger capacity | 10 |
| Maximum payload with full tank | 721 kg |
| Capacity of the most common rental variant | 10 |
Cabin
| | |
| --- | --- |
| Cabin volumen | 29 m³ |
| Cabin (length x width x height) | 7,98 m x 2,34 m x 1,88 m |
Frequently Asked Questions (FAQ)
How much does a Falcon 2000LXS cost?
The average price for a used Dassault Falcon 2000LXS is around $23.8 million. The new price according to the list of basic equipment is currently 35.1 million US dollars.
Who owns a Falcon 2000LXS?
Mainly because of its size, the Falcon 2000LXS is often not the first choice when it comes to private individuals acquiring a private jet. It is known that the Indian manager Ratan Tata owns a copy of the spacious luxury jet. The midsize jet, on the other hand, is extremely popular with government agencies. Owners include the defense ministries or police forces of France (air & space forces), Japan (coast guard), South Korea (air force), and Thailand (police).
How does the Falcon 2000LXS differ from the Bombardier Challenger 650?
The Falcon 2000LXS and the Challenger 650 are very similar in many respects: both aircraft have comparable range, acquisition costs, and cabin dimensions. In terms of cruising speed, the Challenger 650 is just ahead. However, the higher performance is also reflected in fuel consumption: the Challenger burns around 15% more fuel per hour. In terms of luggage capacity, the Falcon scores again, offering around half a cubic meter more space for luggage. All in all, however, both models are excellent travel options in the super-midsize jet segment.
How many Falcon 2000LXS jets have been sold so far?
A total of 96 Falcon 2000LXS have been produced to date. If you also count the predecessor models of the Falcon 2000 series, you get a total of 607 sold.
Which airports can be served by a Falcon 2000LXS?
The Falcon 2000LXS is characterized by its excellent short-haul performance. That's why it lands at smaller airports such as London City, Geneva, Lugano, or La Môle Saint-Tropez just as reliably as at major commercial airports.