Gulfstream G650 Charter: Rent the leading business private jet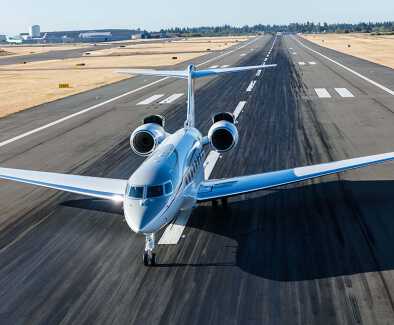 Advantages of a Gulfstream G650 as a rental aircraf
Long range: The G650 takes travellers to even the most distant destinations. In private jet style, it is not limited to international mass airports. The G650 also lands comfortably at small or remote airports, not least because of its steep approach capability.
Highest speed: The modern Long Range Jet reaches a top speed of 1,133 km/h. Only a few civilian aircraft travel faster. Only a few civil aircraft travel faster. The G650 still holds the speed record for the fastest westbound circumnavigation of the earth in a non-supersonic aircraft. The flight took 41 hours and seven minutes.
Spacious cabin: With a cabin height of 1.91 metres, a width of 2.49 metres and a length of 14.27 metres, the G650 offers much more than a little extra legroom. Depending on the configuration, 19 comfortable seats and 10 berths are available. The cabin can be divided into up to four living areas. It allows enough space to work, eat, enjoy yourself or relax undisturbed.
Pleasant cabin climate: Thanks to a special technology for air circulation, the air in the aircraft cabin is exchanged for fresh air every 2 minutes. A comparatively low cabin pressure in the G650 also facilitates the oxygen supply. Therefore, one can choose to concentrate or relax better during the flight time and reach the destination in a more relaxed manner.
Most popular jet from the industry leader: The G650 is Gulfstream Aerospace's flagship private jet and one of the most sought-after private aircraft in the world. Unique comfort, cutting-edge technology and top performance make air travel an exclusive experience. Those looking for the best of everything will find it in the Gulfstream G650.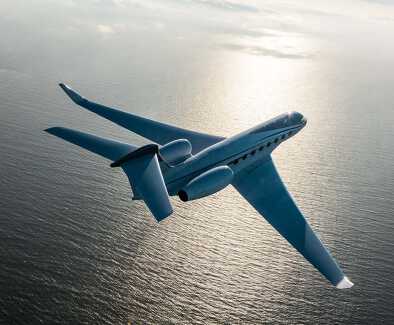 Disadvantages of a Gulfstream G650 as a rental aircraft
Oversized for short routes: The Gulfstream G650 shows its advantages especially on long-haul flights. The high maximum cruising altitude can be a hindrance on short flights. Speed and range are also less important when travelling to closer destinations.
Exclusivity has its price: Who doesn't like to travel like Elon Musk? The popularity of the G650 has resulted in high demand, which is reflected in its availability and price. In the early years, even prospective buyers of the US$65 million business jet complained of waiting times of up to three years before delivery. However, an experienced, well-connected and committed broker will (almost) always succeed in organising a trip in the desired aircraft.
Without question, the G650 is one of the best business jets ever made in all aspects. Even after 13 years on the market, the business jet has not lost its popularity. While competitors from Bombardier and Embraer have caught up with similar models, the G650 is rightly still considered the gold standard in its class. In addition to its dominant market position, regular awards also underline the future viability of the American aircraft manufacturer: in 2014, Gulfstream received the coveted Collier Trophy for the G650, an annual prize awarded by the American National Aeronautic Association (NAA). It honours the greatest advances in the field of aerospace. In 2019, Gulfstream was awarded the Sustainability Leadership Award by the Business Intelligence Group for its initiative to develop a sustainable aviation fuel.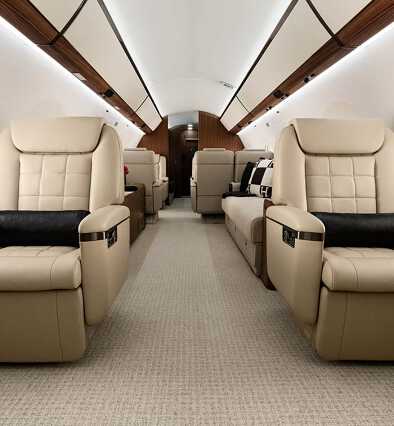 Aircraft data / Technical data
General data
| | |
| --- | --- |
| Aircraft category | Long Range Jet |
| Manufacturer | Gulfstream Aerospace Corporation |
| Model | G650 |
| Number of units produced | 436 (as of: December 2020) |
| Production start | 2008 |
| Engine | 2 x Rolls-Royce BR725 |
| Price | From USD 68,500,000 |
| Crew | 2 pilotsront, 1 x rear) |
| Toilet | 2 (1 x front, 1 x rear) |
Performance
| | |
| --- | --- |
| Take-off route | 1.786 m |
| Landing distance | 970 m |
| Maximum speed | 1.133 km/h |
| Range | 12.964 km |
| Maximum flight altitude | 15.545 m |
Capacity
| | |
| --- | --- |
| Passenger capacity | 19 |
| Maximum payload with full tank | 816 kg |
| Capacity of the most common rental variant | 14 |
Cabin
| | |
| --- | --- |
| Cabin volume | 60,54 m³ |
| Cabin (length x width x height) | 14,27 m x 2,49 m x 1,91 m |
Frequently Asked Questions (FAQ)
How much does a Gulfstream G650 cost?
The price for a fully equipped G650 from Gulfstream Aerospace is 68.5 million US dollars when purchased directly from the manufacturer. The longer-range G650ER, on the other hand, costs 70.5 million US dollars.
Who owns a Gulfstream G650?
The Gulfstream G650 is considered the gold standard of business aviation. It is therefore hardly surprising that the owners of the popular business jet include some top international celebrities: Starting with Tesla boss Elon Musik, to Amazon founder Jeff Bezos and talk show host Oprah Winfrey, to film director Steven Spielberg. They are all proud owners of the spacious luxury jet.
How does the G650 differ from the G650ER?
The main difference between the G650 and the Gulfstream G650ER is the size of the fuel tanks. In March 2014, the G650ER will be announced as an extended range version at the European Business Aviation Convention & Exhibition (EBACE). With a full tank, it will fly about 500 nautical miles (926 kilometres) further.
How many Gulfstream G650s have been sold so far?
As parent company General Dynamics (GD) announced in a public financial results conference call in January 2021, there were 436 G650 aircraft in service at the end of 2020. Gulfstream confirmed continued but slightly declining demand.
Which airports can be served by a G650?
Because the G650 weighs less than 100,000 pounds (about 45 tonnes), the manufacturer says it can land at smaller airports such as Teterboro Airport in New Jersey, near New York City. Frequently congested airports such as John F. Kennedy International Airport (New York) or O'Hare International Airport (Chicago) can thus be avoided. Since 2019, the aircraft family also has FAA certification for steep approach capability, which enables take-off and landing from London City Airport.