Hire an Embraer Phenom 300 / 300E Super Light Jet
In early 2018, the revised Phenom 300E (E for "enhanced") was launched. The high-profile launch had taken place a few months earlier at the NBAA air show in Las Vegas. Several features have been revised in the latest version of the popular jet: From the cabin, which has been made quieter and more spacious, to the cockpit, which supports an even safer flight with additional functions, to the performance, which allows higher cruising speeds. In the words of Embraer Executive Jets CEO Michael Amalfitano: "We've made our industry-leading aircraft even better, faster and safer."
According to the common business jet categorisation, the Phenom 300 is classified in the light jet segment. However, due to its comparatively large cabin, high speed and range, it is also considered a more affordable rental alternative to mid-size jets such as the Citation XL.
Advantages of an Embraer Phenom 300 as a rental aircraft:
High cruising speed on short and medium-haul routes: The Phenom 300 reaches a top speed of 963 km/h, the improved 300E even manages 988 km/h. Up to a maximum distance of 3,689 (300 variant) or 3,723 kilometres (300E variant), up to five passengers can travel faster than with any other single-pilot jet. The previous front-runner, the CJ4, has been replaced by the Phenom 300E.
Low operating costs: The use of modern computer technologies and the single-pilot operation are two reasons for the comparatively low operating costs of the private jet. By using software instead of hardware, there is less wear and tear. Single-pilot operation saves operators the salary of the second pilot. In a comparison of variable costs per hour, it performs much more favourably than many competitors.
Spacious cabin: The Phenom 100 was already celebrated for its wider-than-average cabin. The large Phenom offers travellers a cabin that is 188 centimetres longer at 5.23 metres. Depending on the configuration, there is room for between 8 and 11 passengers.
State-of-the-art cabin interior: The Embraer Phenom 300 was developed with a focus on superior comfort and exceptional ergonomics. The result is a cabin that offers more head, leg and elbow room than the Citation CJ3, for example. The improved 300E also features Lufthansa Technik's modern "nice HD" in-flight entertainment system.
Popular and popular: Without exaggeration, the Phenom 300 can be described as the Brazilian pop star of the skies in the private jet segment. For nine years in a row, it was the world's best-selling light jet. Even as a charter aircraft, it is often preferred over other jets. It is the combination of comfort, performance, exclusivity and reliability that offers passengers the ultimate experience in business aviation.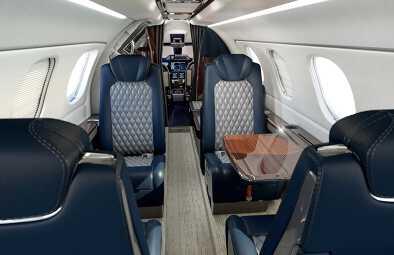 Disadvantages of an Embraer Phenom 300 as a rental aircraft
Range only for short and medium-haul routes: Although the Phenom 300 flies to destinations up to 1,500 kilometres further away than the Phenom 100, even with its maximum range of 3,722 kilometres it is not suitable for intercontinental flights. For journeys between Europe and the east coast of the USA, the Praetor 600 super midsize jet - also from Embraer - could be used.
Unsuitable for unpaved runways: The Phenom 300 is certified to take off and land at comparatively demanding airports - such as Aspen or London City. However, it is not an off-roader: it needs a level and tarred runway. If remote destinations with icy or unpaved runways are to be approached, the Embraer is out of the question. In these cases, Pilatus business jets may be the better choice.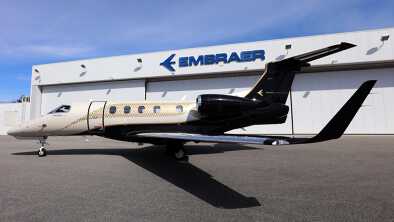 In summary, the Phenom 300 is a first-class private jet for comfortable short- and medium-haul flights between international and regional airports. Its long range for a light jet combined with the option to land on shorter runways make it one of the most flexible business jets in its class. With excellent economics, low operating costs and state-of-the-art technology, travellers feel right at home in the Phenom 300.
Embraer's experience in manufacturing commercial aircraft is also fully reflected in the Phenom 300. Owners particularly appreciate the Brazilians' professional maintenance philosophy. It is therefore hardly surprising that Embraer can count on the loyalty of many customers. Anyone who has experienced the Phenom 300 live will understand why it is the world's best-selling light aircraft.
Independent awards confirm the exclusivity of the Phenom 300 in various aspects: Just a few months after its official launch, the Phenom jet family was awarded the IDEA/Brasil Design Award in 2008, one of the most prestigious design awards in the world. In 2010, deenomr Phenom 300 received the "Editor's Choice 2010" award from Flying Magazine and in 2011 the "Best of the Best Business Jet" award from Robb Report Magazine. In 2020, the 300E won the International Yacht & Aviation Award in the small/medium jet design category for its Bossa Nova interior. Translated with www.DeepL.com/Translator (free version)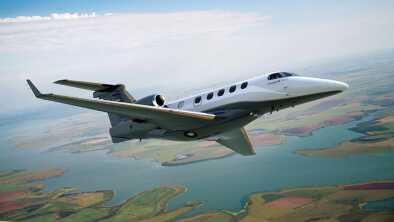 Aircraft data / Technical data
| | |
| --- | --- |
| Aircraft category | Light Jet |
| Manufacturer | Embraer |
| Model | Phenom 300/E |
| Number of units produced | More than 590 (as of December 2020) |
| Production start | 2009 |
| Engine | 2 x Pratt & Whitney PW535E1 |
| Price | From 9.650.000 USD |
| Crew | 1 pilot, 1 co-pilot (optional) |
| Toilet | 1 (rear) |
Performance
| | |
| --- | --- |
| Take-off route | 978 m |
| Landing distance | 674 m |
| Maximum speed | 988 km/h (Mach 0.80) |
| Range | 3.723 km |
| Maximum flight altitude | 13.716 m |
Capacity
| | |
| --- | --- |
| Passenger capacity | 9 |
| Maximum payload with full tank | 629 kg |
| Capacity of the most common rental variant | 7 |
Cabin
| | |
| --- | --- |
| Cabin volume | 9,2 m³ |
| Cabin (length x width x height) | 5,93 m x 1,55 m x 1,50 m |
Frequently Asked Questions (FAQ)
How much does an Embraer Phenom 300 cost?
Used Embraer Phenom 300s are available from around US$5.4 million. The list price of the latest variant 300E is 9.45 million US dollars.
Is the Embraer Phenom 300 certified for single-pilot operation?
Yes, the Phenom 300E is considered the fastest and longest range single-pilot jet. It has a maximum speed of 988 km/h and a range of 3,723 kilometres.
How does the Phenom 300 differ from the Pilatus PC-24?
The Pilatus PC-24 and the Embraer Phenom 300E are two extremely popular business jets. Both are certified for single-pilot operation and have comparable maximum ranges. Thanks to its higher cruising speed, the Phenom gets travellers to their destinations more quickly: it is about 44 km/h faster than the PC-24. A major argument in favour of the Pilatus, on the other hand, is its ability to take off from shorter runways and to land on unpaved, icy and grassy runways.
How many Phenom 300s have been sold so far?
For the ninth consecutive year, Embraer's Phenom 300 series was the world's best-selling light aircraft in 2020. Since its launch in December 2009, the aircraft manufacturer has recorded more than 590 deliveries. In 2020, the Phenom 300 was also the most delivered aircraft model among all twinjets.
Which airports can be served by a Phenom 300?
The Phenom 300 can land at most regional airports in Europe and is particularly popular for short flights between destinations without direct airline connections. The popular twinjet was specifically designed to operate from smaller and challenging airports such as London City and Aspen. Many popular destinations away from the major passenger airports have comparable smaller airports and can be reached comfortably with the Phenom 300.