Hire a Private Jet to Las Vegas
Lunajets is a proud provider of luxury travel charters including private jet hire and helicopter transfers. Serving only the most discerning customers, contact Lunajets for your private jet charter needs.
What Can You Do In Las Vegas?
If you plan to rent a private jet to Las Vegas, you won't be disappointed by the luxury activities on offer.
From driving super cars and shooting experiences to helicopter night flights, there's something for everyone.
Visit SpeedVegas
If you want to embrace the luxury side of life, driving super cars like Lamborghinis, Ferraris and McLarens at SpeedVegas is perfect for you.
The activity offers 60 minutes of unlimited laps around a formula one-inspired track.
Visit Machine Gun Vegas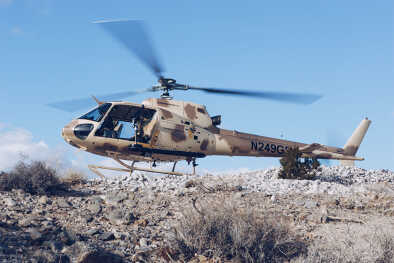 Machine Gun Vegas offers a shooting experience like no other at their Vegas gun range.
Guests to the range are given the opportunity to shoot either a fixed M249 Saw belt-fed machine gun or M60 belt-fed machine gun from the heights of a helicopter ride.
Helicopter Night Flights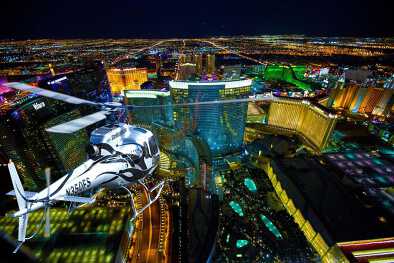 If you'd like to see the bright lights of Las Vegas from the sky, take a VIP sightseeing helicopter trip.
The tour includes pick up and drop off, an in-flight sparkling wine toast, dinner at Pampas Brazillian Grille or Gordon Biersch Brewery and a 12 minute helicopter ride.
Where to Stay in Las Vegas?
With its reputation for gambling, Las Vegas is home to a host of prestigious hotels.
Many of the city's most luxurious hotels are located within it's famed casinos and are, therefore, styled to match their opulent interior decor.
Bellagio and Casino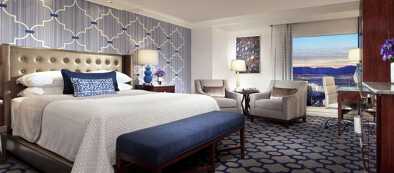 Arguably one of Las Vegas' most lavish hotels, Bellagio is a luxury resort that embraces the extravagent essence of Vegas with in-hotel performances from Cirque Du Soliel, a botanical garden, an art gallery and a on-site casino.
Guests can also enjoy the hotel's iconic fountains and the choice of ten restaurants.
The Venetian Resort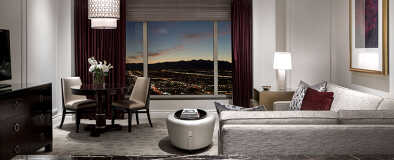 If you want to embrace Las Vegas' elaborate and gaudy nature without scrimping on luxury, The Venetian Resort is perfect for you.
Designed to mimic Venice's riviera, this five star resort offers gondala rides as well as a range of bars, clubs, cocktail lounges and pools.
Skylofts at MGM Grand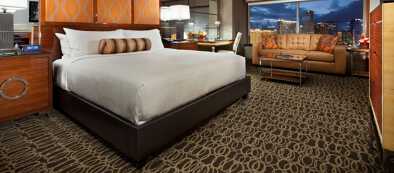 For a more elegant stay consider the Skylofts at MGM Grand when you book a private jet. Las Vegas is known for its garish landmarks, but sometimes it's nice to get away from the action and enjoy a refined hotel.
This resort offers a personal butler, over 20 restaurants and a spa.
Where to Eat in Las Vegas?
Las Vegas isn't only a great place to visit if you're looking for lavish casinos, thrill rides and beautiful hotels, it's also a great place to sample exquisite food made by some of the finest chefs.
Joel Robuchon
Las Vegas' most exclusive restaurant, Joel Robuchon, is owned by Chef Robuchon who has been awarded over 30 Michelin stars.
Serving French cuisine and a 16-course sample menu, this restaurant is a must-visit establishment.
Restaurant Guy Savoy
Restaurant Guy Savoy is another French-inspired eatery. Visitors can enjoy either an A La Carte menu and a five star tasting menu.
É By Jose Andres
Inspired by Spanish avant-garde cusine, É By Jose Andres offers an intimate experience for diners looking for a more personal atmosphere.
What events to attend in Las Vegas?
Las Vegas is famed for its high-profile events and high-calibre performances from some of music's most renowned stars.
Here are just a few of the city's finest events.
Life is Beautiful Festival
Music and art festival Life is Beautiful is an immersive three day experience that promotes culture and creativity in downtown Las Vegas.
National Finals Rodeo
National Finals Rodeo is the most acclaimed rodeo event in the world and not something to be missed when you hire a private jet to Las Vegas.
Visitors can also enjoy premium VIP packages when attending a National Finals Rodeo event.
Monster Jam World Finals
The fiercest monster truck show in the city, the Monster Jam World Finals is one of the most exhilarating events to attend when you book a private jet charter or helicopter transfer to Las Vegas.