Falcon Business Jet Charter: Dassault Aviation aircraft for rent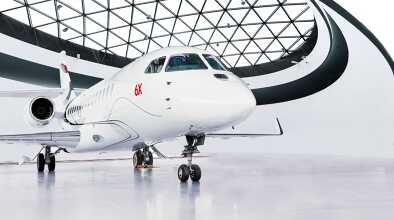 Originally, the French aircraft manufacturer produced military aircraft, but in the early 1960s it recognized the potential for a business jet. After some development time, the head of Dassault Aviation, Marcel Dassault, gave the go-ahead to build a prototype in late 1961: Based on the Dassault Mystère IV fighter-bomber, a low-wing monoplane with two tail-mounted Pratt & Whitney JT12A-8 turbofan engines was to be developed. When the aircraft was successfully placed on the market as the Falcon 20 and its popularity grew, Dassault began work on several smaller and larger variants. By the time production ceased in 1988, 508 examples of the Dassault Falcon 20 had been built.
Since the launch of the first Falcon in 1963, more than 2,400 Falcon jets have been delivered. Currently, Dassault offers six business jets: From the twin-engine Falcon 2000S with a length of about 20 meters to the latest flagship, the three-engine Falcon 8X with a length of 33 meters and extremely long range. Dassault Falcon jets are known for their high-quality construction and luxurious interiors. They are among the most popular private business jets worldwide - for purchase and as a charter option. Business travelers and wealthy individuals frequently use luxury jets.
Dassault private aircraft are also popular with celebrities: for example, Dutch media entrepreneur John de Mol owns a Dassault Falcon 50. US pop singer Taylor Swift does the same and also owns a Dassault Falcon 900. The gossip press reports that the American singer Akon has invested around 300 million US dollars in a copy of a series of the manufacturer unknown to the public.
Dassault Falcon private jet charter: key data of the aircraft manufacturer
Renowned French company with almost 60 years of experience in manufacturing solid private jets with stylish luxury equipment.

The Dassault Falcon brand is part of the Dassault Aviation group, which manufactures both fighter jets and business jets.

More than 2,500 private aircraft sold.

Falcon net sales amounted to EUR1,952 million in 2021, down from EUR2,226 million in 2020, mainly due to the number of Falcons delivered (30 vs. 34).

Over 11,000 employees (as of 2022, Dassault Aviation).

Dassault Systèmes (DS) is a sister company of Dassault Falcon and belongs to the same parent group. The company is best known in engineering circles for its SolidWorks 3D CAD program.

Dassault Aviation's shares - as of August 2022 - are mainly held by Groupe Industriel Marcel Dassault and Airbus.

The Dassault Rafale is a best-known Dassault military aircraft and is used by the French Air Force and Navy.

Winner of numerous awards

2022: The Falcon 10X won the coveted Red Dot Design Award for its advanced cabin design.

2021: The Red Dot committee recognized the exceptional combination of form and function in the design of the Falcon 6X aircraft cabin.

2021: Awarded the Falcon 6X as "Best Ultra-Wide-Body Jet" by luxury lifestyle magazine Robb Report.

2020: International Yacht & Aviation Award for the interior design of the Falcon 6X.

2019: John Rosanvallon, president and CEO of Dassault Falcon Jet, received the Lifetime Aviation Industry Leader Award at the annual Living Legends of Aviation awards ceremony.

Dassault Falcon Jet corporate management: Thierry Betbeze (CEO since 2019)

Dassault Aviation Corporate Management: Éric Trappier (CEO since 2013)
History of Falcon Business Jets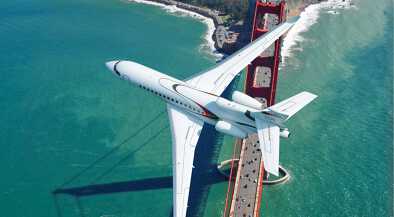 On April 1, 1963, the first Mystére 20 (later renamed Falcon 20) rolled off the production line in Bordeaux, France. It was the first aircraft designed as a business jet by company founder Marcel Dassault. The Falcon 20 was technically based on the Mystére IV military aircraft and looked more like a commercial airliner than a business jet.
The Falcon 50 was introduced in 1976 and was designed to carry eight to ten people across the U.S. or across the Atlantic without a stopover. The three-engine configuration was chosen to provide better redundancy, safety, and a larger cabin with baggage space. Its exceptional performance and versatility made it one of the most popular series in business aviation at the time.
The next major milestone in the company's nearly 60-year history was reached in 1984 when the Falcon 900 was unveiled in Bordeaux. The first flight took place at the 1983 Paris Air Show. It was the manufacturer's response to growing operator demand for a business jet with a large cabin and intercontinental range.
The Falcon 2000 was the first computer-designed business jet and was intended to meet the continuing growth in demand for a transcontinental business jet. It allows a maximum flight altitude of 14,325 meters and was first delivered in February 1995.
The first flight of the Falcon 7X, a jet with a further improved range, took place in Bordeaux on May 5, 2005. It was the first private jet for business travelers with a digital flight control system. Thanks to its high engine power, it enables faster climbs and descents as well as low-level flights over short distances. It is powered by three Pratt & Whitney Canada 307A engines. In 2009, it was the longest-range business jet certified to fly to and from London City, one of the most demanding airports in the world. Today, all production Falcons are certified to operate at London City.
Launched in May 2011, the Falcon 2000S features a sleek, elegant cabin designed in collaboration with BMW Group Designworks USA. In January 2012, Dassault and BMW received the prestigious Good Design Award for the interior.
Since its launch nearly 50 years ago, the first Falcon has been followed by some 20 optimized models and variants. Dassault Falcon continues to set the standard in the development of advanced solutions for business aviation.
The current Dassault Business Jet portfolio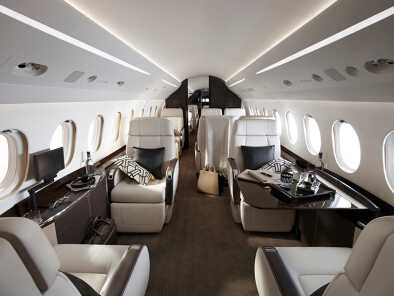 The Dassault Falcon fleet currently comprises six families of aircraft:
Falcon 2000LXS: Thanks to its wide slats, optimized aerodynamics and advanced noise optimization, the Falcon 2000LXS offers the ultimate combination of maneuverability, fuel efficiency and a quiet, spacious cabin.

Falcon 900LX: Unveiled at EBACE in May 2008, the trijet has a range of 8797 kilometers - an increase of about 7 percent over its predecessor, the Falcon 900EX.

Falcon 6X: The Falcon 6X sets a new standard for widebody comfort with the tallest and widest cabin in business aviation.

Falcon 7X: The Falcon 7X is the world's first business aircraft to be equipped with a digital flight control system. It has three engines and a long range.

Falcon 8X: The Falcon 8X offers an outstanding combination of performance and flexibility in the long-range aircraft segment.

Falcon 10X: The Falcon 10X sets new standards in terms of comfort, versatility and technical equipment.
Frequently Asked Questions (FAQ)
How much does a Dassault Business Jet cost?
A new Dassault Falcon private jet costs between $26 million for a 2021 Falcon 2000S and $62.5 million for 2022 model of a Falcon 8X. Depending on age and condition, buyers can acquire a used Falcon for much less: a year-old Falcon 7X costs about $19.0 million, while a 2000 Falcon 900EX costs about $11 million. A Falcon 200 from 1983 can be had for as little as around 600,000 US dollars.
How many business jets does Dassault Falcon build per year?
Between 2016 and 2021, Dassault delivered between 30 and 49 Falcon jets:
| Year | Delivered Falcon Jets |
| --- | --- |
| 2016 | 49 |
| 2017 | 49 |
| 2018 | 41 |
| 2019 | 40 |
| 2020 | 34 |
| 2021 | 30 |
Where are the Dassault Falcon jets built?
Dassault has production facilities in France and the United States and a worldwide service network. The Falcon jets are manufactured in France and then flown to the U.S. site in Little Rock at Adams Field. There, exterior painting and the installation of optional avionics elements and custom interior trim takes place.
Which engines are used in Dassault Falcon aircraft?
In its fleet, the manufacturer uses engines from Pratt & Whitney Canada, Honywell and Rolls-Royce.
| Airplane | Motor |
| --- | --- |
| 2000LXS | 2 x P&W Canada PW308C |
| 900LX | 3 x Honeywell TFE731-60 |
| 6X | 2 x P&W Canada PW812D |
| 7X | 3 x P&W Canada PW307A |
| 8X | 3 x P&W Canada PW307D |
| 10X | 2 x Rolls-Royce Pearl® 10X |