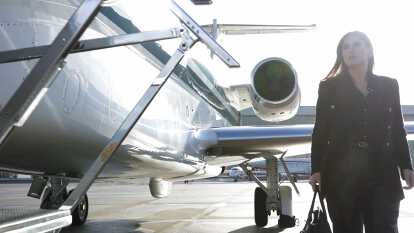 #1 Private Jet Charter
Independent, Transparent, Flexible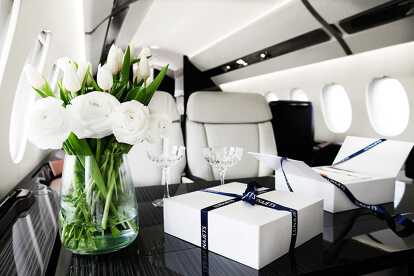 Leader in Private Jet Hire
Simple, fast and reliable. Book your private jet charter 24/7 with our team providing a worldwide service. Market leading.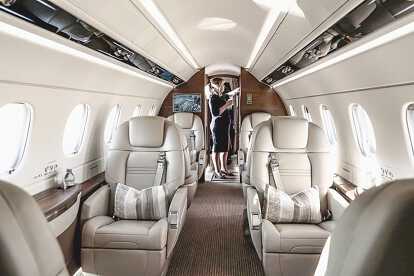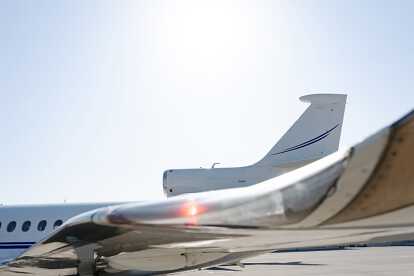 Your trust is our reputation
Worldwide clients, governments, families, individuals, businesses, industries, sports, teams. Your trust is our reputation.

LUNAJETS IS SPONSORING
LunaJets is a proud sponsor of Willem van der Vorm, the 2021 Ferrari Challenge Europe Coppa Shell AM Champion. He is active in the Ferrari Challenge Europe, the longest-running single-make series championship in the history of the Maranello-based company.
WHY LUNAJETS?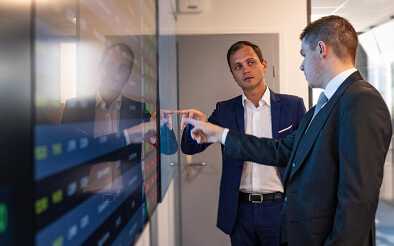 Discover our story
Gonzalo's communication with me was professional & perfect. He has earned a new customer. thank you!

17 March 2023

Excellent services. Thank you!

13 March 2023

Everything was lovely with pick up and we are on the plane now. I appreciate the gift as well. Many thank you have earned a customer.

11 March 2023

Mathew Healy fantastic service, merci!

09 March 2023

Madame Tessier, L'ensemble des voyageurs ayant emprunté les deux Vols mis en place, ont été très satisfaits de la prestation. Je tenais également à vous remercier pour votre patience et la qualité des échanges.

07 March 2023

We are very happy with the service, especially the help of Christelle. Thank you

04 March 2023

Perfetto, grazie!

02 March 2023

Excellent service and options for planes. A very quick response to other flight requests. well done.

28 February 2023

Augustin is an excellent broker. Ready to help and provide the best experience !!!! Highly Recommend!!!

26 February 2023

Augustin is professional, efficient and caring.

25 February 2023

Fabulous - thank you

24 February 2023

Great experience, Pierre was very professional n helpful Will use you again Thx

19 February 2023

I am sincerely grateful to Vladimir Tsarkov for his excellent service - he has restored my faith in Luna Jet!

17 February 2023

Very nice and professional experience

16 February 2023

Très bien, comme à l'habitué :)

16 February 2023

Perfect !

15 February 2023

Notre rapidité d'intervention a permis de sauver trois personnes. Je souhaitais vous remercier pour votre professionnalisme, votre rapidité et votre savoir-faire. Nous réitérerons des vols avec votre société pour les urgences.

06 February 2023

The flight crew was excellent. Probably our favourite so far. Eriks is always so attentive. We missed two hanging bags in the driver's car but we were very lucky that Eriks was able to get our bags on another flight to the UK.

06 February 2023

Equipe réactive et flexible, service de qualité. Très bonne expérience

03 February 2023

Thank you to Vladimir as usual was perfectly executed.

02 February 2023

Excellent vol

31 January 2023

Fantastic service from Augustin! Keep up the great work, Thanks a lot

29 January 2023

One of the most beautiful flights ever!

25 January 2023

Complimenti per la professionalità e un ringraziamento speciale a Giulia.

20 January 2023
First European broker to obtain the Argus® certification
For over a decade LunaJets, the private jet company has consistently set the highest industry standards, from Argus certification to consistently winning best employer awards.
#1 Private Jet Charter App
Instant access to manage your flights
Loyalty programme - up to €7,000 off

Direct access to your Private Aviation Advisor

360° view of your account and key documents

Review flight options and offers

Live driving directions to private jet terminals

Live flight updates and alerts
Mobile App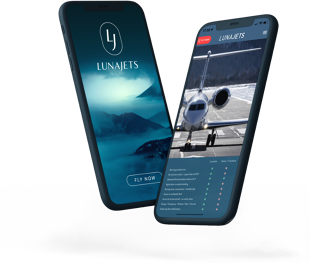 Upcoming annual events
Independent, Transparent, Flexible
The Best Private Jet Services Company
Leader in Private Aircraft Charter
Our mission is and has always been to provide our clients, travelling by private jet whether for business or for leisure an unparalleled jet charter experience at the best price on the market. We were the first and largest independent private jet booking platform in Europe and organised nearly 8,000 flights in 2021 to multiple destinations around the globe. Following this annual growth, we aim even higher for this year while maintaining our service levels while continuing to significantly invest in our technologies including our booking app to help our team of Private Aviation Advisors serve you better and faster.
At LunaJets we offer a personal, bespoke service 24/7 to fly anytime, anywhere on the most appropriate business jet for your flight. Use the "Call Us" option in the top, right corner of this page, to take-off in 60 minutes in the event you have an urgent flight request.
This website, complemented by our continuously improved mobile App, allows you to efficiently and easily jet, compare prices and aircraft options, sign and pay for your reservation online, manage the details of your trip and connect with us from anywhere in the world. Our private jet charter company is headquartered in Geneva, Switzerland. LunaJets simply is a truly global booking platform with offices in seven different countries and partners on four continents.
Our 15 years of expertise is in private jet travel for all purposes, whether very light planes up to ultra-long range jets. Regardless of the size or model of the business aircraft, or the nature of your request our Private Aviation Advisors are trained to find cost efficient, value-for-money solutions and solve problems in a timely and customer focused manner.
Back in 2007, LunaJets was also a pioneer in the marketing of empty leg flights. Still today, we are occasionally able to offer up 75% discounts to our clients by leveraging available empty leg flights.
Over the last 15 years, LunaJets has become a market leader in private jet charter. We have kept true to our values by passionately delivering the most flexible offering to our clients.

The LunaJets Solution
Fly Now
At LunaJets we strive to provide the most flexible solution in the market. With a company record of wheels up 35 minutes after confirmation, our team is always ready to assist with any request. Our private jet charter solution also always strives to achieve the best price for our clients regardless if it is a short haul flight or for a long-range transatlantic crossing. LunaJets is able to provide its clients with the most competitive jet rental prices using its global reach and proprietary technologies.
With over a decade of experience, totalling more than 40,000 private flights hired to hundreds of different destinations, LunaJets has amassed an immense amount of valuable charter expertise. Since 2007, we have flown approximately 170,000 passengers, representing over 42 million kilometres travelled. As a result, we now have access to over 4,800 private planes, representing a global network of private aircraft and work with 350 different business jet operators globally. These volumes not only give us valuable experience, but also give us the leverage to negotiate aircraft rental prices, savings that are passed on to our clients.
Innovation has also given LunaJets an edge when it comes to simply offering the most affordable prices to business jet travellers. We continuously invest in technology by purchasing the latest software as well as developing the necessary tools that to make the process easier and more efficient for our clients to book a private jet.
We have recently introduced cryptocurrency payments in parallel to the traditional credit cards and bank transfer allowing all customers to use their preferred method of payment.
LunaJets is independent and self-funded. We are not part of a holding company or a larger investment group; we do not own planes or act as an operator for third parties. This market neutrality enables us to always find the right private plane, in the right place, at the best price for you.
We help and guide our clients in obtaining the best deals in this complex and global industry. With LunaJets, they fly reassured.