Hire a Private Jet to Milan
Milan is Just a few Hours Away
A perfect location for a weekend away or a few days' break, it's possible to hire a private jet or book a helicopter charter to Milan at short notice. Why not take some time out and enjoy the many opportunities and experiences that the city has to offer?
What can you do in Milan?
Luxury Shopping in Milan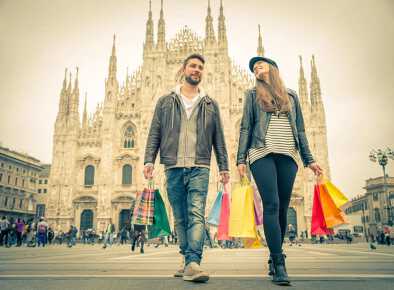 If you like to shop, then Milan is the place to do it. Packed with designer stores, independent retailers, artisan craftsmen and exclusive boutiques, shoppers are spoiled for choice.
Designers with headquarters' in Milan include Prada, Iceberg, Dolce & Gabbana, Versace, Etro and Valentino. The Galleria Vittorio Emanuale II shopping centre, alongside the Citylife shopping centre and the Quadrilatero d'Oro mall, are some of the more well-known spots to browse designer merchandise.
Visit Lake Como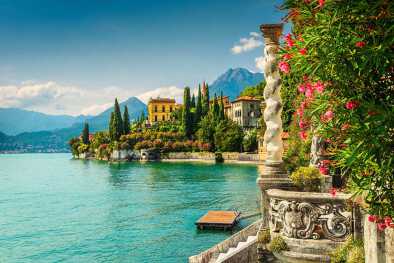 The third-largest lake in Italy, Lake Como is located about an hours' drive from Milan. The lake is well-known for its beautiful scenery and the attractive villages that are dotted around the shoreline. There are day trips available to some of the towns and villages around the lake, as well as boating trips on the lake and guided tours of the well-known ancient villas that are found in this location.
If you would prefer to kick back and relax, Lake Como is also famous for its beautiful beaches - Colonno Beach and Sala Comacina Beach are particularly recommended.
Where to Stay in Milan
Armani Hotel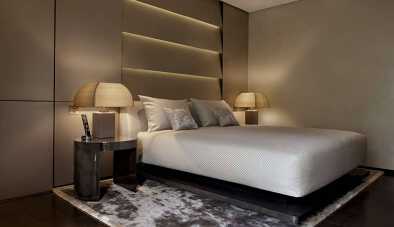 With the decor and details signed off by Armani, guests can expect to enjoy a luxurious stay in a chic, sophisticated interior where nothing has been overlooked. At the Armani Hotel, guests can choose from rooms or a selection of suites, one of which includes a private gym. Another (the Armani cinema signature suite) includes a private cinema with a 100" LCD TV, as well as an opulent bathroom with marble surfaces and fixtures.
Bulgari Hotel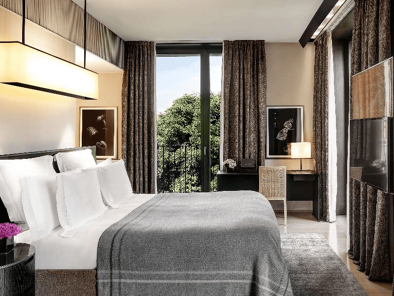 Designed with input from the iconic Milan jeweller, Bulgari, this boutique hotel showcases Milanese opulence and style. Guests can enjoy the delights of the subterranean hotel spa, as well as sample the Bulgari Cocktail, which is unique to the hotel!
Sophisticated, small and an iconic example of Italian styling, the Bulgari offers an exceptional accommodation experience.
Excelsior Hotel Gallia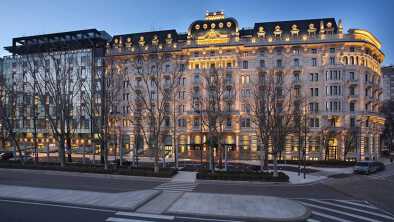 One of Milan's most iconic hotels, the Excelsior Hotel Gallia has been providing hospitality to visitors since 1932. Within easy walking distance of Sforzesco Castle and La Scala, Gallia's central location is just one of the benefits it offers. Well-appointed and with a wide selection of accommodation options, the Gallia is perfect for a relaxing, comfortable stay.
Where to eat in Milan
The best place to eat in Milan depends on what type of food you enjoy.
Seta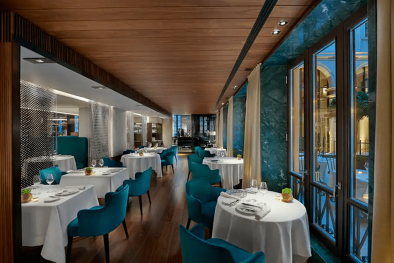 A Michelin two-star restaurant, Seta offers arguably the best fine dining experience in Milan. Chef Antonio Guida creates modern Italian dishes that showcase the impeccable skill and talent of the Seta team. Seta is located in the Mandarin Oriental Hotel.
Ristorante Enrico Bartolini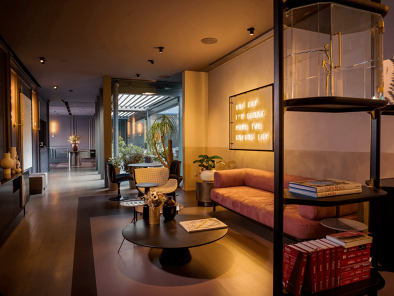 The only chef in the history of the Michelin guide to hold four stars simultaneously, Enrico Bartolini is an iconic chef who is well-known for his "contemporary classic" approach to fine dining. With a menu that draws on local traditions, transformed by Bartolini's talent and passion, the Ristorante Enrico Bartolini is well worth a visit.
Il Luogo di Aimo e Nadia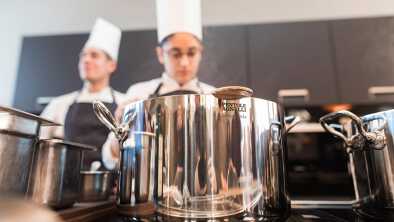 With a focus on fresh, local ingredients, the team at Il Luogo di Aimo e Nadia build on classic Italian dishes, reinventing them to create modern masterpieces.
What Events to Attend in Milan
Salzone Internazionale del Mobile
The Milan Furniture Fair is a globally recognised event that is the largest furniture trade show in the world. Featuring representation from hundreds of the top names in interior and furniture design, it's an amazing spectacle. The show started over fifty years ago, back in 1961. Since then, it has grown to become an international attraction that draws a large audience each year.
Famed for its breath-taking exhibits and features, the show brings together the very best creative talent in this field.
Milan Fashion Week
Milan fashion week is one of the most collections of fashion shows on the platform. Leading designers use fashion week as an opportunity to showcase their collections. Many of the shows are open to the public, rather than by invitation only, providing a unique opportunity to see forthcoming collections from iconic brands.
Milan Fashion week by Private Jet