Charter a Pilatus PC-24: Hire the most versatile business private jet
Advantages of a Pilatus PC-24 as a rental aircraft:
Powerfully modern: Thanks to its two Williams FJ44 turbofans, the Pilatus Business Jet has significantly more power than its smaller but older turboprob brother PC-12. It flies at a top speed of up to 815 km/h and takes travelers to more distant destinations faster. Pilatus Flugzeugwerke is thus fulfilling the desire of countless turboprob customers for greater speed and range.
Safe: Like all Pilatus aircraft, the PC-24 can take off with just one pilot. The "single-pilot certification" is taken into account by using the latest avionics technology. Automation is intended to relieve the pilots and thus increase safety. The ACE avionics package tailored to Honeywell Aerospace's PC-24 is also equipped with the most advanced safety features.
Diverse: The seats of the PC-24 can be easily removed and the cargo compartment divider can be moved flexibly. This allows the configuration of the aircraft cabin to be optimally adapted to the individual needs of the passengers. This is supported by the consistently flat cabin floor, which offers passengers a pleasant and voluminous ambience.
Off-road capability: The PC-24 is the only business jet in the world that can land on unpaved runways. The certification of the European Aviation Safety Agency (Easa) covers sand, gravel, grass and snow runways. In addition, a shorter runway than the competition is sufficient for Pilatus, giving travelers access to many small airfields.
Spacious: The PC-24 succeeds in combining the performance of a light jet with the cabin size of a medium light jet. It also offers generous head and legroom for tall passengers. It can even be loaded with a forklift truck via a pallet-sized separate cargo door as standard. The internal luggage compartment is printed and is accessible from the cabin during the flight.
Disadvantages of a Pilatus PC-24 as a rental aircraft:
Availability: Compared to competing aircraft, the PC-24 is still relatively young. According to the manufacturer, only 75 aircraft had been delivered worldwide by the end of fiscal year 2019. Depending on the point of departure, supply bottlenecks may therefore still occur at present.
Short-haul efficiency: A business jet like the PC-24 can only show its high maximum airspeed on longer routes. On routes under 600 kilometers, the travel time is comparable to turboprops. As a jet-powered private jet, however, it requires roughly twice as much fuel, which can also have an impact on the rental price.
With the diverse PC-24, Pilatus has succeeded in convincing the industry that its light jet range offers passengers a perfect balance between performance and comfort. In doing so, the Swiss are focusing on innovation, but also rely on proven technology. The success of the PC-24 Twin Jet is clearly demonstrated by the demand at the launch: after only 36 hours, the order books were full.
Aircraft data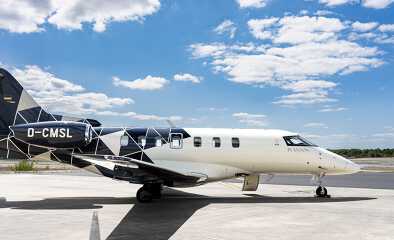 Overview
| | |
| --- | --- |
| Aircraft category | Light Business Jet |
| Manufacturer | Pilatus Aircraft Works AG |
| Model | PC-24 |
| Produced quantity | 75 |
| Start of production | 2017 |
| Engine | 2 x Williams FJ44 |
| Price | From 9 000 500€ (new price) |
| Crew | 1 - 2, single-pilot certification |
| Toilet | Separate toilet between cockpit and cabin |
Performance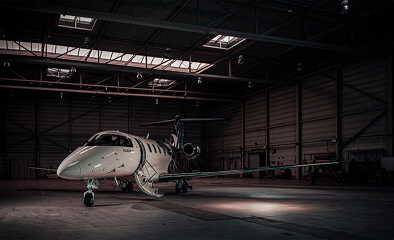 | | |
| --- | --- |
| Takeoff distance | 893 m |
| Landing distance | 724 m |
| Maximum speed | 815 km/h |
| Maximum climb rate: | 20,7 m/s |
| Range | 3,704 km |
| Maximum flight altitude | 13,716 m |
Capacity
| | |
| --- | --- |
| Passenger capacity | 11 passengers + 1 pilot |
| Maximum payload | 1.134 kg |
| Maximum payload with full tank | 324 kg |
| Capacity of the most common rental variant | 6 passengers, 6 cases, 3 pieces of hand luggage |
Cabin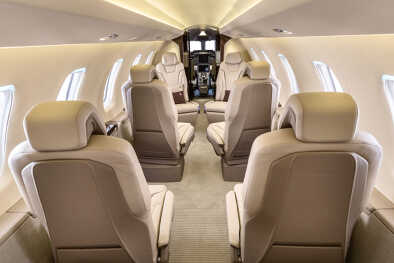 | | |
| --- | --- |
| Cabin volume | 14,20 m³ |
| Cabin (length x width x height) | 7,01 m x 1,69 m x 1,55 m |
| Wide cabin floor | 1,16 m |
| Passenger door (height x width) | 1,34 x 0,60 m |
| Luggage compartment volume | 2,50 m³ |
| Cargo door (height x width) | 1,30 x 1,25 m |
Frequently asked questions (FAQ)
How much does a Pilatus Jet PC-24 cost?
At the launch in May 2014, the first production series of the Pilatus Business Jet was offered starting at a price of 8,900,000 US dollars. After the first 84 aircraft were sold within 36, Pilatus initially closed the order books. Since May 2019, orders have been possible at a new base price starting at €9,000,000. The PC-24 with its upscale equipment now costs €9,500,000. The manufacturer justified the price increase with the higher than expected development costs of over 500 million Swiss francs.
How many pilots fly the PC-24?
The Pilatus aircraft have a so-called single-pilot certification. A key criterion for the award is whether the workload involved in flying the aircraft is appropriate for a pilot. The modern cockpit equipment of the PC-24 makes this possible. Of course, the first Pilatus Jet is also equipped with a co-pilot seat. Multi-pilot operation is thus possible at any time.
How does the Pilatus PC-24 differ from the LearJet 75?
The PC-24 has an approximately 10% higher purchase price but significantly lower direct operating costs than the LearJet 75 Liberty. Two weighty arguments for potential buyers. For tenants, the operating costs are often reflected in a lower charter price for the PC-24. This thesis is also underlined by the fact that the LearJet 75 Liberty, unlike the PC-24, can only take off with two pilots in the cockpit. If speed or range are important criteria, the LearJet performs slightly better. On the other hand, the PC-24 scores plus points when transporting bulky and heavy luggage due to the additional cargo door and the higher payload. If small airports or airfields are to be approached, the PC-24 "Super Versatile Jet" is practically without alternative due to its suitability for short runways and natural tracks.
Which airports can be approached with the PC-24?
Due to its special features and corresponding certifications, the PC-24 can approach a larger number of smaller and remote airports. Here is a selection of possible departure and destination airports:
Lugano Airport (LUG): Swiss regional airport 4 kilometers west of Lugano. The airport is also known as Lugano-Agno Airport.
La Môle - Saint-Tropez Airport (LTT): French airport in La Môle, 15 kilometers southwest of St Tropez. Despite its only 4,500 inhabitants, this small town on the French Riviera is one of the most famous travel destinations on the Côte d'Azur. Today, St Tropez is especially popular for its beaches and its pompous nightlife.
Le Castellet Airport (CTT): French airport 5 kilometers north of the community of Le Castellet, not far from the Circuit Paul Ricard motorsport race track.
London City Airport (LCY): The most central airport of the English metropolis is only 10 kilometers from the city center.
La Perdiz Airport (LEIZ): Small Spanish private airport surrounded by natural landscape, about 250 kilometers south of Madrid.
Portimão Airport (PRM): Small Portuguese airport in Montes de Alvor in the Algarve.
Brac Airport (BWK): One of three airports on the Croatian island. It is also known as Bol Airport because of its proximity to the seaside resort and vacation resort of Bol.
Spa-La Sauvenière Airport (EBSP): Belgian airport in Spa, only 6 kilometers away from the Formula 1 race track Circuit de Spa-Francorchamps.