Bombardier Challenger 850 Charter: Rent the spacious Super Large Jet
The Challenger 850 is the updated version of the Challenger 800, based on the 50-seat Bombardier CRJ200 LR. It is considered, by any definition, the largest super-midsize business jet built by Bombardier Aerospace. Produced from 2006 to 2012, the business jet, which has the appearance of a passenger aircraft, has a long private jet with a transcontinental range and an impressive cruising speed of up to 850 km/h. Starting as early as 1996, the aircraft was marketed as the Challenger SE (Special Edition) and then renamed the Challenger 850 in 2006. Production ended in 2012 after 71 deliveries.
The large jet is based on the same airframe as the CRJ200, but is equipped with interiors for 27, 32 or 50 passengers in commuter configuration or for 14 to 16 passengers in executive configuration.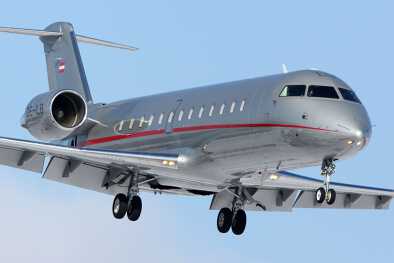 In terms of cabin equipment and comfort, the Challenger 850 is comparable to the much more expensive and somewhat faster Bombardier Global 6000. Its three-zone cabin features a forward and back lavatory, a spacious galley and a baggage compartment accessible from the cabin. The Canadian private aircraft has one of the largest, most productive and comfortable cabins on the market.
Advantages of a Bombardier Challenger 850 as a rental aircraft:
Exceptionally wide cabin: The wide cabin of the Bombardier Challenger 850 offers spacious seats and plenty of legroom, providing passengers with a comfortable and luxurious flying experience. This extra space also allows for additional amenities such as a fully stocked bar or conference area. This makes the jet ideal for hosting business meetings or entertaining guests during long flights.

Excellent value: The Challenger 850 has a cabin comparable in size to the Global 6000, but has the running costs and range of a smaller super-midsize jet. Coupled with its comfortable seats and state-of-the-art technology, this makes it a cost-effective option for luxury air travel.

Resilient: The General Electric turbofan engines used in the Challenger are considered to be extremely low-maintenance. In addition, as a further development of the CRJ200 regional aircraft, the aircraft is designed for up to 12 take-off and landing cycles per day, which are actually only common in scheduled air traffic. The jet thus promises to cope better with demanding operating conditions than the average corporate jet.

High spare parts availability: As the aircraft is based on the popular CRJ regional jet, a high level of spare parts availability can be assumed. This ensures that all necessary maintenance and repair work can be carried out quickly and efficiently, resulting in greater reliability and smooth operation of the reliable jet.

Unique cabin comfort: The spacious layout of the large jet offers plenty of room to move, and the two separate lavatory areas underscore the exceptional cabin comfort. The walk-in baggage compartment makes it easy to stow and retrieve luggage, even during flight. The galley lacks a high-tech design, but is neither less functional nor less luxurious because of it, offering everything you could want during a long flight.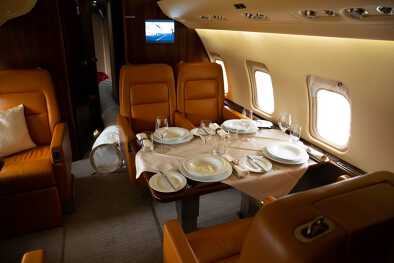 Disadvantages of a Bombardier Challenger 850 as a rental aircraft:
No longer in production: The Challenger 850 is not in the Canadian aircraft manufacturer's current program. This could be a disadvantage for those who want to charter a cutting-edge aircraft with the very latest features. The Challenger 850 is therefore probably not the first choice if they want to impress business partners and present themselves as a modern and innovative player in the business world.

Requires a long runway: Compared to classic business jets, the 850 has a larger space requirement for takeoff and landing, especially in hot temperatures. This aircraft is therefore certainly not the best choice for flights to or from Aspen in mid-summer. In practice, 850 jets operate at frequently busy commercial airports, which could increase travel time.
Possible alternatives to a Challenger 850 as a business charter aircraft are the Falcon 2000EX, the Embraer Legacy 650 and the Bombardier Global 6000. The Falcon 2000EX offers a comparably spacious cabin and efficient fuel consumption, while the Embraer Legacy 650 comes with a fully equipped executive interior. The Bombardier Global 6000 scores high on range, allowing it to reach far-flung destinations without stopping for fuel. Each of these private jets offers luxurious amenities and reliable performance for demanding business travel.
If you're looking for a luxurious and comfortable aircraft that offers excellent value for money, the Bombardier Challenger 850 should be at the top of your list. With its spacious cabin and a host of amenities, this jet is perfect for business meetings or long flights with business partners, friends or family.
Aircraft data / Technical data (Challenger 850 variant)
| | |
| --- | --- |
| Aircraft category | Super Large Jet |
| Manufacturer | Bombardier Aviation (formerly Bombardier Aerospace) |
| Model | Challenger 850 |
| Number of units produced | 71 |
| Production period | 2006 - 2012 |
| Engine | 2 x General Electric CF34-3B1 Turbofans |
| Price | 32 million US dollars (list price at launch) |
| Crew | 2 Pilots |
| Toilet | 2 (1 x front, 1 x rear) |
Performance
| | |
| --- | --- |
| Take-off route | 1.922 m |
| Landing distance | 887 m |
| Maximum speed | 850 km/h |
| Range | 5.206 km |
| Maximum flight altitude | 12.497 m |
Capacity
| | |
| --- | --- |
| Passenger capacity | 19 |
| Maximum payload with full tank | 162,38 kg |
| Capacity of the most common rental variant | 14 |
Cabin
| | |
| --- | --- |
| Cabin volume | 56,35 m³ |
| Cabin (length x width x height) | 14,76 m x 2,49 m x 1,85 m |
Frequently Asked Questions (FAQ)
How much does a Bombardier Challenger 850 business jet cost?
A used Bombardier Challenger 850 business jet currently costs between $7.5 million and $10.5 million. Factors such as the age of the aircraft, engine hours and additional equipment or upgrades can affect the exact price. Since the jet is no longer in production, no new examples are available. When it was still available, a new Challenger 850 cost around $32 million.
How far can a Bombardier Challenger 850 fly?
The maximum distance a Challenger 850 can cover is 5,206 kilometers: An excellent range for a super large jet with high passenger capacity and exceptional comfort. It can fly between New York and Los Angeles (approx. 3,936 km) and from Rome to Moscow (approx. 4,753 km) without a stopover.
How does the Bombardier Challenger 850 differ from the Gulfstream G650?
The Bombardier Challenger 850 offers a larger cabin as standard and often has a lower charter price - also due to its generally higher age. However, the Embraer Legacy 650 also offers excellent value for money: it has greater range and slightly better runway performance. Both aircraft are among the best in their class.
How many Bombardier Challenger 850 aircraft have been sold so far?
A total of 71 Bombardier Challenger 850s were sold. This figure reflects total deliveries from the start of production in 1996 until 2012. The Challenger 850 is popular with business and VIP customers primarily because of its spacious cabin and long-haul capability. Compared to other models in the Bombardier Challenger range, this is a relatively small number. The smaller and less expensive Challenger 350 and Challenger 650 models were sold much more frequently.
How many seats does a Challenger 850 have?
The Challenger 850 has a total of 14 seats. In its maximum configuration, there is room for 19 people in the cabin. However, a configuration with a maximum of 14 or 15 passenger seats is much more common and comfortable. The extra-wide cabin design ensures comfortable spacing between seats and allows sufficient freedom of movement for a relaxing flight.