Hire a private jet to Spain
How can you hire a private jet in Spain
At LunaJets, we stand to our pillars; simple, fast and reliable and will ensure the best travel for you and your loved ones. With our long-standing history and being the market leader in this sector, we have an extensive fleet of 4800 aircraft. Moreover, we will adapt to any of your needs, whether a cargo charter a group charter or a last-minute charter.
We invite you to download our new LunaJets App and follow the steps for your dream charter.
The advantages of the App are:
Book a flight anytime and anywhere

Store manage and retrieve documents

You will have geolocation with directions to the respective airports

Compare all the pricing options online

Compare the aircraft and their features

Maintain informed thanks to live updates
If you prefer contacting us the old-school way, call any of our aviation advisors today and get the best private jet charter option.
Some of the advantages of charter flights are:
You get to choose your own schedule, with no delays or long queues

You get to choose your route, with no annoying layovers

The flight is tailormade to all your preferences (be it dietary, additional luggage etc)
What are the best cities to visit by private jet in Spain
There are endless cities, towns and islands to visit in Spain. Spain offers world-class activities such as golfing and polo, beautiful sights and endless beaches. Below are the most popular destinations when in Spain for our clients.
Madrid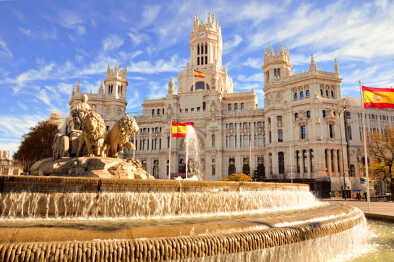 Madrid is one of the most in-demand capitals in Europe, having endless dining and nightlife options, the Spanish capital is the perfect mix of a modern and yet sophisticated city. The activities are countless and offer something of any kind. Staying at the Four Seasons in Madrid is an excellent choice. From all the dining options in Madrid it is hard to choose one Restaurant but why not go for an apperitive at Aarde, located next to the Alcala gate and then move to Lucio to enjoy some fantastic Spanish food?
Getting there:
Madrid Airport (MAD, LEMD) is located approximately 12 kilometres northeast of the city centre and has a private jet terminal called "Madrid-Barajas General Aviation Terminal" (MAD FBO Terminal). It is located on the south side of the airport and offers services for private and corporate aviation.
Barcelona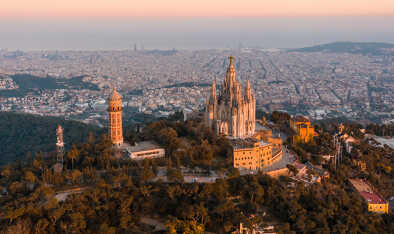 Barcelona is a city with a rich history, unique architecture, and a vibrant culture that attracts visitors from all over the world. In addition to exploring the city's many attractions, there are also several nearby beaches where visitors can relax and soak up the sun. For those seeking a luxurious hotel experience, there are many options available, such as the Majestic Hotel & Spa Barcelona, which boasts a prime location and world-class amenities. And when it comes to dining, El Nacional is a must-visit destination, offering a wide variety of Spanish cuisine in a stylish and elegant setting. With so much to see, do, and taste, Barcelona is a destination that should be on every traveler's bucket list and LunaJets will make upscale your experience just a little more.
Getting there:
The main airport serving Barcelona is Barcelona-El Prat Airport (BCN, LEBL). It is located approximately 12 kilometres southwest of the city centre and is the second busiest airport in Spain after Madrid-Barajas Airport.
The Best event to reach by private jet in Spain
Feria de Sevilla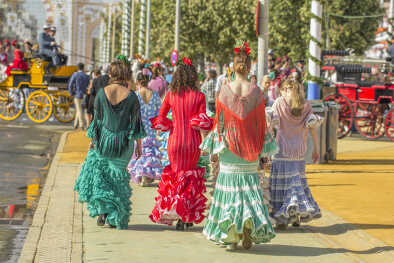 La Feria de Sevilla or the Feria de Abril is celebrated in Sevilla during the last two weeks of April. It is a wonderful colourful celebration that brings all spain together to celebrate their heritage and culture. The women dress in the typical flamenco dresses and the men are dressed traditionally too. The Spanish people have their own Casetas where they serve delicious food such as Jamon and a lot of drinks such as Tinto de Verano. The ambience is happy and the music will just invite you to dance.
Getting there:
The south of Spain is home to several airports, including Sevilla, Malaga, and Cadiz. Sevilla Airport (SVQ, LEZL) is the main airport serving the city of Sevilla and is located approximately 10 kilometres northeast of the city centre. It offers flights to several domestic and European destinations and serves as a gateway to the region's cultural and historical attractions. Other nearby options include Malaga Airport (AGP, LEMG) which is the fourth busiest airport in Spain and serves the popular Costa del Sol region, offering access to beautiful beaches and resort towns. It is located approximately 8 kilometres southwest of the city of Malaga. Cadiz Airport (XRY, LEJR) is a smaller airport that serves the province of Cadiz and is located approximately 38 kilometres northeast of the city of Cadiz.