Hire a Private Jet to Sotogrande
Founded in 1962 by Joseph McMicking a Philippino American Businessman and inspired by the Forbes Park in the Philippines and Pebbles Beach in California, Sotogrande is the "European discrete Paradise" resembling also Palm Springs. Having already acquired the reputation of "elite, discrete, and elegant" by the mid-60s, Sotogrande kept growing within the high-class circle. Especially known for the Polo and Golf, Sotogrande is a chosen destination by celebrities who aspire to luxury and nature, ensuring their privacy is well protected and respected.
One of these celebrities includes a recent visit earlier this year to the world-famous Valderrama Golf Course Barack Obama. Rumors also say Mariah Carey owns a house in Sotogrande Alto. It is also stated that Vladimir Putin secretly entered Sotogrande in and out with a private boat, while he was head of the Russian FSB during the 90s. Regular VIP guests are the Spanish and British Royal Family and Soccer Players. The unshowy glamour enjoys going to the beach or staying at their Finca, taking a walk by the Puerto Sotogrande, playing Golf and Polo, and spending some high-quality family time.
The easiest and very much used method to reach Sotogrande by those staying in Sotogrande is by jet as there is no direct flight.
What Can You Do In Sotogrande?
Sotogrande is a very quiet place and most certainly qualified if one is looking to rent a big summer villa in a safe and quiet place. For sports lovers, it may be the ideal location to relax as well as enjoy some golfing, polo, sailing, or other water activities.
Golf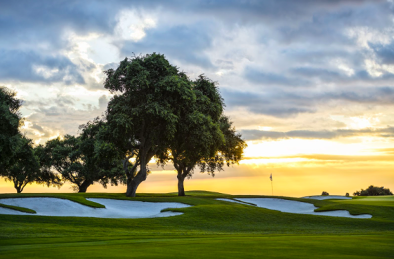 For a golfer, Costa del sol region including Sotogrande is the ultimate "Golfers- playground". Sotogrande has some very eminent golf courses, such as La Reserva, Almenara, Real Club Sotogrande and Valderrama. La Reserva Club, was designed and man-made by a specialized architect, Cabell B. Robinson, and is an 18-hole course. It particularly stands out for its breathtaking views over the sea and the Andalusian hills. Almenara golf, on the other hand, has 27 holes and was created by the British designer Dave Thomas, with 3 paths each, 9 respectively. Real Club, was designed in 1964 by … and is an 18-hole course. It lies in the heart of Sotogrande, nearly making it impossible to miss the sight of this beautiful and well-maintained course. Valderrama is one of the most prominent courses worldwide and is considered the best golf course in Spain. It hosts the anual Andalucia Estrella Damm Masters.
If you take a car from Malaga along the coast passing by Marbella (Puerto Banus), or decide to charter a helicopter to reach this iconic destination, you will come across a lot more golf courses and magnificent views.
Polo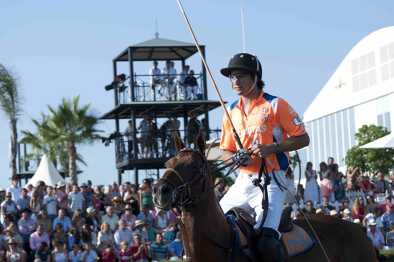 Every Polo lover knows that Sotogrande resort is known for its world-class Polo. For those who are passionate about this sport, Sotogrande has two Polo clubs and hosts tournaments throughout the summer, August stands out as the most important month. Being the epicenter of polo in Spain and counting with the high-end Santa Maria and Ayala Polo Club, those clubs, have welcomed very important royals, such as Prince Harry and Meghan Markle, and some very well-known middle eastern royals have come to play with their teams.
Water sport activities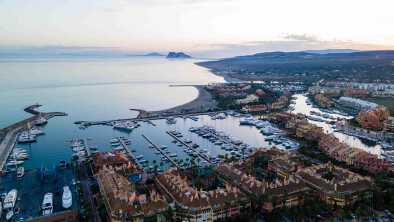 Because of the endless summer, this beautiful private development offers, you cannot forget about the sea, which is not only filled with yachts in the port but also lets you go for a swim on the beach and other exciting water activities. Sotograndinos favorite watersport activities, besides going on a beautiful Sunday tour on their yachts, they like to enjoy waterskiing or wakeboarding, jet-ski, and sailing. The mouth of river Guadiaro gets together with the sea and gives you also the opportunity to windsurf and or go on a kayak.
Besides, the beautiful beach of Sotogrande and its exciting and luxurious sports activities, it is recommended to explore a little bit more of beautiful Andalusia. On one side, you can go to Gibraltar about 15km from Soto (a passport is required as it forms part of the UK), and a 40-minute drive to Tarifa, where you can enjoy a good windsurfing session. On the other hand, leading towards Malaga, you will come across Estepona a little picturesque Spanish Andalusian town with great food and atmosphere, about a 20-minute drive from Sotogrande. Not much further away, you can go to some luxury shopping in Puerto Banus or go for some nightlife in Marbella. If you grave like some typical Spanish seafood, you can go to the neighboring town of Torreguadiaro.
Where Should You Stay in Sotogrande?
Spains Costa del Sol region is known for its wonderful Spanish authentic cottages also called Cortijos. While in Sotogrande, it is rather recommended to rent a villa or apartment, there are some hotel options that might be of your convenience.
S/O resort Sotogrande
This 5-star Hotel, located in Sotogrande alto, this resort, is the perfect match if you are looking for an authentic Cortijo style Hotel in Sotogrande. It is the perfect escape from reality and besides its amenities, this Hotel gives you the option to enjoy Sotogrande to its fullest. S/O Sotogrande is equipped with a magnificent spa and sophisticated cuisine.
Finca Cortesin
Having won many awards as Spain's Best Resort and even Top 5 Hotels in the world, Finca Cortesin is used to host the most prominent and exclusive guests of the world such as Barack Obama earlier this year or Formula 1 Driver Lando Norris, earlier this month. Finca Cortesin Resort, about 20 minutes by car from Sotogrande, is inspired by the traditional Andalusian Architecture and offers a Hotel, Villas, Spa, a Golf course, and many Restaurants one of them being a Michelin Star Restaurant.
Use LunaJets To Get To and From Sotogrande
Sotogrande is the perfect place for LunaJets clientele because it will allow them to have privacy while sharing amazing moments with their loved ones. The mix between seawater, country houses, and the Sotogrande Marina has a perfect harmonic symphony. Because of its discreteness, Sotogrande is a very inaccessible place, so traveling by private flight to the enchanting Sotogrande is ideal. It will allow you to travel on your schedule, with your family, your sports equipment, such as golf equipment, or even your horse to play polo, but will also ensure you the most comfortable and luxurious option.
Take a jet to Sotogrande and enjoy the beautiful nature it has to offer until it is time to get back to reality after a wonderful summer.
What is the best airport to travel to and from Sotogrande?
Our team of private aviation advisors recommends Gibraltar airport located about a 20-minute drive and a very short helicopter ride to Sotogrande. Another option is to fly to Malaga Airport, which is about 100km away from Sotogrande, and from there take a helicopter flight to Sotogrande. Talk to our team of private advisors now and they will recommend the best itinerary for your needs. LunaJets will give you the best private jet charter prices, due to our long experience in the market and will organize the best flight option for you and your loved ones.