Hire a private jet to the United Kingdom
Private jet booking offices in London
As the United Kingdom is one of the most popular destinations for business jet travellers, we at LunaJets have opened our office in London. Thanks to our exclusively selected partners, we will not only make sure you get the best aircraft but also the best hotels and restaurants anywhere in the United Kingdom. We are committed to serving any of your needs and want to make sure all of your expectations are exceeded.
How can you hire a private jet in the United Kingdom
At LunaJets, we stand to our pillars; simple, fast and reliable and will ensure the best travel for you and your loved ones. With our long-standing history and being the market leader in this sector, we have an extensive fleet of 4800 aircraft. Moreover, we will adapt to any of your needs, whether a cargo charter a group charter or a last-minute charter.
We invite you to download our new LunaJets App and follow the steps for your dream charter.
The advantages of the App are:
Book a flight anytime and anywhere

Store manage and retrieve documents

You will have geolocation with directions to the respective airports

Compare all the pricing options online

Compare the aircraft and their features

Maintain informed thanks to live updates
If you prefer contacting us the old-school way, call any of our aviation advisors today and get the best private jet charter option.
Some of the advantages of charter flights are:
You get to choose your own schedule, with no delays or long queues

You get to choose your route, with no annoying layovers

The flight is tailormade to all your preferences (be it dietary, additional luggage etc)
What are the best cities to visit by private jet in the United Kingdom?
The United Kingdom is a destination that offers a diverse range of experiences to its visitors. From the stunning countryside and historic landmarks to the bustling cities and vibrant cultural scene, there is something for everyone to enjoy. Travelling to the UK is an excellent way to immerse oneself in a rich and fascinating history, while also experiencing modern luxuries and amenities. And when it comes to travel, there is no better way to see the sights in style and comfort than by renting a private jet with LunaJets. The most visited cities in the UK are described below.
London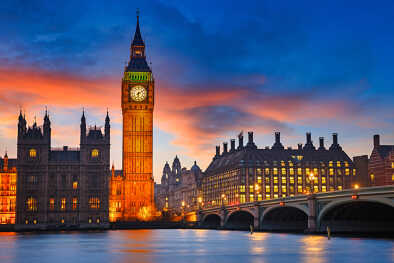 London is a world-renowned city that attracts millions of visitors every year. With its rich history, vibrant culture, and diverse population, it's no wonder why it's such a popular destination. When visiting London, there are many things to see and do, but one of the must-visit locations is the iconic Sexy Fish restaurant. With its impressive interior design, delectable menu, and excellent service, Sexy Fish has become a hot spot for celebrities and foodies. And when it comes to accommodation, the Mandarin Oriental Hotel is a top choice for those seeking luxury and comfort. Located in the heart of Knightsbridge, this five-star hotel offers stunning views of Hyde Park and impeccable service.
Getting there:
London has many airports below is a detailed description of each airport.
Heathrow Airport (LHR, EGLL) - This is the busiest airport in the UK and one of the busiest in the world. Located in West London, it is approximately 23 km from the city centre. Heathrow has four terminals and is served by numerous airlines, offering flights to destinations all over the world.

Gatwick Airport (LGW, EGKK) - Located in South London, Gatwick is the second-busiest airport in the UK. It's approximately 45 km from the city centre and has two terminals. Gatwick offers flights to destinations throughout Europe, as well as some long-haul flights to Asia and North America.

Stansted Airport (STN, EGSS) - Stansted is located in Essex, approximately 64 km from the city centre. It's the fourth-busiest airport in the UK and has one terminal.

London City Airport (LCY, EGLC) - Located in East London, London City is the closest airport to the city centre, just 10 km away. It's primarily used for business travel and serves destinations throughout Europe.

Luton Airport (LTN, EGGW) - Located in Bedfordshire, approximately 56 km from the city centre, Luton is a popular choice for budget airlines. It has one terminal and offers flights to destinations throughout Europe and some long-haul flights to North America, Africa, and Asia.

Farnborough Airport (FAB, EGLF) - Located in Hampshire, approximately 56 km from the city centre, Farnborough is a private airport primarily used for business aviation. It offers flights to destinations throughout Europe and the rest of the world and is known for its state-of-the-art facilities and high level of service.
Birmingham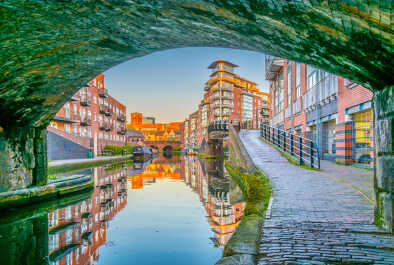 Birmingham, located in the heart of England, is a city filled with rich history and culture. It's known for its vibrant arts scene, famous landmarks, and impressive architecture. One of the must-visit Michelin-star restaurants in Birmingham is the Adams Restaurant, which is located in the city centre and boasts a modern British menu that changes seasonally. The restaurant is run by chef Adam Stokes and has been awarded a Michelin star for its innovative cuisine and excellent service. As for luxury accommodation, the five-star New Hall Hotel and Spa is a great option.
Getting there:
Birmingham Airport (BHX, EGBB) is located just 9.6 kilometres east of the city centre, making it a convenient choice for travellers. It's the seventh busiest airport in the UK and offers flights to over 150 destinations worldwide. Birmingham Airport has one terminal and a wide range of facilities, including shops, restaurants, and lounges. Another option is Coventry Airport (CVT, EGBE) which is located 30 kilometres away but is an airport mainly used for private and charter flights.
The best event where you can fly in by private jet in the United Kingdom
Formula 1 Silverstone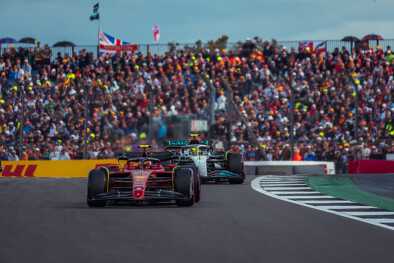 The Formula 1 British Grand Prix at Silverstone is one of the most prestigious motor racing events in the world and attracts thousands of visitors every year. The circuit is located in the Northamptonshire countryside and offers stunning views of the surrounding area. In addition to the thrilling racing, there are many luxurious activities to enjoy around Silverstone. For example, you could indulge in a private helicopter tour of the area, take a hot air balloon ride, or go horseback riding through the nearby countryside. There are also several top-rated restaurants and hotels in the area where you can enjoy fine dining and luxury accommodations. Some of the notable hotels in the area include the luxurious Whittlebury Hall Hotel and Spa, the five-star Saracen's Head Hotel in Towcester, and the historic Fawsley Hall Hotel and Spa. Whatever your interests may be, Silverstone and the surrounding area offer a wealth of luxurious experiences to make your visit truly unforgettable.
Getting there:
There is no airport in Silverstone, however here are the closest airports to the circuit are
| Airport Name | IATA Code | ICAO Code | Proximity to Circuit |
| --- | --- | --- | --- |
| London Luton Airport | LTN | EGGW | 72 km southeast |
| Birmingham Airport | BHX | EGBB | 80 km northwest |
| East Midlands Airport | EMA | EGNX | 48 km northeast |
| London Heathrow Airport | LHR | EGLL | 113 km southeast |
Get in touch with our aviation advisor and they will get the best route and aircraft for your needs.