The ultimate guide to private jet charter in 2022: discover freedom and flexibility
Private jet: regain mastery of your time
The experience of travelling by private jet simply cannot compare to standard airline travel: you're the master of your schedule and your route, your departure time and chosen airport. You can customise the experience to the needs of your corporate team, sports club, family or business partners, scheduling a private high-level conference or relaxing with a large family, with toddlers and luggage in tow. Don't forget that you can take pets and animals on a private jet, providing them the comfort and reassurance they need when flying. Enjoy unparalleled levels of service, with access to onboard technology, WIFI, phone networks, iPads and tablets, not to mention gourmet food that caters to your precise dietary, medical or personal needs. Those on a busy schedule, with small children or family members can relax in wonderfully comfortable surroundings, enabling you to rejuvenate and catch some sleep, to recuperate from a busy schedule.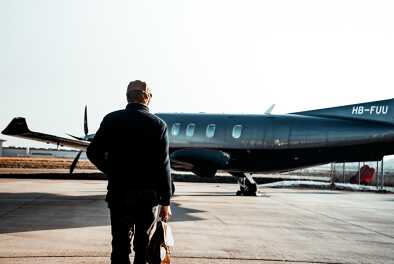 Forget crowded and cramped: welcome to calm and convenient
From the moment you relax into your luxury chauffeur-driven pick-up service, to the minute you arrive rested and refreshed at the private air terminal of your destination, when you travel by private jet, flying is elevated to a whole new experience. LunaJets offers a pick-up service by car from your home, so you are escorted to the closest private jet air terminal, and a chauffeur will collect you and transport you to your destination. It's a far cry from the crowded, bustling and cramped conditions of standard flights, not to mention the inconvenience of restricted luggage allowances and perpetual threat of delays and cancellations. To travel by private jet is to regain control of your time and your needs. Don't forget that one of the luxuries of private jet travel is a service to suit you, so even last-minute flights and last-minute private jet bookings are catered for - simply book your private jet up to two hours before departure. Enjoy a single point of contact for your whole private jet booking: our dedicated concierge service books your flight, monitors your flight and oversees your connections, to guarantee you a seamless and hassle-free flying experience.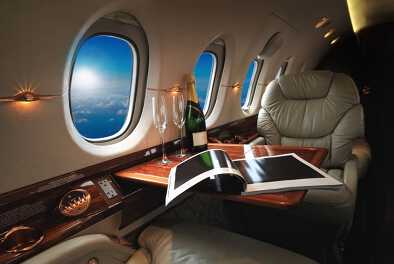 The LunaJets service promise
With access to more than 4,800 recent private jets, LunaJets offers private jet charter solutions for your travel plans worldwide. Private aviation meets all your flight needs, whether business or leisure. LunaJets' team of Private Aviation Advisors are experts in special private jet charter missions such as cargo charters if you wish to transport luxury vehicles, fleets of cars or supercars, as well as last minute charters, helicopter charter and medical flights. With private jet rental, you can reduce your flight time to and from Europe, Asia or the United States.
Unparalleled luxury service goes without saying with LunaJets, and our difference lies in our client relationships: we pride ourselves on knowing the needs and requirements of every customer, for a seamless, tranquil experience every time. Enjoy access to an unrivalled selection of global destinations, including hard-to-reach city access ideal for events such as F1 and couture, or fly in to mountain resorts for immediate ski and winter relaxation. As standard, our luxury chauffeur service transports you to and from the private aviation terminal.
Flexible routes, flexible schedules… and a carrier that waits
When you charter a private jet, flexibility is your byword: aircraft can be booked and scheduled in two hours, routes and itineraries can be changed last minute – even mid-flight – and naturally, your aircraft waits for you if you are held up, even by several hours. It's your personal chauffeur service in the skies. Did you know that globally, there are far more private airports than commercial airports? This means you can enjoy access to all locations, even remote and hard-to-access destinations, such as mountain resorts, coastal resorts, beaches, cities and private estates, and enjoy direct access between far-flung cities. LunaJet's 500 private jet flight operators offer access to charters around the world, on five continents, and a choice of all classes of aircraft, from light jets to global jets.
LunaJets has access to a global network of more than 4,800 aircraft around the world, from Light Jets to Large Jets all the way to VIP airliners. Our team of private aviation experts is dedicated to finding you the best aircraft options for your private flight needs. Explore our fleet.
From Helsinki and Hamburg, or far-flung destinations such as Cancun and Phnom Penh, discover our enormous range of global destinations, and plan your next trip, for business or pleasure.
To fly by private jet is also to access cities and terminals reserved for private jet customers only, which include:
Farnborough, Biggin Hill or London Luton: exclusive private jet terminals serving London

Paris Le-Bourget for Paris


White Plains or Teterboro, for New York or Newark, USA


Van Nuys or Hollywood Burbank Airport to bypass crowds in Los Angeles


Cannes-Mandelieu, St Tropez, Nice and Avignon for the South of France


The Salerno - Costa d'Amalfi Airport, allowing travellers to jet to the Amalfi coast and avoid the crowded Naples airport


Palma de Mallorca, Mykonos and Bodrum, to name just a few for Spain, Greece and Turkey

From professionals to families: more people are opting for private jet charter
Busy professionals and families choose private jet charter to make the most of speedy, seamless check-ins, generous baggage allowance, and delight in the comfortable, stylish interiors, flexible take off times and the possibility of a five-star on-board catering service. As stringent travel restrictions render commercial travel cumbersome and long-winded, and staff shortages cause lengthy delays or cancellations, the world of private jet charter is fast-becoming a much more efficient, reliable and enjoyable way to travel, for those that join this privileged club. Furthermore, post COVID-19, many are choosing private jet travel for reasons of hygiene, health and safety and general peace of mind, as they are far from the hustle and bustle of a typical commercial airport. Flying by private jet means you can avoid contact with other people and travel in the safety of your business group or close circle of friends and family.
Not sure which jet would be best for you? Use our Jet Comparator to compare aircraft and passenger size.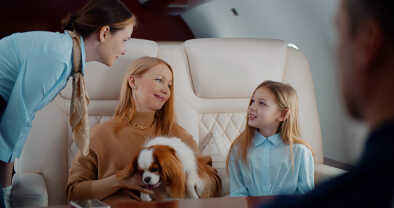 Transporting extra luggage, cars and cargo
If you wish to take extra luggage, bulky items, your private vehicles such as luxury SUVs, supercars or sports cars, charter one of our larger private jets and make use of the capacious holds: smaller jets can easily carry up to 10 large suitcases, whereas larger jets can carry from five to seven cars. Contact our cargo division, LunaLogistik, to discuss chartering a larger plane such as an Airbus A300 or a Boeing 747, to transport single vehicles, or a fleet of vehicles to your destination.

"As stringent travel restrictions render commercial travel long-winded, the world of private jet charter is a much more efficient and enjoyable way to travel."
Seven key benefits of chartering a private jet: efficiency, productivity, serenity, luxury, flexibility
Swap lengthy queues for the serenity of check-in at a private terminal

Forget crowded airplanes for the calm and peace of your own aircraft.

Exchange lengthy paperwork and border controls for hassle-free border transits.


Trade restrictive regulations on luggage allowance for as much baggage or items as you need


Delight in a luxurious experience with all your needs catered for, to make travelling with family and friends special


Enjoy tranquility and service to conduct key meetings and discussions in-flight


Escape the hustle and bustle, and enjoy privacy and discretion: ideal for those in the public eye

Private Vs Commercial Airline Charter
| Private Charter | Commercial Airline |
| --- | --- |
| Scheduled flights to suit you | Restricted to a carrier's options |
| Flights that wait for you | At the mercy of the carrier, with delays and cancellations |
| Book at short notice (>2 hours) | Book weeks in advance |
| Luxury chauffeur service to/from the terminal | Lengthy travel time to terminals |
| Seamless transition through airport (10 minutes) | Extra time needed (approx. 2 hours) to pass through airport |
| Unlimited baggage | Strict luggage limits |
| Safe transit of baggage | Possibility of losses and misdirection |
| Quiet, calm, hygienic | Crowded, noisy |
| Easy to work, conduct meetings or relax | Cramped conditions, difficult to work, no privacy |
"Post COVID-19, customers are choosing private jet travel for reasons of health and safety, as they can leave the crowds of a commercial airport behind."
Private jet hire gets you closer to your destination
To enter the world of luxury private jet travel is to get so much closer to your destination, so much more quickly. You'll discover a whole host of convenient, hassle-free airport terminals located directly where you need to get to, eliminating hours of wasted travel time and opening up exciting new travel possibilities to both your favourite and lesser-known destinations. Private jets and private airport terminals are located closer to the best coastlines, beaches, international cities and islands and you'll soon realise there's a whole network of stunning international private jet terminals serving the needs of private jet travellers. For example, the Cannes-Mandelieu airport is only known to the private jet crowd and is appreciated for its location right on the coast of the South of France. A private jet gets you closer to the heart of Nice, St Tropez or the financial hubs of Frankfurt or London: ideal for time-pressed business travellers and perfect for families with children, avoiding lengthy onward journeys and the usual crowds at passport control.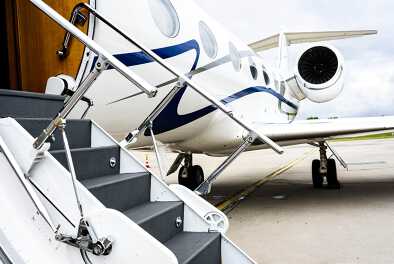 Set your own schedule, create your own routes
Chartering a private jet affords the luxury of creating schedules totally tailored to suit you, easily jetting between destinations according to your needs, your business demands or your family's preferences. This freedom cannot be compared to standard commercial travel. You open up a whole new network, selecting routes to suit you, no longer reliant on connections between commercial airlines, or standard routes and flight times. Hopping from Santorini to Mykonos? Of course. Nice for lunch, Naples for dinner? Anything is possible. Design schedules and routes around your needs and desires, knowing you can revise your flight plans at short notice, or decide your destination with just three hours' notice. If you are unable to travel, or miss a leg of your journey, you can enjoy peace of mind knowing your next connecting flight will be reserved and rescheduled: unlike with commercial carriers, you do not lose your onward connection, and your whole schedule is preserved.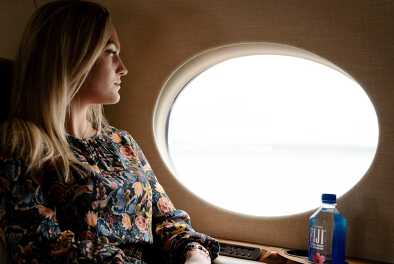 "Select routes to suit you – you are no longer reliant on connections between commercial airlines, or standard routes and flight times."
Breakfast in London… business in Frankfurt… multiple destinations in one day
Multiple destinations in one day: it's entirely possible with private jet charter: LunaJets travels from Geneva and all around the Mediterranean; you can also charter flights for long-haul trips including the USA, Middle East, Asia and South America. Choose your starting destination and create your ideal schedule for business or leisure, and open up to the possibilities afforded by private jet hire. The flexibility of travel also means you can cover multiple destinations more quickly – you can do business in Sylt and be in Spilt for dinner. Or fly to Nice for breakfast and out to Mykonos in the evening. Life becomes full of freedom and possibility. Just some of the popular destinations for LunaJet clients include:
Paris, Nice and Cannes (France)

Ajaccio and Figari (Corsica)


Naples, Positano, Olbia-Sardinia (Italy)


Palma de Mallorca (Spain)


Bodrum (Turkey)


Split (Croatia)


Sylt (Germany)


Ibiza, Mykonos, Santorini (Greece)

Remember that private jets are also available for long-range charter, for routes such as Geneva to Singapore, Delhi to London, or Dubai to Paris. These are also ideal for larger groups and families, comfortably accommodating 16 passengers. Charter the Gulfstream G650 for instance, where 16 passengers can comfortably travel from London to Miami in less than 10 hours. The Dassault Falcon 7X also offers great cabin comfort for day and night time flying, with up to 6 beddings allowing passengers to rest on long-haul flights like Geneva to Tokyo, a popular 11-hour route.
Contact LunaJets' team, available 24/7, to source the best long-range Jet available for charter for your private flight.
Unrestricted luggage for all your needs
The convenience of a private jet also extends to luggage, bulky bags and pets, and animals. Private charter is perfect if you need to transport multiple files, bags, cases, documents or precious or unusual items hassle free, or simply enjoy the freedom of choice of travelling with several suitcases. Private jet travel is also ideal for families travelling with children and family members, easily accommodating plenty of luggage for the family, or staff and extended family members, offering the freedom to transport exactly what you need. Travelling by private jet is ideal if you need to transport precious items such as works of art, musical instruments, sports equipment such as elite bikes or skis, as well as motorbikes and cars, which can be carried by LunaSolutions, our cargo carrier. There is absolutely no risk of lost luggage when flying by private jet, as it is with you at all times; on some aircraft with a flight attendant, you may even access your luggage during the flight.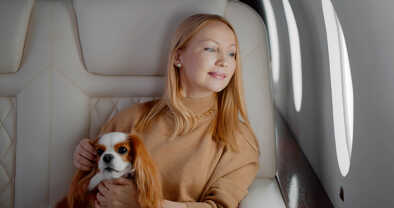 Private jet charter is ideal for all needs, from private firms to families
Chartering a private jet, whether for the first time, or for frequent flights, is the preferred way to travel for families, businesses and entrepreneurs alike:
Time-pressed entrepreneur? Save time and charter a private jet, making use of in-flight technology and quick and efficient arrival at your destination
Professionals scaling successful business are some of the busiest people around: for many, chartering a private jet makes financial sense, as it saves so much time – eliminating wasted early hours at the airport and avoiding delays or cancellations that could jeopardise business opportunities. Quicker, direct flights equipped with technology and WIFI make working mid-air easy, not to mention arriving calm and relaxed, whilst projecting an ultimate image of success.
Corporate client? Make the most of your time in the sky for private or team meetings
Whether its football team or a finance team, get your staff to and from meeting destinations more quickly, enjoy total privacy for confidential and important discussions, make optimum use of time in the air for confidential meetings in superbly comfortable surroundings. Arrive refreshed and ready to do business your way. Corporate private jet charter is the transport of choice for sports teams, and Olympic teams, as well as for musicians, tours, actors, entertainers and celebrity entourages.
Private chartered jets are ideal for families
Families charting private jets make up a significant proportion of all private jet customers. For families, the quiet and comfort of a private jet simply transforms the experience of travelling with children, enabling families to travel comfortably with everything they need, from buggies and toys to extra members such as au pairs and nannies. Most jets have comfortable beds ideal for children and parents to enjoy a precious nap, and plenty of space to play work. Special and delicious gourmet foods cater to all dietary and medical requirements. Families can relax in total privacy, especially with a young baby or toddler in tow. Private jets are equipped with WIFI iPads and tablets, so families can make the most of family time and truly enjoy time in the sky… and private jet travel may just be the one thing that impresses your teenagers.
Sports people, politicians and professionals in the public eye
For those in the public eye, private jet charter is a haven away from the hustle and bustle of public life, offering fast discreet transport in-between international engagements. Public figures know they will not be disturbed and they can relax in luxury surroundings, enjoying personal time with family and friends, with all the bespoke services they are accustomed to at their disposal.
First time chartering a private jet? A guide to how jet charter works
Private jets for emergency repatriation
A private jet is the ideal solution for fast, convenient, hygienic and safe repatriation for emergency situations in times of a medical or health emergency, or in case of injury, illness or trauma whilst away from home. Be assured that our experienced and professional flight teams handle such situations with care and sensitivity, to support our customers in these rare emergency situations.
The cost of chartering a private jet is surprisingly economical and cost efficient
The cost of chartering a private jet can work out far more economical that at first glance, which is why private jet travel quickly becomes the choice of transport for those who have tried it. At LunaJets, as an industry leader, we offer the lowest rates on the market. When booking with us, you can expect a 20 to 75% price discount, even compared to the price of a typical jet card (a pre-paid private aviation card enabling customers to fly on private jets at a fixed rate) - part of the reason we are the fastest-growing private jet company in the market. Frequent flyer? Discover the LunaJets Reward Programme, with significant discounts. Our fair pricing structure is due to the high volume of flights we sell yearly, which is in the thousands, and our proportion of recurring customers, which is how we manage to uphold a commitment to the fairest, most economical fees.
Want a quote for your private jet booking straight away? Call now on: +41 227 82 12 12
How Much Does it Cost to Charter a Private Jet with LunaJets?
FROM / TO
FLIGHT TIME
AIRCRAFT
SEAT
ESTIMATED PRICE

Geneva

Paris

Flight time: 1h00

Aircraft: Citation Mustang

Very Light Jet

Seat: 4

Estimated Price: €4,000

Estimated Price: €4,000Enquire

Geneva

Paris

Flight time: 0h55

Aircraft: Learjet 45 XR

Super Light Jet

Seat: 8

Estimated Price: €6,400

Estimated Price: €6,400Enquire

Geneva

Paris

Flight time: 0h50

Aircraft: Global 5000

Super Large Jet

Seat: 13

Estimated Price: €16,500

Estimated Price: €16,500Enquire

London

Paris

Flight time: 1h00

Aircraft: Citation Mustang

Very Light Jet

Seat: 4

Estimated Price: €4,500

Estimated Price: €4,500Enquire

London

Paris

Flight time: 0h45

Aircraft: Falcon 2000LX

Large Jets

Seat: 10

Estimated Price: €10,000

Estimated Price: €10,000Enquire

London

Paris

Flight time: 1h00

Aircraft: Legacy 600

Large Jets

Seat: 13

Estimated Price: €11,400

Estimated Price: €11,400Enquire

Moscow

Nice

Flight time: 3h55

Aircraft: Citation XLS

Super Light Jet

Seat: 8

Estimated Price: €22,000

Estimated Price: €22,000Enquire

Moscow

Nice

Flight time: 3h55

Aircraft: Hawker 750

Midsize Jet

Seat: 8

Estimated Price: €29,000

Estimated Price: €29,000Enquire

Moscow

Nice

Flight time: 3h00

Aircraft: Global 6000

Long Range Jet

Seat: 14

Estimated Price: €49,500

Estimated Price: €49,500Enquire

Paris

Nice

Flight time: 1h30

Aircraft: Citation Mustang

Very Light Jet

Seat: 4

Estimated Price: €5,900

Estimated Price: €5,900Enquire

Paris

Nice

Flight time: 1h05

Aircraft: Challenger 300

Super Midsize Jet

Seat: 8

Estimated Price: €12,500

Estimated Price: €12,500Enquire

Paris

Nice

Flight time: 1h15

Aircraft: Challenger 605

Large Jets

Seat: 10

Estimated Price: €13,900

Estimated Price: €13,900Enquire

London

Geneva

Flight time: 1h40

Aircraft: Citation Mustang

Very Light Jet

Seat: 4

Estimated Price: €6,000

Estimated Price: €6,000Enquire

London

Geneva

Flight time: 1h15

Aircraft: Learjet 75

Super Light Jet

Seat: 8

Estimated Price: €9,900

Estimated Price: €9,900Enquire

London

Geneva

Flight time: 1h30

Aircraft: Legacy 600

Large Jets

Seat: 13

Estimated Price: €15,000

Estimated Price: €15,000Enquire
Jet charter prices vary according to the size and style of the jet, and are priced per hour. Our luxury charter aircraft rent from upwards of 5,000 EUR for a short-haul flight of under one hour to upwards of 20,000 EUR per leg, for a long-haul flight of eight hours.
About LunaJets
With headquarters in Geneva, Switzerland, Luna Aviation Group is a fully independent Swiss-based company and the European market leader in private jet charter services. In 2021 the company organised more than 8,000 flight movements and surpassed 110 million USD in revenue, making it one of the fastest growing companies in the industry. Luna Aviation includes four subsidiaries: LunaJets for private charter; LunaGroup Charter for group charter across the world and for emergency repatriation; LunaLogistik for door-to-door supply chain and goods services to any destination worldwide; and LunaSolutions, a unique and independent provider of strategic advice to clients and owners. Our six offices in Geneva, London, Paris, Monaco, Riga and Dubai are trusted by private and institutional clients, governments, listed corporations, SMEs, High Net Worth Individuals and family offices, as well as international and sport organisations. Founded in 2007, LunaJets revolutionised the private jet industry by offering no minimum notice and no long-term commitment on any plane, at anytime, anywhere.