Hire an Embraer Phenom 100 / 100E Very Light Jet
Upgraded versions are marketed as the Phenom 100E and 100EV. The Phenom 100 is considered one of the fastest jets in its category with similarly low operating costs as a turboprop. The Phenom 100 is also popular in pilot training for passenger airlines: it is used by the Mexican business jet operator Across, as well as by the Arab airlines Emirates and Etihad.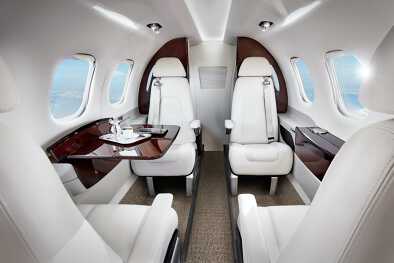 Advantages of an Embraer Phenom 100 as a rental aircraft
High cruising speed on short routes: The Phenom 100 combines the performance of a jet with the ergonomics of a turboprop. As a result, it exceeds expectations of the potential performance of an entry-level jet. In the words of one customer: "With the Phenom 100, we reach our destination in significantly less time than with the turboprob it replaces."
Low operating costs: the low weight, the use of the latest computer technologies and the single-pilot operation are three reasons for the comparatively low operating costs of the jet. The lower weight reduces fuel consumption and saves costs and the environment in equal measure. By using software instead of hardware, there is less wear and tear. Finally, single-pilot operation saves on the salary of the co-pilot.
Wide cabin: The Phenom 100 has a large cabin cross-section and offers more head and legroom than many competitors. Depending on the configuration, there is room for 4 to 6 passengers in the cabin without feeling cramped. The large windows give the cabin a light and bright feel-good ambience.
Storage options: Depending on the configuration, either a fifth seat or a spacious wardrobe is available in the cabin. The luggage compartment is located in the rear of the jet and can be conveniently accessed from the outside via a generous cargo door. The 1.5 cubic metre volume offers enough space for four golf bags, four pieces of hand luggage and four laptop bags. A separate baggage area in the front is available for the crew.
State-of-the-art computer control: Both the Phenom 100 and its big brother, the Phenom 300, are highly computer-controlled aircraft. They are equipped with countless sensors, processors and diagnostic functions. This makes the flight safer, simplifies maintenance and reduces the workload in the cockpit.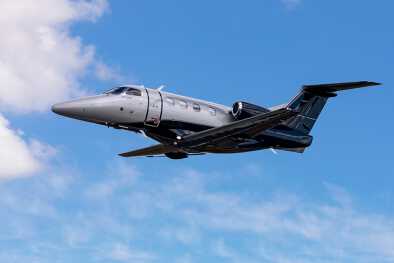 Disadvantages of an Embraer Phenom 100 as a rental aircraft
Range only for short distances: With a maximum range of 2,182 kilometres, the agile jet is only suitable for short flights. The Phenom 100 masters most inner-European destinations with flying colours, but for more distant destinations it is necessary to use larger private jets.
Limited passenger capacity: Originally designed as an efficient air taxi, the smallest Embraer shows its comfort advantages especially with few passengers. Although the small Phenom offers up to six seats in the cabin without a wardrobe and lavatory, those who value a high level of comfort will find it difficult to find a place to sleep. However, those who value a high level of comfort should opt for more spacious alternatives if there are more than four passengers.
The bottom line is that the Phenom 100 offers first-class comfort and outstanding performance at low operating costs. Last but not least, the high degree of automation makes the Phenom 100 a valued single-pilot jet, which was already described by industry experts as a "computer with wings" when it was launched. For years, it has rightly been considered one of the best jets in its class. It should come as no surprise, however, that this successful aircraft is Embraer's first business jet to be developed from scratch.
Embraer's experience as a commercial aircraft manufacturer is on full display with the Phenom - especially in terms of maintenance philosophy. This approach and continuous improvements have led to high customer loyalty.
When it comes to prestigious awards, the Phenom jets don't have to hide from the competition either. Among the numerous design awards are the IDEA/Brazil Design Award (2008), the German IF Awards for best product and best interior (2006, 2007) and the Chinese Good Design Award for best design (2006). In May 2008, the editors of the US luxury magazine Robb Report voted the Phenom 100 the "Best of the Best" business jet.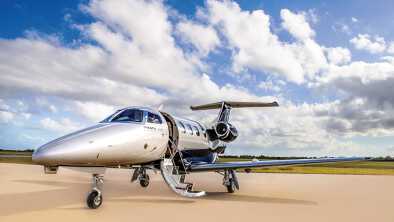 Aircraft data
Technical data
| | |
| --- | --- |
| Aircraft category | Very Light Jet (VLJ) / Personal Jet |
| Manufacturer | Embraer |
| Model | Phenom 100/EV |
| Number of units produced | 386 (as of December 2020) |
| Production start | 2008 |
| Engine | 2 x Pratt & Whitney PW617F1-E |
| Price | From 4.600.000 USD |
| Crew | 1 pilot, 1 co-pilot (optional) |
| Toilet | 1 (aft) |
Performance
| | |
| --- | --- |
| Take-off distance | 972 m |
| Landing distance | 741 m |
| Top speed | 857 km/h (Mach 0.70) |
| Range | 2,182 km |
| Maximum flight altitude | 12.497 m |
Capacity
| | |
| --- | --- |
| Passenger capacity | 7 |
| Maximum payload with full tank | 263 kg |
| Capacity of the most common rental variant | 5 |
Cabin
| | |
| --- | --- |
| Cabin volume | 5,9 m³ |
| Cabin (length x width x height) | 3.35 m x 1.55 m x 1.50 m |
Frequently Asked Questions (FAQ)
How much does an Embraer Phenom 100 cost?
Used Embraer Phenom 100s start at around 1.9 million US dollars. The list price of the latest variant 100EV is 4.6 million US dollars.
Who owns an Embraer Phenom 100?
Due to its comparatively low price, the Phenom 100 is not as prestigious as more expensive luxury jets. It is known that the Brazilian football star Neymar owns, among others, a Phenom 100 and uses it for short-haul flights.
How does the Phenom 100 differ from the Honda Jet?
Both the Phenom 100 and the Honda Jet are excellent aircraft in the young Very Light or Personal Jet segment. Both offer space for up to 5 passengers in the most common configuration and are certified for single-pilot operation. In terms of cabin volume, the Honda Jet is slightly ahead. In terms of acquisition costs, however, the Phenom 100 scores: with its price of 4.6 million USD, it is about 400,000 USD cheaper than the 5 million USD Honda Jet. The Honda Jet is a little faster, but in direct comparison it has to give up a few kilometres of range.
How many Phenom 100s have been sold so far?
Since 2008, 386 Embraer Phenom 100/EV Very Light Jets have been delivered. The top year was 2010, when exactly 100 aircraft were delivered. Compared to the other models from Embraer, the Phenom 100 ranks second behind the Embraer Phenom 300/E.
Which airports can be served by a Phenom 100?
The Phenom 100 belongs to the category of Very Light Jets and can be used for short-haul flights of up to about 2,000 kilometres (about two and a half hours). Its high performance coupled with its manoeuvrability allow it to fly to smaller and hard-to-reach airports. The aircraft requires a paved runway for take-off and landing, but can land at most regional airports in Europe.