Hire a private jet to Sweden
Explore the beautiful archipelagos, indulge in traditional Swedish cuisine, and immerse yourself in the unique culture and way of life. Below, you'll discover why Sweden should be at the top of your travel bucket list, and what you need to know to plan your luxury getaway. So sit back, relax, and let LunaJets take you on a journey you'll never forget.
How can you hire a private jet in Sweden?
At LunaJets, we stand to our pillars; simple, fast and reliable and will ensure the best travel for you and your loved ones. With our long-standing history and being the market leader in this sector, we have an extensive fleet of 4800 aircraft. Moreover, we will adapt to any of your needs, whether a cargo charter a group charter or a last-minute charter.
We invite you to download our new LunaJets App and follow the steps for your dream charter.
The advantages of the App are:
Book a flight anytime and anywhere

Store manage and retrieve documents

You will have geolocation with directions to the respective airports

Compare all the pricing options online

Compare the aircraft and their features

Maintain informed thanks to live updates
If you prefer contacting us the old-school way, call any of our aviation advisors today and get the best private jet charter option.
Some of the advantages of charter flights are:
You get to choose your own schedule, with no delays or long queues

You get to choose your route, with no annoying layovers

The flight is tailormade to all your preferences (be it dietary, additional luggage etc)
What are the best cities to visit by private jet in Sweden
Sweden has many cities worth visiting. The landscapes around those cities however are also a definite must. Below are two of the most popular cities of the beautiful country.
Stockholm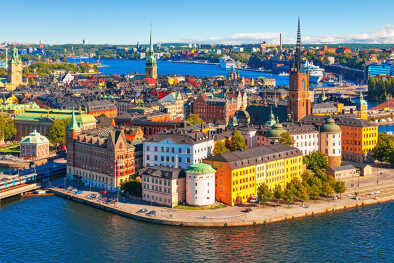 Stockholm is the capital city of Sweden and is a hub of culture, art, and architecture. Stockholm is a city with a rich history, and this is reflected in the architecture of the city. One of the most prominent architectural landmarks in Stockholm is the Royal Palace, which is one of the largest palaces in Europe. Stockholm is also famous for its world-renowned cuisine, and there are many local dishes that are a must-try for anyone visiting the city. Stockholm is home to several Michelin starred restaurants, but one of the most popular is the restaurant Frantzén. This restaurant, which has been awarded three Michelin stars, is located in the heart of the city and is known for its innovative, modern cuisine. If you're looking for a luxurious stay in Stockholm, there's no better place than the Grand Hôtel. This stunning hotel is located in the heart of the city, and has been providing guests with world-class service and accommodations for over 140 years.
Getting there:
Stockholm has four airports. Stockholm Arlanda Airport (ARN,ESSA), Stockholm Bromma Airport (BMA,ESSB), Stockholm Skavsta Airport (NYO,ESKN), and Stockholm Västerås Airport (VST,ESOW). Arlanda is the main international airport and has a private jet terminal, while Bromma serves mainly domestic flights. Skavsta and Västerås are smaller airports with less amenities.
Gothenburg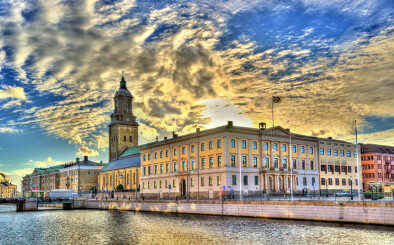 Gothenburg, located on the west coast of Sweden, is a beautiful city known for its stunning archipelago and rich cultural heritage. For those looking for a luxurious stay in the city, there are several options available. One of the most notable is the Hotel Upper House, a luxurious and modern hotel located on the top floors of the Gothia Towers. The hotel offers spacious and elegantly decorated suites, stunning panoramic views of the city, and access to a world-class spa and fitness center. Speaking of cuisine, Gothenburg is also home to the Michelin starred restaurant Koka, which offers an unforgettable culinary experience with its innovative and locally sourced dishes.
Getting there:
Gothenburg has two airports: Göteborg Landvetter Airport (GOT,ESGG) and Göteborg City Airport (GSE,ESGP). Both airports are located in close proximity to the city center and offer a range of amenities for travelers.
The Best event where you can fly by private jet in Sweden
Midsommar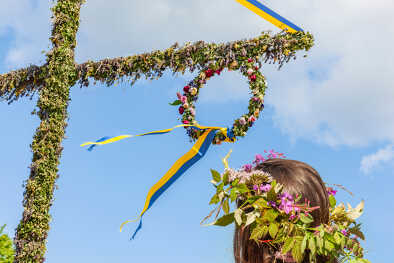 Midsommar, or Midsummer, is one of the most beloved celebrations in Sweden, marking the longest day of the year and the start of summer. Celebrated on the weekend closest to the 24th of June, Midsommar is a time for friends and family to gather together and enjoy traditional food, drink, and activities. One of the most popular traditions is the maypole, or midsommarstång, which is decorated with flowers and leaves and raised in the center of the celebration. People dance around the maypole, singing traditional songs and wearing flower crowns. Traditional food served during Midsommar includes pickled herring, boiled new potatoes, and fresh strawberries with cream. Midsommar is a time of joy and celebration, and is an important part of Swedish culture and tradition.
Getting there:
Flying to Stockholm Arlanda (ARN,ESSA) would be ideal for celebrating Midsommar in Sweden. Arlanda is the main international airport in Sweden, and offers a private jet terminal. It is conveniently located near Stockholm, which is home to some of the biggest Midsommar celebrations in the country.