Hire a Private jet between Nice and Algiers
Fly between Nice and Algiers
An hour and 40 minutes is all it takes to fly between Nice and Algiers--unless you're flying commercial; then, your flight may be subject to stops, delays, and busy international terminals. When you book a private jet with LunaJets, you can fly back and forth between France and Algeria with speed and ease. We feature a global network of private jet operators who make it a breeze for our discerning clientele to traverse the world in luxury and comfort. Relax or get work done on your laptop while flying and enjoy the peace and quiet of your own jet charter.
Last Minute Travel, No Problem
If you need to fly between Nice and Algiers at the last minute, LunaJets can arrange your flight within an hour. We offer 24/7 service for our international clients. We know that unexpected travel plans can pop up without warning. We routinely broker last-minute flights with our partners on short notice. Let us help you meet your urgent travel needs and fly you to France, Spain, Algiers, UAE--anywhere you need to be.
Manage Your Flights from Your Smartphone
Whether you are flying from Algiers to Nice or Chicago to London, you can conveniently access our innovative flight booking application to schedule your luxury jet service with LunaJets. We have invested in state-of-the-art software solutions to ensure that our clients can make their travel plans with unprecedented ease. Rent a private jet to take you from Munich to Valencia or Miami to Vancouver. We are a renowned international charter booking service. We can line up private jet or helicopter flights to take you to and from a wide array of global destinations. Simply access our app and let LunaJets help you line up bespoke travel service.
Pricing Transparency
LunaJets is committed to helping clients find the best pricing on private jet service to worldwide destinations like Greece, Russia, Canada, and more. When you book a flight to Algiers or Nice, for example, you can expect to find transparent pricing. You'll know exactly what to pay right from the start with no surprise or hidden fees. We provide you with a quote and you confirm to arrange your plans. It's that simple.
Discover the Enchantment of Nice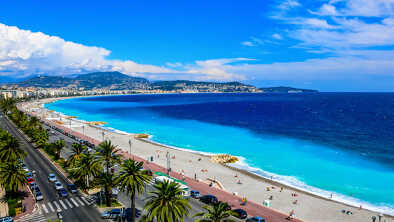 Located near the foothills of the Maritime Alps beside the glittering waters of the Mediterranean, beautiful Nice attracts visitors from all over the world. If you're flying to Nice for business or a special getaway, be sure to set aside some time to enjoy some of its most celebrated attractions like the charming French restaurants of the Old Town, the seaside beauty of Promenades des Anglais, Castle Hill Park, and the Musee des Beaux-Arts. Nice is home to world-class resorts and hotels as well as postcard-worthy beaches and gardens.
Experience the Sunkissed Splendor of Algiers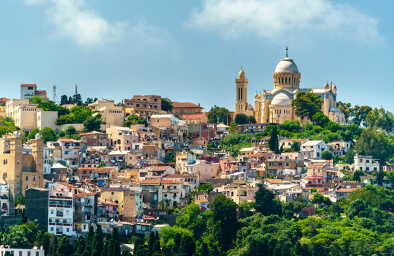 The Casbah and Old City off Algiers has long attracted visitors to this area of North Africa. Located in Algeria, the city of Algiers is home to stunning architecture and unforgettable cultural attractions. If you're planning to travel to this ancient coastal city, be sure to check out sites like the Notre-Dame d'Afrique basilica, the bustling Rue Didouche Mourad, and the Great Mosque of Algiers--the city's oldest mosque. Algiers is also known for its friendly and inviting cafes and restaurants.
Book Private Flight Service with LunaJets
If you want to travel in luxury and style to international cities like Nice or Algiers, book your charter jet with LunaJets. With our online service, you can arrange private jet service to major cities all over the world, including Athens, New York City, Frankfort, and Madrid. Save money and time by relying on our extensive network of private jet operators who feature licensed, experienced pilots and outstanding support staff. Once you experience our bespoke private jet service, you'll never want to fly commercial again.