Hire a Private Jet to Muscat
Book a private jet now to start your trip to Muscat in comfort, or consider a helicopter transfer for a novel flying experience.
What can you do in Muscat?
There's no shortage of exclusive, high-end experiences in Muscat.
Luxury Shopping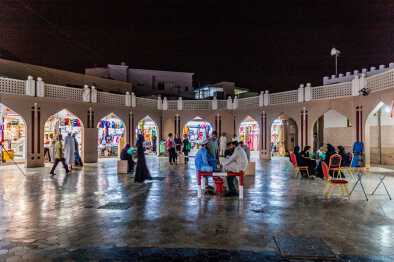 From traditional Souqs to upmarket shopping opportunities such as the Capital Stores Complex, Muscat has plenty of amazing opportunities to shop. Shoppers at Capital Stores can pick from the finest names in couture, beauty, homewares and more.
The Royal Opera House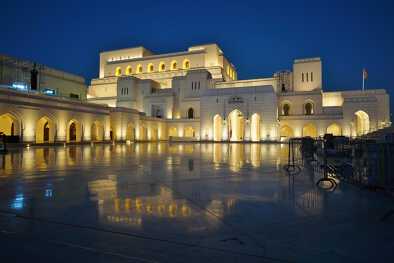 Featuring an international programme of artists, musicians and performers, the Royal Opera House is a fantastic option for an evening's entertainment. The Opera House complex also incorporates several high-end jewellery stores if you fancy a little shopping before the performance starts.
Charter a Yacht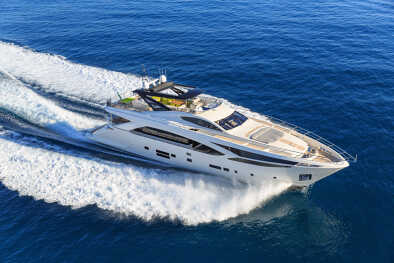 From a trip around the Bay to watch dolphins and other marine life through to a romantic evening cruise with dinner on board, chartering a yacht in Muscat offers a wealth of possibilities. Sailors can opt for a half-day, full-day or overnight voyage.
Where to Stay in Muscat?
Sumptuous accommodation with impeccable service come as standard in upmarket Muscat hotels.
Shangri La Al Husn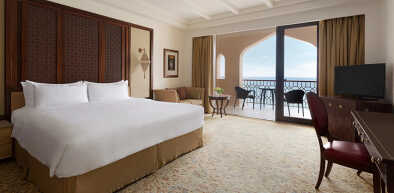 Perched on a clifftop overlooking the harbour, the Shangri La Al Husn offers unbridled luxury in traditional surroundings. The Royal Suite has a design inspired by an ancient Oman castle (at Jabreen), alongside 21st-century comfort and facilities.
Shangri La Barr Al Jissah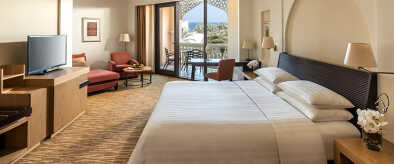 With an enviable beachside location, the Shangri La Barr Al Jissah offers modern, high-end accommodation with excellent facilities. From a dedicated turtle ranger who protects the turtle nesting sights on the private beach, to watersports, pools and a spa, the Barr Al Jissah offers a unique accommodation experience.
W Muscat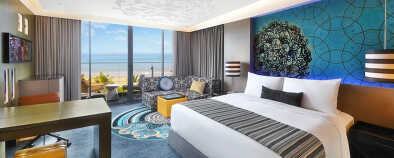 Benefiting from sumptuous suites that showcase traditional Arabian opulence, the W Muscat is the perfect location to relax and be pampered. With an appealing "Whatever/Whenever®" approach to service, you can be confident of having every need met during your stay.
Where to Eat in Muscat?
Whether you favour fine dining or a more informal meal, Oman cuisine has plenty to offer.
The Beach Restaurant
Enjoy stunning al fresco dining at the water's edge when you visit The Beach Restaurant. With a seafront location in Muscat, the menu focuses on fresh, locally sourced seafood that's cooked using a fusion of contemporary and traditional ingredients.
Bait Al Luban
If you want to experience authentic Oman cuisine, the Bait Al Luban is the place to go. Enjoy the subtle spice blends and exciting ingredients that give local dishes a depth and richness you're unlikely to find anywhere else.
Al Angham
Located in the Royal Opera House, Al Angham features traditional styling and serves Oman dishes, cooked to perfection. The restaurant offers a fine dining experience, complemented by exceptional service.
What Events to Attend in Muscat?
Take part in the spectacular events that help make Muscat such a great place to visit.
The Muscat Festival
Held throughout January each year since 1998, the Muscat Festival includes fireworks, street performances, stalls serving traditional Oman street food and much more. Hire a private jet and visit Muscat now to enjoy the show! Short-notice private jet options are always available if you fancy a last-minute visit.
Eid-al Fitr
Marking the end of the fasting period of Ramadan, the Eid festival is celebrated widely across Oman. Special food is cooked, people exchange presents, buy new clothes and come together to observe the occasion.
Oman Perfume Show
Held at the Oman Convention & Exhibition Centre (OCEC), the Oman Perfume Show brings together over a hundred different perfumers and fragrance providers from across the country. If you want a fragrance crafted to your specific requirements, or simply want to enjoy the experience, the Perfume Show is a good option.
The OCEC hosts a range of events throughout the year. If you see one you like the look of, a private jet charter lets you attend quickly and conveniently.