Hire a Private Jet to Bolzano
Although you may not have heard much of Bolzano, it is surrounded by picturesque mountain villages, abundant vineyards, and castles. Once you visit this wonderful holiday destination, you'll be singing its tales for years to come!
The unique fusion of German and Italian culture in Bolzano is what makes it charming for tourists. It serves as the western entrance of the Dolomite Road, which is a UNESCO World Heritage Site.
What Can You Do in Bolzano?
Bolzano has a host of activities that will keep you entertained and make for some unforgettable experiences. From getting to view the Franciscan Monastery originating from the 13th century to experiencing the splendid view of the Dolomites atop a cable car, plan out your perfect trip to Bolzano by including these destinations.
Support Local Merchants and Shop at the Vibrant Markets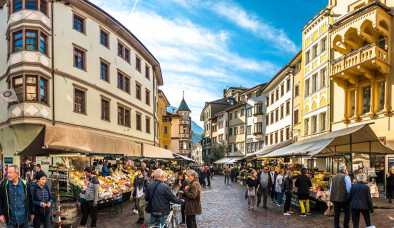 What better way to find some unique souvenirs for your trip than shopping from the local markets? If you happen to schedule a trip during Christmas, you'll experience first-hand why Bolzano is often referred to as the "Capital of Christmas". Enjoy the open markets held around Piazza Walther, Palazzo Mercantile, and Via dei Portici that are held every day.
Check out some Medieval Castle's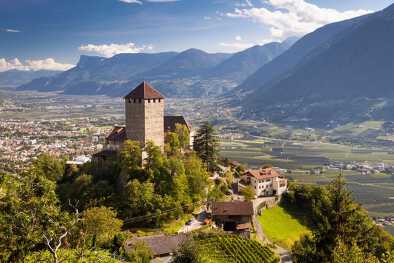 Who hasn't wanted to experience stepping inside a castle? If frolicking through medieval castles has been your dream, well, Bolzano's here to make them come true. Marvel at the unique architecture of some Medieval age castles located in Bolzano. Castle Runkelstein is a popular choice as it is the easiest to reach, but Flavo Castle, located nearby, is not a bad choice either, especially as it also boasts a restaurant to stop by.
Meet Rip Van Winkle's friend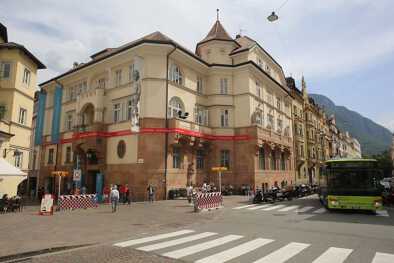 Otzi the Iceman is a natural mummy of a merchant who is believed to have lived in the region almost 5,000 years ago. Discovered in 1991, Otzi has been a source of wonder (and research) worldwide. Visit Otzi's Museum to learn all about the man who has been sleeping in the Otzal Alps for 5000 years.
Where to ski in Bolzano?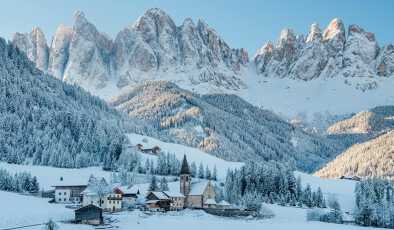 Grab your turn at skiing on the snowy Alps when you visit Bolzano. With over 750 miles of skiing slopes, you will have no shortage of fun when you're visiting the city. If not the skiing experience, you'll surely remember the wonderful view from your skiing resort.
Val Gardena
The largest ski resort in Bolzano, it is also the most popular choice amongst tourists. It is a part of the Dolomiti Superski network of 12 ski areas, all of which are perfect for the newbie skier. You can find challenging slopes too, that is thrilling and are bound to give you an athletic push.
Skiresort Solda – Sulden
With excellent snow coverage for six months in a year, the Skiresort Solda-Sulden is the best choice for those who want to explore some of the highest slopes in the city. With a ski kindergarten and snowboarding school, you don't have to be a pro to visit the ski resort.
Where to stay in Bolzano?
Stadt Hotel Citta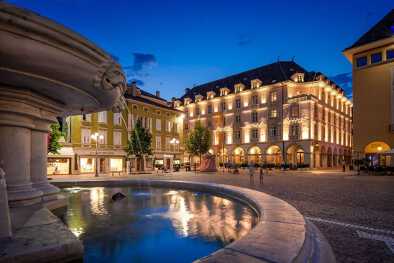 Stadt Hotel Citta is located in Piazza Walther, the heart of Bolzano. It is the ideal choice when you want to enjoy the marvellous architecture of the historic buildings in the city while enjoying a comfortable stay.
Parkhotel Laurin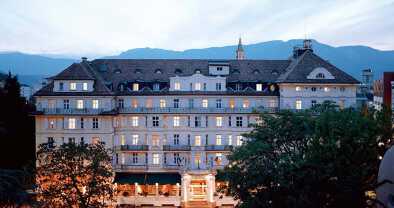 A blend of the modern and old, you will find 20th-century art decorating the walls of his hotel, along with a host of amenities to make your stay memorable. Operating since the 1910s, this hotel offers nothing short of a perfect stay.
Art & Design Hotel Napura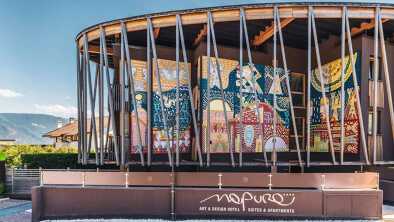 Although the location is farther away from the exciting spots in the city, the view and luxurious rooms make up for it. From excellent service to the wondrous view of vineyards, try booking a stay here if you want to make the most of your trip.
Why fly with LunaJets?
No direct flights to Bolzano? Try planning your trip with LunaJets and find out how easy it is to charter a private jet. Booking your private jet is as easy as turning on your laptop or tapping on your phone! LunaJets not only pride themselves on their service but also their transparency. Say goodbye to hidden fees or paying extra for comfort, LunaJets helps you compare chartered flight prices to help you select the best option for your trip.