Hire a Private Jet to Tel Aviv
What can you do in Tel Aviv?
Are you planning to rent a private jet to travel to Tel Aviv? The city is located in the Gush Dan metropolitan area of Isreal, and it is one of the most populous cities in the area with a vibrant culture and plenty for travellers to explore.
Beaches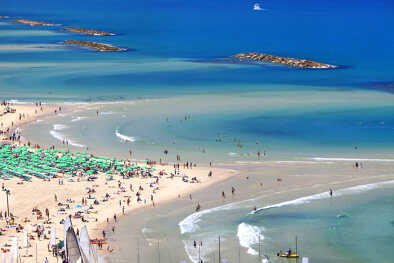 Vacationers have several options for reputable beaches to enjoy. Take a dip at the magnificent Hilton Beach, which supports a number of fun water sports through the Sea Centre Club. It also boasts some of the best nightlife with multiple late-night bars and dance parties with DJs. For a local flair, check out Dolphinarium Beach, home to young surfers, partiers, and even belly dancers.
Neve Tzedek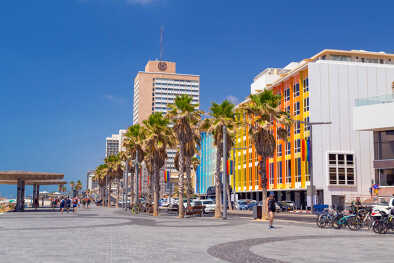 This scenic district is loved by artists and writers the world over. It provides convenient access to numerous stylish restaurants, bars and boutiques. The Suzanne Dellal Center showcases a wide range of performance art including modern dance. You will find fashion stores on Shabazi Street.
Levinsky Market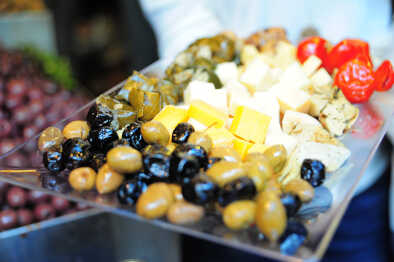 Located in the swanky Florentin neighbourhood, the Levinsky Market offers a wide diversity of food options. It is perhaps best known for its exquisite spices. Two local favourite restaurants are Tony & Esther and Beer Bazaar. You can also enjoy bureka filo pastries and fresh pomegranate juice.
Where to stay in Tel Aviv?
When deciding between luxury stays in Tel Aviv, there are several excellent options to choose between. Stay in a room with a view of the Mediterranean Sea or directly in the heart of the action. Historic and modern stays are both available in spades.
The Drisco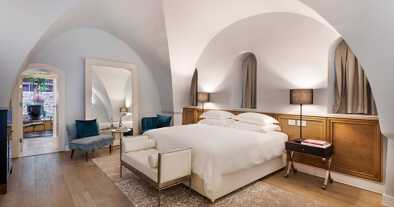 The Drisco is a historic hotel that offers lavish accommodations including a rooftop balcony with marvellous views of Tel Aviv's seashore. The hotel showcases architectural and interior design inspired by the Ottoman Empire including a hand-painted mural.
The Norman

The five-star hotel, The Norman, marries the classical with the contemporary. Arguably one of Tel Aviv's most luxurious hotels, The Norman is nestled in the White City district, a Unesco-listed World Heritage Site. It is housed in two buildings dating back to the 1920s.
The Jaffa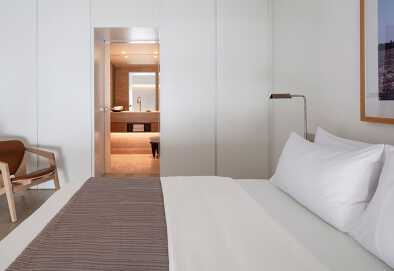 Nuzzled in the ancient Jaffa district, The Jaffa Hotel is a former French hospital and monastery that was brilliantly restored by renowned architects, John Pawson and Ramy Gill. The surrounding area showcases a series of small art galleries and boutiques.
Where to eat in Tel Aviv?
Tel Aviv features several fine dining options with beautiful views of the Mediterranean sea. Closer to the heart of the action, you will find a number of trendy spots near markets and events.
Kitchen Market
At Kitchen Market, you can watch the glorious views of the Mediterranean as you dine on creatively prepared seasonal dishes. The food is directly market-to-table, so you get to enjoy the food as fresh as possible.
Mashya
Mashya is fronted by an extraordinary chef, Yossi Shitrit, who also spearheaded Kitchen Market. You will surely love the cuisine with a Moroccan twist.
Hatraklin Meat & Wine Bistro
The Hatraklin Meat & Wine Bistro is conveniently located less than a mile from Jaffe Old City. Exquisite meat and wine are only the beginning of this superb menu.
What events to attend in Tel Aviv?
Tel Aviv hosts a series of annual festivals and events every year. As a cultural hub, there are multiple annual arts festivals to experience as well as concerts and nightlife.
Tel Aviv Cocktail Week
40 local bars and clubs participate in the annual Tel Aviv Cocktail Week. The locals love to say cheers during this time of year, so it's the best time to experience the culture.
Israeli Animation Festival
The Israeli Animation Festival showcases the best in upcoming Israeli filmmakers. This event doubles as a networking opportunity for potential financiers to connect with budding artists.
Sommelier Exhibition
If you plan to travel in February, then you could attend the Tel Aviv Sommelier Exhibition. You will be able to try hundreds of wines, discuss directly with winemakers, and purchase if you like.