Hire a Private Jet to Namibia
What Can You Do in Namibia?
Namibia is known for two things: thrill-seeking adventures and historical tours. The historical tours delve into the German influences over this country while the adventures are the most extreme imaginable.
Extreme Silver Safari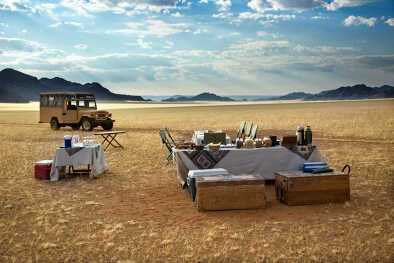 Thrill-seekers will enjoy ten days of extreme fun beginning with a unique private tour. This tour allows guests to visit Swakopmund, oceans/dunes, go on a safari, and many other adrenaline-filled adventures await.
Namibia Extreme Sports Package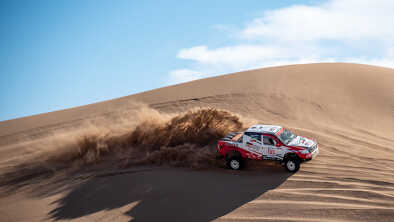 For adventure seekers, this package offers sandboarding in the dunes, quad biking, skydiving, a catamaran cruise, hot air ballooning, and a live desert tour. After all the excitement and adventure, guests can begin their day with a champagne breakfast in the desert.
15 Days in Namibia and Botswana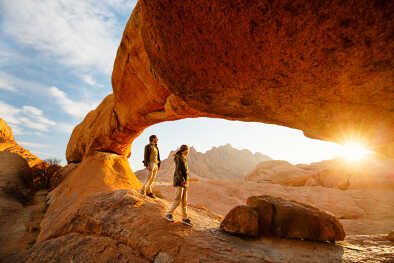 For the explorer, this tour offers guests a diverse and exciting tour all over Namibia and provides a snapshot of Botswana. Travelers will be taken on an exciting animal safari, across spectacular landscapes, and uncovering ancient art.
Where to Stay in Namibia?
If you are looking for luxury and beauty, these hotels rank top of the list. From award-winning estates to cozy, romantic beach resorts the perfect hotel awaits.
The Windhoek Luxury Suites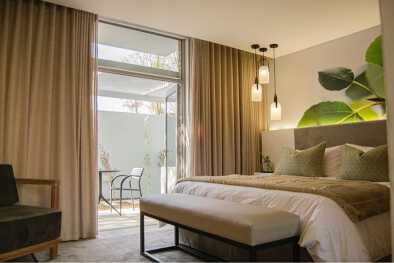 Windhoek Luxury Suites offer spectacular garden views and lavish designer suites. The comfortable, yet exquisitely decorated rooms open to a meticulously maintained private garden. Wood decked pools allow guests to relax and enjoy the Namibian sun.
Am Weinberg Boutique Hotel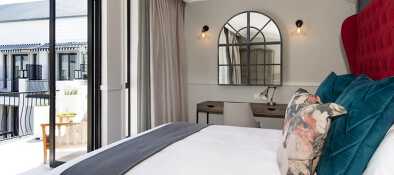 Located in the heart of Windhoek rests the award-winning Am Weinberg Estate. This estate has quickly developed a reputation for being a premier venue for destinations. This intimate boutique hotel contains 41 rooms ensuring the guests are kept the focal point of every visit.
Bay View Resort Namibia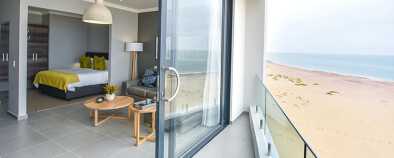 This beach resort contains all rooms which face the sea along with private balconies looking over the Atlantic Ocean. The in-house SALT restaurant and Sky Bar allow guests to view the sparkling sea and the dunes of Africa. Escape to the Ocean Escape Wellness Center or splash pool located on the rooftop for some relaxation.
Where to Eat in Namibia?
Namibia offers a multitude of historical places to enjoy a fine dining experience. The most famous is the Heinitzburg Castle which contains four separate restaurants.
Heinitzburg Castle
This restaurant reflects the character of Africa with the influence of African and European settlers which shaped history. The Knight's Room is also a featured restaurant. It is an exclusive venue that resides in the original castle and houses authentic historical art.
Leo's at The Castle features local to international a la carte cuisine while overlooking the capital city's skyline.
The Stellenbosch Wine bar
The Stellenbosch pairs South African fine wine with premier quality meat resulting in a luxurious culinary experience. It offers an elegant selection of beverage to accommodate their guest's tastes and pride itself on culinary excellence. Their goal is to exceed your expectations.
The Tug Restaurant
Located near the Atlantic Ocean and Namibian coastline, the Tug Restaurant creates an authentic, yet rustic experience. Known for its homemade freshness and locally sourced foods, the menu quickly evolves. Customers will enjoy the breathtaking scenery while enjoying warm Namibian hospitality.
What Events to Attend in Namibia?
In terms of events, Namibia has a few festivities splattered throughout the year. It also contains a spectacular museum housing little-known historical details, and an art gallery exhibiting incredible talent.
Jazz Night at the Hilton Kalabar
This event is a pre-celebration of Heroes' Day. Visitors will dig deeper into the world of Afro-Jazz and fusions. Along with jazz, you will experience intervals of traditional Namibian and Damara music as well to round out the night.
National Art Gallery of Namibia
This art gallery's focus is to inspire and inform the public about cultural and visual arts native to the country. It houses the Arts Association Heritage Trust Permanent Collection as well as the NAGN Permanent Collection. They host contemporary international, national, and local art in a constantly morphing series of temporary exhibitions.
Windhoek Karneval
This is the largest cultural event located in Windhoek. Individuals will experience a German atmosphere throughout the festival. The festival encompasses musical performances, carnivals, and a masked ball just for adults.