Hire a Private Jet to Los Angeles
Whether you've decided to book a private jet from elsewhere in the U.S.A or any other international hotspot, Los Angeles and its urban landscape are ready to welcome even the most unique of needs. Few cities in the world can claim the same level of hospitality.
What can you do in Los Angeles?
The City of Angels offers no shortage of internationally famous cultural and entertainment sites for any private jet charter visitor to enjoy. These are in fact the very things it's most famous for.Here are a few of both kinds.
Hollywood Walk of Fame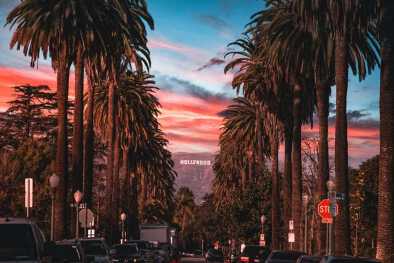 One of the single most iconic and history-soaked landmarks in Los Angeles is the Hollywood Walk of Fame. A walk down this stretch of street delivers nearly 100 years of Hollywood star history from the Golden Age of the major studios right up to the present day. A tour of the Walk lets you take in the sight of decades of literal celebrity handprints from some of the most famous faces that this city has ever brought to worldwide fame.
Griffith Observatory
The iconic Griffith Observatory has probably appeared in more films than just about any other scientific observation facility in human history. This public observatory is operated by the City of Los Angeles for open public access and sits nestled atop Mount Hollywood in the also lovely Griffith Park. The Observatory's planetarium includes public events, telescopes, a café, bookstore and most importantly, some of the finest views of the surrounding L.A. urban landscape
The Sunset Strip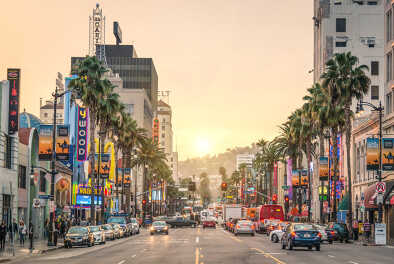 In a city so full of legendary landmarks that it's hard to name only a few, the Sunset Strip is one of the most famous. This culturally unique stretch of Sunset Boulevard extends for 1.5 miles and offers a stunning wealth of music venues, nightlife, luxury boutiques, gourmet restaurants and unique hotels. Nearly every corner of the Strip is saturated with Hollywood history and its bars deliver incredible views of the surrounding city along with their award winning cocktails.
Where to Stay in Los Angeles?
In a city so full of unusual, cool, hip and exquisitely luxurious hotel options, it's hard to name just a few that stand out, but they exist. Here are some of the most interesting hospitality options in this one-of-a-kind star-studded city.
Shutters on the Beach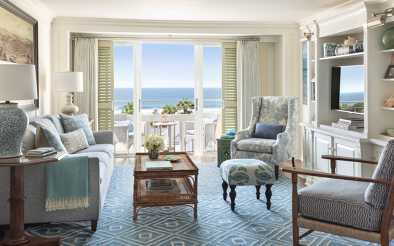 Want a chance to sit poolside or by the bar with visiting celebrities while you take in the beachside views? Then Shutters on the Beach is an ideal choice. This resort-like hotel in Santa Monica offers lovely seaside rooms and suites, a selection of top-tier restaurants and absolutely exquisite cocktail lounge options for a truly relaxing Los Angeles experience that takes you completely away from the city's famous urban sprawl without having to travel inconveniently far. Shutters delivers impeccable concierge service and is absolutely built with breezy luxury as a priority.
Hotel Bel-Air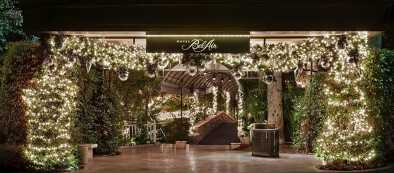 The Hotel Bel-Air's secluded, exquisite service caters to your needs from inside an elegantly Mediterranean complex of buildings from the 1920's. Spacious suites, a swan lake, lush gardens and a full service spa all complete a picture of refreshing retreat from the surrounding city without actually having to leave it. The hotel complex is in fact nestled into a sprawling 12 acres of garden space inside of which fine dining, lively cocktail evenings and superbly attentive concierge service are waiting to be explored.
The Peninsula Beverly Hills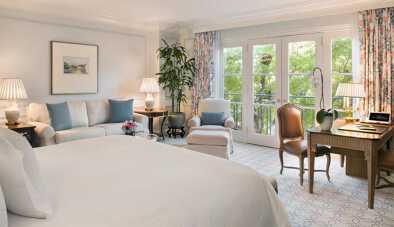 Located right in the star-studded heart of Los Angeles, The Peninsula Beverly Hills is a truly luxury hotel that also offers an oasis-like tranquility of beautiful accommodations, personalized service and five-star rooms with all the amenities you could want. This hotel is beautiful inside and outside and wonderfully located just a short walk from the world-famous Rodeo Drive. The Peninsula's luxury courtesy cars are also on standby to take you wherever you need to go, be it a trip into the business district for executive duties or for an excursion to Beverly Hills.
The Andaz
We already described the uniquely iconic Sunset Strip. One of its famous hotels is the Andaz, and it's absolutely worth considering. The fully modern 4-star Andaz hotel towers right above the Sunset Strip itself and offers a rich history of celebrity visits, including those by famous musicians such as Led Zeppelin and uncountable Hollywood film stars. This hotel not only offers luxury accommodation, it's also an art gallery, with installations that honor its culturally famous history.
Where to Eat in Los Angeles?
Just as in everything else, Los Angeles absolutely exceeds all normal bounds when it comes to fine dining. The city is one of the world's absolute premiere dining locations and even a brief consideration of your options makes this obvious. It's almost impossible to name just a few truly exceptional restaurants.
Guerrilla Tacos
Don't let the seemingly simple notion of a taco restaurant fool you. The Michellin-rated Guerrilla Tacos offers a truly unique and absolutely delicious gourmet taco dining experience that combines classical Mexican cuisine with a brashly tasty touch of contemporary fusion. Guerrilla's offerings are numerous and deeply flavorful, with exotic combinations of fish, meats, vegetables and assorted exotic ingredients mixed with freshly selected local produce and seafood. What better choice for a casual afternoon meal or light dinner than cuisine inspired by one of the most influential cultures in Los Angeles?
Bistro 1759
If any one single Los Angeles dining experience really can be said to encompass the city, then Bistro 1759 pulls it off, literally. This gourmet restaurant offers its visitors a ride around town atop the famous Grove Trolley as they enjoy their lunch or dinner selections. Menu items include grilled delicacies, sushi and seafood options and of course a very accommodating vegan/vegetarian selection of dishes. There is of course also a fine cocktail and wine menu on hand.
Tomoko Spa
Imagine a dining experience that also includes indulging in a luxury combination of relaxing massages conducted by exquisitely trained professionals. This is what Tomoko Spa offers and it takes its task seriously. Their menu of refreshingly delicious sushi and other Japanese cuisine options is one of the best in the city while the massages themselves are known for alleviating exactly the kinds of aches and pains that a long distance trip can cause. After your own massage, enjoy the unique pleasure of relaxing into a kimono and sitting down for a lovely platter of freshly cut sushi.
What Events To Attend in Los Angeles?
Just as it excels in nearly every other category that a visitor could love, Los Angeles is also brimming with hip and incredible events. Here are just a few.
AFI Fest
The American Film Institute's festival event for new cinematic productions is unique in one major way: It's completely free while regularly screening premiere presentations by acclaimed producers, directors and studios. It also hosts in-depth round-table discussions with elite movie industry figures and actors.
L.A Festival of Books
If you're a literary lover who just loved to kick back with an interesting new reading acquisition, then the L.A Festival of Books is a must-visit event. Featuring hundreds of sellers in all sorts of categories, it's also loaded with cultural events and book signings.
L.A. Pride Festival
One of the oldest Pride parades in the United States has been taking place in Los Angeles since over 45 years ago. And it's worth attending for more than just a show of solidarity with the LGBT community. The Pride Fesitval and Parade is a fantastic and exuberant display of L.A. culture and party atmosphere.