Hire a Private Jet to Antalya
Just a few hours away, a private jet charter to Antalya is the perfect choice for a spontaneous weekend away or a relaxing short break. When you book a private jet or helicopter transfer, destinations such as Antalya are easily accessible.
Read on to discover some of the options available in this fascinating, vibrant city.
What can you do in Antalya?
Whether you stay a weekend, a week, or a lifetime, there'll always be something new and different to experience in Antalya. The combination of vibrant city facilities, ancient customs and traditions, and stunning scenery ensure Antalya never grows old.
Kaleici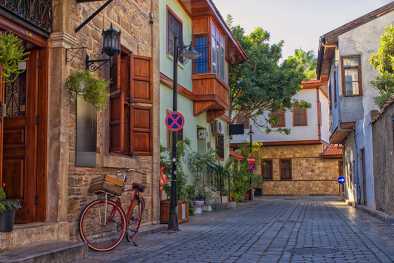 Take a step back in time and wander around the ancient streets of Kaleici - the old part of Antalya. With buildings and a street layout that date from pre-Roman times, Kaleici has, in the past, been part of the Roman Empire, the Byzantine Empire and the Ottoman Empire. Today it consists of an eclectic mix of intimate cafes, guest houses, artisan shops and street stalls. Whether you wish to pick up a souvenir or two or enjoy a leisurely coffee with a piece of lokum (Turkish Delight), Kaleici is a good choice.
Termessos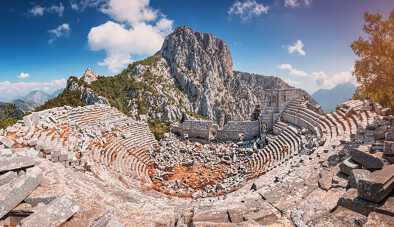 Located a short drive from Antalya (and also accessible by public transport), Termessos is thought to be Turkey's oldest settlement. Termessos is a Psidian city set on the side of a mountain in the beautiful Gullk Dagi National Park. Wander through the atmospheric ruins, set against the backdrop of forest and mountain peaks.
Lower Duden Waterfalls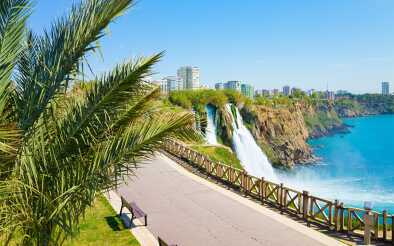 There are several stunning waterfalls close to Atalya that are well worth a visit. Lower Duden Waterfalls are actually two sets of falls - the upper cascades are located in a tranquil local park, whilst the lower falls plunge dramatically into the Mediterranean. Whether you choose to swim near the lower falls or spend time in the park admiring the upper falls, these amazing natural attractions never fail to delight.
Where to Stay in Antalya
Antalya offers a wide range of accommodation, which includes traditional options as well as modern, purpose-built complexes. Whether you wish to stay in a hotel or enjoy the added freedom that a villa or bungalow can bring, Antalya has something suitable on offer.
Rixos Downtown Antalya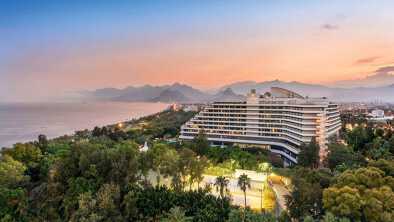 A contemporary hotel with attractive balcony views that overlook either the sea or the mountains, the Rixos features tennis courts, a swimming pool and spa facilities.
Barut Lara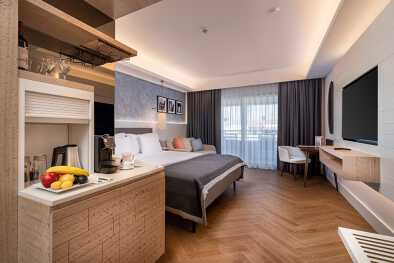 A private resort that incorporates beautiful suites alongside private pools, gourmet dining, spa facilities and more, Barut Lara offers space, privacy and well-appointed facilities. If you want a discreet, comfortable and peaceful base from which to explore Antalya, the Barut Lara is a good option.
Olympos Lodge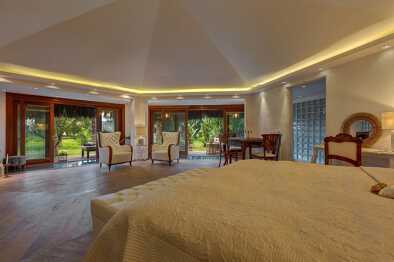 If you love the idea of beachside, private accommodation, Olympos Lodge is ideal. Guests stay in well-appointed bungalows, dotted around a semi-tropical landscape. Complete with resident peacocks and nesting turtles, the beach is just yards away! From outdoor, candlelit dinners to indulgent spa facilities and open fires for chillier evenings, Olympos Lodge has all the ingredients for a perfect break.
Where to Eat in Antalya
From fine dining through to delicious street food, diners in Antalya are spoiled for choice. A wide range of cuisines is on offer, with an eaterie available to suit any taste.
Seraser Fine Dining Restaurant
Located in a centuries' old manor house, Seraser serves dishes that fuse contemporary trends with traditional Turkish classics. The focus is on local ingredients and recipes that draw inspiration from food that has been served in and around Antalya for millennia. This is a Michelin starred restaurant that's arguably the best place to dine in Antalya.
Vanilla Restaurant
Like the Serasar, Vanilla is located in Kaleici. Guests can enjoy seasonal, modern dishes that showcase contemporary Turkish cuisine wonderfully well.
Pio Gastro Bistro and Bar
Slightly less formal than Serasar, but still offering outstanding dining, the Pio Gastro Bistro and Bar brings dishes with a South American twist to Antalya. The Bistro's speciality is charcoal-grilled meats. The carefully curated wine list and selection of cocktails complement the menu wonderfully well.
What Events to Attend in Antalya
There's almost always something fresh to see or do in Antalya. In addition to location-specific events, Antalya also celebrates all the main Turkish festivals.
Sandland
Every year, internationally recognised sand sculptors descend on Lara Beach, Antalya, to create stunning sand sculptures. Sandland is one of the largest sand sculpture festivals in the world. The festival is open between May and November each year.
International Antalya Autumn Festival
Combining a number of national commemorations and anniversaries, the Autumn festival is a chance to enjoy parades, events and celebrations in Antalya.
Aspendos Opera and Ballet Festival
Held just outside Antalya at the 2000-year-old Aspendos Theatre, the Opera and Ballet festival attracts some of the best international performers and touring companies in the world.