Hire a private jet to Palau Islands
How can you hire a private jet in Palau Islands?
At LunaJets, we stand to our pillars; simple, fast and reliable and will ensure the best travel for you and your loved ones. With our long-standing history and being the market leader in this sector, we have an extensive fleet of 4800 aircraft. Moreover, we will adapt to any of your needs, whether a cargo charter a group charter or a last-minute charter.
We invite you to download our new LunaJets App and follow the steps for your dream charter.
The advantages of the App are:
Book a flight anytime and anywhere

Store manage and retrieve documents

You will have geolocation with directions to the respective airports

Compare all the pricing options online

Compare the aircraft and their features

Maintain informed thanks to live updates
If you prefer contacting us the old-school way, call any of our aviation advisors today and get the best private jet charter option.
Some of the advantages of charter flights are:
You get to choose your own schedule, with no delays or long queues

You get to choose your route, with no annoying layovers

The flight is tailormade to all your preferences (be it dietary, additional luggage etc)
What is the best city to visit by private jet in Palau Islands?
Palau, as a small archipelago nation, does not have traditional cities like larger countries. Instead, it consists of several states and islands that are scattered across the Western Pacific Ocean.
Koror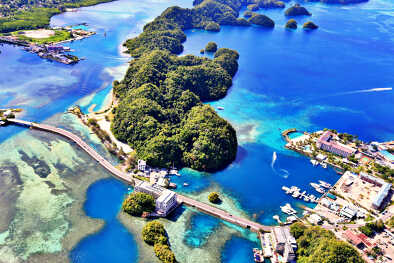 Travelling to Koror, the bustling commercial and tourism hub of Palau, promises an unforgettable vacation immersed in natural beauty and vibrant culture. With its stunning coastal vistas, pristine beaches, and abundant marine life, Koror offers a paradise-like setting for travellers seeking a tropical escape. The city boasts a range of luxury hotels that cater to discerning guests, providing world-class amenities and breathtaking ocean views. One of the luxurious hotels in Koror is the Palau Royal Resort, known for its exquisite accommodations, stunning ocean views, and world-class amenities. This beachfront resort offers spacious rooms and suites, private balconies, a beautiful swimming pool, spa facilities, and fine dining options, ensuring a memorable stay for discerning travellers. For a remarkable dining experience, Elilai Restaurant is a renowned establishment in Koror. Located in the heart of the city, Elilai Restaurant offers a sophisticated ambience and a menu featuring a fusion of Palauan and international cuisines. With its elegant decor, attentive service, and delectable dishes prepared using fresh local ingredients, Elilai Restaurant is a perfect choice for a memorable dining experience in Koror.
Getting there:
The airport serving Koror is the Roman Tmetuchl International Airport (ROR, PTRO). It is the main gateway to Palau and is located on the island of Babeldaob, approximately 7 kilometres northeast of Koror.
The best event where you can fly in by private jet to Palau Islands
International Photo Festival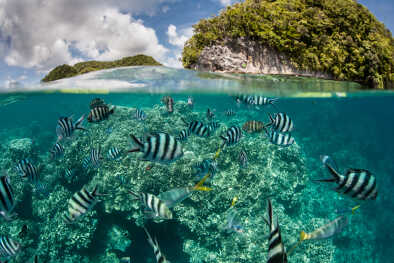 The International Photo Festival in Palau is a vibrant event that celebrates photography in the captivating backdrop of Palau's natural landscapes. It brings together photographers from around the world for exhibitions, workshops, and cultural exchange. Visitors can immerse themselves in diverse photographic styles and themes, while also experiencing the beauty of Palau. The festival showcases the power of visual storytelling and offers a unique opportunity to explore the intersection of art, culture, and nature. It is a must-visit for photography enthusiasts and those seeking a dynamic artistic experience in a breathtaking setting.
Getting there:
The airport nearest to the International Photo Festival in Palau is the Roman Tmetuchl International Airport (ROR, PTRO). Located on the island of Babeldaob, this airport serves as the main gateway to Palau and is approximately a 30-minute drive from Koror, where the festival is typically held.