Hire a Private Jet to Bali
Things to Do in Bali
Bali has plenty of luxury activities for visitors to experience. From art galleries to helicopter tours, you'll get to see Bali's beauty and culture firsthand throughout your stay.
Volcano Helicopter Tour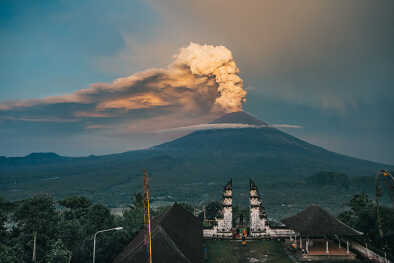 Behold the beauty of Mt. Batur from the sky with this helicopter tour. You'll be taken around the volcano during your tour where you'll have an uninterrupted view of the surrounding landscape, including nearby rivers and rice fields.
Nyaman Art Gallery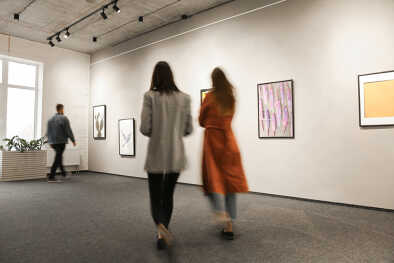 Enjoy contemporary works of art at the Nyaman Art Gallery, which features local artists who combine modern and traditional styles for a truly unique exhibition.
New Kuta Golf Course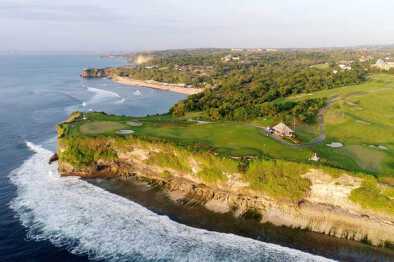 Play an unforgettable round at the New Kuta Golf Course. With each hole, you'll get to take in Bali's gorgeous landscape and tranquil atmosphere.
Where to Stay in Bali
Designed to accommodate travelers who are drawn to the beachy, natural landscape, Bali has plenty of luxury hotels that are perfect to come back to after a long day of sightseeing. With all the amenities, views, and features you could ask for, you'll be tempted to extend your stay for the hotel alone.
Le Meridien Bali Jimbaran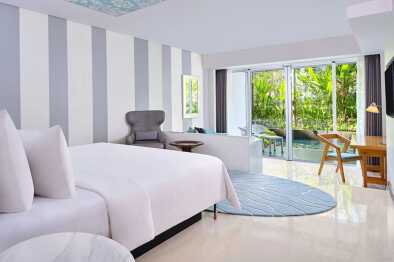 Located on the peaceful Jimbaran Bay, the Le Meridien Bali Jimbaran offers breathtaking views of the Indian Ocean. Relax and recenter at this serene and contemporary hotel with its traditional and tasteful atmosphere.
Sanctoo Suites & Villas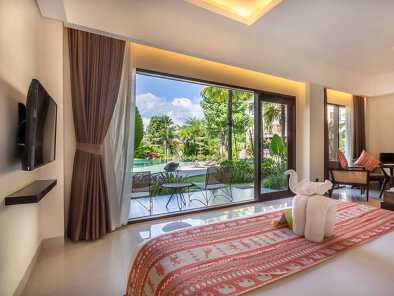 Designed with peace and romance in mind, you can relax in luxurious comfort at the Sanctoo Suites & Villas. You and your guests will escape into the jungle as you unwind surrounded by the rushing river and the peaceful workings of the Indonesian wilderness.
Anantara Uluwatu Bali Resort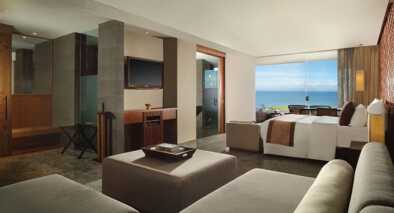 Leave the world behind at this dramatic cliffside resort. The Anantara Uluwatu Bali Resort sits delicately above the Indian Ocean, ensuring incredible views at any angle. Enjoy countless amenities, hidden beaches, and a taste of heaven at this luxury resort.
Where to Eat in Bali
The food scene in Bali has become a destination in its own right. Enjoy local and international cuisine that you'll dream of long after you return home.
Koral Restaurant
Enjoy a truly one-of-a-kind dining experience at Koral Restaurant, where guests are seated beneath a vibrant, fish-filled aquarium. Watch the peaceful creatures swim by as you dine on fresh coastal flavors made with locally-sourced ingredients.
Bai Yun
Enjoy a convivial hot pot with a luxurious, elegant flair at Bai Yun. The chefs at Bai Yun have mastered authentic Asian flavors and revived them with their own culinary flair and style. Choose a flavor-packed broth to start and enjoy it with an assortment of locally-procured seasonal meats and vegetables for a memorable night out.
Boy'N'Cow
One of the most popular restaurants in Bali, Boy'N'Cow is an elevated steakhouse that goes the extra mile to ensure each dish is an experience in itself. With every cut of meat dry-aged on-site, every bite you take will be jam-packed with layers of flavor. Combined with the high-end industrial atmosphere, Boy'N'Cow gives guests the ultimate dining experience.
Events to Attend in Bali
From festivals to national holidays, there is no shortage of events to attend in Bali; each one gives you the chance to experience the country as the locals do.
Ubud Food Festival
For several days in April, you can taste the best that Indonesian cuisine has to offer at this annual culinary extravaganza.
Bali Arts Festival
This yearly event showcases a vibrant variety of colorful exhibitions and performances. Enjoy food, parades, and entertainment as you celebrate the local culture.
Saka New Year
Celebrate the Balinese New Year and free yourself from malevolent forces by partaking in this lively and festive local celebration.