Nine Fast Facts on the Challenger 3500
The Challenger 3500 is a leap forward in private aviation, featuring a technologically advanced cabin in its class. It introduces productivity-enhancing features, comfort for long-haul travel and impressive performance.
A luxurious cabin experience — The Red Dot: Best of the Best Design Award-winning cabin of this newest Challenger aircraft is suited to work or play. Features include an attractive galley with a large contemporary countertop with an extra pull-out surface that offers ample room for in-flight catering service, including storage space, a wine chiller compartment and options for warm food preparation. There is also a fully-enclosed lavatory onboard with a wash basin, mirror and closet storage.

Sitting on a cloud—the innovative gravity-defying Nuage seat nestles passengers in comfort for productivity and rest. The Nuage seat features a patented tilt link system for a zero-gravity position, which offers a neutral body posture to reduce pressure on the lower back and even weight distribution for improved circulation. In the upright position, the Nuage seat's leg rest features a swept-back design allowing a more comfortable seated posture and legroom. The Nuage seat's floating base, with a trackless footprint and permanently centred swivel axis, allow fluid movement. The exclusive tilting headrest provides optimal neck support and alignment in any position.

Productivity and relaxation—Spacious hide-away tables enhance service and productivity. Haptic response controls allow passengers to customise their settings. The advanced noise-dampening features, low cabin altitude, and fresh cabin air with a rapid replacement rate (less than two minutes) allow passengers to arrive refreshed and relaxed after long journeys.

Smooth journeys—an advanced wing design and aerodynamic improvements avoid bumps for a comfortable ride from takeoff to landing.

Sustainable innovation—the Challenger 3500 aircraft was designed with sustainability in mind—offering eco-friendly solutions like SAF (sustainable aviation fuel) operations and other features to lower its environmental impact.

Long-haul Performance—the aircraft has a range of 3,400 nautical miles (6,297 km) and can fly non-stop from London to Dubai with all seats occupied and full fuel. With a take-off distance of 1,474 m and a landing distance of 721m, the Challenger 3500 can also operate in challenging airports worldwide, such as London City and Lugano. The aircraft can climb to 13,106 m, avoiding commercial air traffic and adverse weather conditions that can result in turbulence. It will also make the journey faster with a top speed of M 0.83 and a typical cruise speed of M 0.80.

Lots of room—with seating for up to 10 passengers and three cubic metres of luggage space (accessible from within the cabin). The cabin interior is 1.83m high, 2.19m wide and 7.68 m long.

High-tech flying—a unique voice-control cabin assistant can manage lighting, temperature, entertainment and access real-time flight information on personal electronic devices. The Challenger 3500 cabin also includes a large 4K display for in-flight entertainment or presentations on the go, wireless phone chargers, and both Ka-band and 4G Air-to-Ground connectivity options for more extensive internet access.

Bombardier's first Challenger 3500 business jet entered service last year with owner Les Goldberg, chairman and CEO of Entertainment Technology Partners, a long-time Challenger 350 owner. The list price for the new super-midsize aircraft was $26.7 million.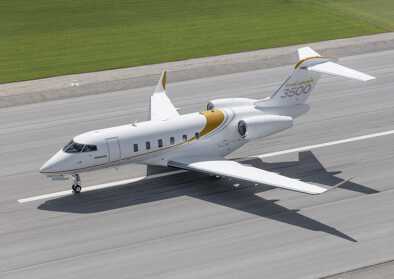 Book your long-haul plans on a Bombardier Challenger family aircraft (or whichever aircraft model best suits your journey) by contacting your LunaJets advisor.