Private Jet Charter: Your Current Guide
A plane trip in a private plane or business jet is considered by many to be elitist, but is by no means reserved for the super-rich with unlimited financial means. You can rent a private jet at a price that is probably cheaper than you think - especially for so-called empty leg flights.
The common fear that flights with a private jet are more dangerous than scheduled flights has no basis whatsoever: Business jets are subject to the same internationally valid construction and safety regulations as any airliner. The cockpit and cabin crew have the same flight licenses as the crew of a scheduled aircraft and the company responsible for flight operations must observe the same maintenance and operating regulations as an airline.
Some newcomers to private flights are surprised at how easy and smooth a private jet charter is. Those wishing to travel simply contact a private jet broker and submit a non-binding inquiry. The broker then suggests suitable aircraft classes and operators for the project. Of course, the price expectations of the interested party are also taken into account. After the decision for a specific private flight, the agent takes over all further organizational steps.
What is a private jet charter?
The easiest way to explain a private jet charter is to distinguish it from scheduled flights. Instead of sharing the aircraft cabin with strangers, you book the entire aircraft with a private jet charter - including the pilot. In analogy to road traffic, one could also say: take a taxi instead of a bus.
With a private jet charter, you have the freedom to choose where and when to fly. The number of passengers and the length of the flight route are then only limited by the capacity limits of the individual aircraft type. There are big differences, especially in terms of range and cabin size. The operator of the jet is responsible for the operation of the aircraft, including compliance with all flight-related rules and regulations.
If you want to travel with more than 15 or more passengers, you can rent a regular airliner. This is also possible through an experienced broker. The procedure is comparable to renting a business jet.
Our current guide contains the most important information for your first private jet charter flight.
What are the advantages of a private jet charter compared to a scheduled flight?
Time saving and time flexibility by flying directly to the airport of your choice and according to your own schedule.
Reduced stress at the airport thanks to a private jet terminal with its own security check, no queuing for passengers for check-in and security.
Absolute privacy and exclusivity during the flight for you and your fellow travelers.
You land closer to your destination than the large commercial airports, as private jets can also fly to many less frequented airports.
You travel more comfortably - even luxuriously if you wish - with more personal service on board.
How much does a private jet charter cost?
The costs for your flight project depend very much on the length of the flight route and the category of the business jet. The following cost ranges serve as a guide, but may vary up or down in individual cases.
Smaller turboprops with 6 to 8 passengers cost around 2,000 euros per flight hour.
For light jets, around 3,000 euros to 4,000 euros are billed per flight hour.
The price for heavy jets with a long range of over 10,000 km is between 5,000 and 7,000 euros per flight hour.
The following cost items are included in the rental price:
Transport of aircraft, pilot and crew to the departure airport (if necessary)
Pilots and flight attendants
Accommodation costs for the crew
Landing, parking and handling fees
How fast does a private jet fly?
The cruising speed of a modern business jet is around 840 km / h. Taking into account the time required for arrival and departure, the business jet - like an airliner - can manage around 800 km per hour (without taking tail or head wind into account).
What role do private jet brokers play in booking flights?
The private jet broker plays the central role in booking a private jet. He records your flight concerns and, based on his experience, knows best which aircraft category suits your travel parameters. The broker obtains offers from various renowned charter companies with the corresponding AOC (Air Operator Certificate). The AOC includes the operating license for commercial flights and ensures that the airline meets all operating and safety standards like a regular airline.
The broker itself does not operate any planes. He is the mediator between you and the aircraft operator. The aim of the intermediary role is to offer you the most convenient and, at the same time, most cost-effective solution.
Can the flight project also be booked directly with the aircraft operator?
Of course, you can also book your flight project directly with a business jet operator. However, you should bear in mind that your selection is limited to the aircraft types in the operator's fleet. You lose flexibility compared to booking through an experienced broker and you cannot be sure that you are flying on the best possible terms.
An experienced broker has a good negotiating position with the operators because he knows the market and can place orders repeatedly. It is a guarantee that the operator has a good reputation whose customers are happy to book a flight again.
What should I look for when choosing a private jet broker?
There are a few characteristics that a good private jet broker should absolutely have.
Personal 24/7 service
The idea of ​​chartering a plane can arise at any time in conversation with your business partners or friends or through unforeseen events. The agent should then immediately be available as a specialist for an initial consultation or direct booking. The round-the-clock availability by phone or chat should therefore be a knockout criterion for your broker selection.
Worldwide connection
A private jet broker with a worldwide network can also offer you a good individual service for land transport and any necessary, adequate accommodation at your destination.
Cost transparency
The offers made to you by the agent should not contain any hidden costs - for example in the small print.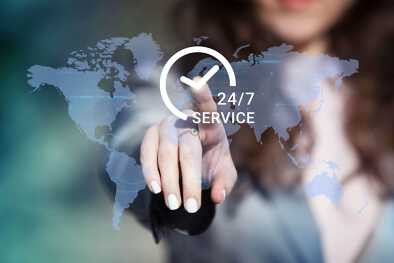 How short-term can I rent a private jet?
Experience has shown that most flight projects for a charter flight are planned and booked in advance with sufficient time. However, if there is a "fire" and has to go very quickly because unpredictable events have occurred, the necessary lead up to the take-off of the jet can be greatly reduced.
As a rule, a lead time of at least two hours is necessary to alert the crew and to prepare the aircraft for the upcoming flight with individual refueling and catering. Unlike a car, a business jet is not simply filled with the fuel, because depending on the number of passengers and their luggage, the payload limit could be exceeded.
In very urgent cases, brokers have already managed to get a jet to be in the air with the customer on its way to its destination just 30 minutes after being "alerted".
How do I book a flight in a private jet through an agent / broker?
Renting a business jet through a broker is very easy: you contact the agent by phone and explain your request. He will then advise you without obligation about the private flight options to the desired destination. The broker can often give you an initial cost indication within a few minutes.
1. First personal contact
A pure web booking of private jets - without personal contact by phone - will not (yet) be possible in 2021. When you first contact the broker by telephone, you should ideally have the following information relevant to the offer ready:
Flight route with airports for departure and arrival
desired departure or arrival time
2. Advice
The mediator makes suggestions regarding suitable aircraft types, weighing the respective advantages and disadvantages.
3. Catering selection
After preselecting the aircraft type in question, you can register any special requests regarding on-board catering (e.g. vegetarian or vegan food).
4. Transport and accommodation at the destination
They discuss any requests regarding transport and accommodation at the destination airport. Courteous private jet brokers will be happy to help.
5. Binding booking
As soon as all modalities have been clarified to your satisfaction, make a binding booking of the charter flight. In contrast to scheduled flights, you and your passengers do not need flight tickets.
How does a flight in a private jet work?
The pleasant and exclusive sides of a flight with a private plane start right at home. When you drive to the airport, you can be sure that all you have to do is take your personal ID or passport and your luggage with you. You don't need to worry about parking at the airport. Instead of joining the crowd of passengers waiting for check-in and the security check, you will be met at the special terminal by an employee of the Ground Handling Company (FBO) who will take over your luggage, escort you through the stress-free security check and take you to your aircraft transported. At the aircraft you will be greeted by the crew who, if you wish, can explain a few highlights of the flight to be expected. You take a seat on board the aircraft in one of the comfortable seats. As soon as the pilot receives permission from the tower to start his engines, it can start.
During the flight you experience exclusivity in a completely private atmosphere, because apart from the crew, only you and your passengers are on board. You can enjoy the flight and the meals that you have ordered before starting your journey or you can confer with your guests without running the risk of confidential issues leaking out. Depending on the type of aircraft, there is even WiFi access during the flight.
You will experience the same exclusivity after landing: You will be picked up directly at the aircraft and taken through the ID and possible customs control before you and your guests - if desired - take a seat in a limousine that will chauffeur you to your hotel.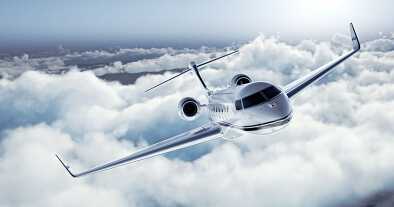 Buy or rent a private jet?
Have you taken a liking to the exclusivity, comfort and flexibility that you experienced when renting a private jet? And now you are considering buying and operating a business jet yourself to increase your flexibility even further. You may also expect cost savings as well.
Unlike a small single-engine private aircraft that you simply board and take off or let yourself be flown, a private jet such as an airline may only be operated in a professional, cost-intensive flight operation with a valid AOC (flight operating license). Not least because of this, you would have to have an annual number of flight hours of at least 400 hours in order to be able to catch up with renting a business jet in terms of costs. Particularly when purchasing a seemingly inexpensive private jet that is over 10 years old, caution is advised: officially ordered technical retrofits for engines and avionics can quickly become cost drivers.
It may also be worth taking a look at interim solutions: For example, it is also possible to have your jet operated by a recognized charter company with their crews and to integrate the aircraft into their maintenance operations.
Looking to buy a private jet ? Check out LunaSolution, our specialized branch.
What is an empty flight or an empty leg?
When a private jet is not at the departure airport for its next reservation, it must be on an empty flight, without passengers or goods. Empty flights are expensive for the airline because the costs are only slightly reduced compared to a flight with passengers and no income is generated.
The airlines are therefore trying to sell empty flights at significant discounts of 50 to 60 percent. The rumor circulating that empty legs can be booked almost free of charge is (unfortunately) incorrect. Would you like to benefit from the commercial advantages of an empty leg?
Your private jet broker will be the first to know about possible empty flights that they can offer you. Provided that your desired flight plan can be agreed with the flight route of the available empty legs.
Are pets allowed on a private jet?
Traveling with pets on a scheduled flight can be very stressful for both the pet and the owner. Pets traveling with you are transported in a cage and usually without direct contact with their master or mistress. In contrast to the cabin, the luggage compartment is usually insufficiently air-conditioned.
The situation is completely different with a charter flight in a business jet. You can of course take the animal in its cage with you into the cabin. In this way, you can maintain visual contact with your beloved four-legged friend and talk to him. This significantly reduces the stress for you and your pet. Check our guide on flying with pets.
Medical evacuation and ambulance flights
Ambulance flights are used to bring back injured or sick people, for whom long ground transport would mean a high risk, or to transport them as close as possible to the clinic intended for treatment or further treatment. For this type of medical evacuation - also known as Medevac flights - specially equipped ambulance aircraft are available. They are operated by airlines specializing in ambulance flights.
Medical professionals including emergency doctors look after the patients throughout the flight. Modern technical and medical devices are available in the cabin, which can also include intensive care and emergency medical equipment. If the aircraft has enough seating capacity and range, relatives can also fly with it in exceptional cases.
Ambulance flights are the fastest, most comfortable and safest means of transport to the destination clinic for patients. The medical necessity of the flights is covered by many private health insurances and special repatriation insurances.
In addition, air ambulance flights that are declared as such to air traffic control often enjoy privileges over other aircraft. It is not uncommon for abbreviations to be used on airways or for fewer holding patterns to be flown on approach.
Private jet charter and Corona
During the corona pandemic, there were severe restrictions on border crossings and requirements for people entering the country. Scheduled air traffic literally collapsed during this phase. But even after the requirements have been relaxed, the question arises: How can the risk of infection among passengers and between cabin crew and passengers be minimized through hygienic measures?
Private jet operators currently have the better answers here and are considered to be the quiet beneficiaries of the pandemic. As a smaller niche provider, they can react more flexibly and more quickly to provisions introduced at short notice. The risk of infection is also reduced due to the lower number of passengers. If there is an infection in extremely rare cases, it is easier to follow up.
Many passengers therefore feel better protected from infection with the coronavirus in a business jet than in a scheduled aircraft.
Summary: private jet charter in 2021
Renting a business jet gives you the flexibility you miss on a scheduled flight. You decide when and where you and your fellow passengers want to fly.
From the journey to the airport through the security and passport control in the separate terminal to the flight itself, you can enjoy absolute exclusivity and privacy.
You have nothing to do with waiting in long passenger lines for check-in and security checks.
Booking a private plane is child's play thanks to experienced brokers: a personal advisor will accompany you through the entire booking process.
A business jet flight can also be cheaper than you think. The agent will be happy to make you non-binding offers.
Many of the stress factors associated with a scheduled flight are excluded when traveling in a private jet: You feel good from the start and travel with a good feeling.
A private jet charter offers a touch of luxury and privilege that both business and leisure travelers appreciate.
Private jet flights are subject to the same safety precautions as scheduled flights.
In times of a pandemic, business jets offer a lower risk of infection than airliners.