Hire a private jet to the Dominican Republic
Overall, visiting the Dominican Republic with a private jet can provide an unparalleled travel experience that combines convenience, comfort, privacy, speed, and safety. Whether you are travelling for leisure or business, a private jet can help you make the most of your time in this beautiful country. Hire your private jet with LunaJets today and indulge in the Caribbean with class and style!
How can you hire a private jet in the Dominican Republic
At LunaJets, we stand to our pillars; simple, fast and reliable and will ensure the best travel for you and your loved ones. With our long-standing history and being the market leader in this sector, we have an extensive fleet of 4800 aircraft. Moreover, we will adapt to any of your needs, whether a cargo charter a group charter or a last-minute charter.
We invite you to download our new LunaJets App and follow the steps for your dream charter.
The advantages of the App are:
Book a flight anytime and anywhere

Store manage and retrieve documents

You will have geolocation with directions to the respective airports

Compare all the pricing options online

Compare the aircraft and their features

Maintain informed thanks to live updates
If you prefer contacting us the old-school way, call any of our aviation advisors today and get the best private jet charter option.
Some of the advantages of charter flights are:
You get to choose your own schedule, with no delays or long queues

You get to choose your route, with no annoying layovers

The flight is tailormade to all your preferences (be it dietary, additional luggage etc)
What are the best cities to visit by private jet in the Dominican Republic?
Overall the Dominican Republic is a beautiful place to relax and offers a beautiful nightlife scene and endless shopping options. If you are a golf lover then you may find some of the best golf courses in the world in this place. For any watersports lover, you will be in a dream as the options are countless. Below are the best cities to visit when in the Dominican Republic.
Santo Domingo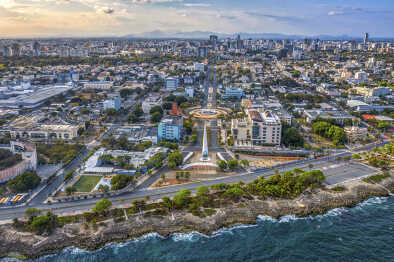 Santo Domingo, the capital city of the Dominican Republic, is a bustling destination that combines modernity with historic charm. There are several luxury lodging options in the city, including hotels like the luxurious JW Marriott, which offers upscale accommodations, personalized service, and a prime location in the heart of Santo Domingo's colonial district. Visitors can also indulge in a fine dining experience at one of the city's high-end restaurants, such as the acclaimed SBG Restaurant at the Renaissance Santo Domingo Jaragua Hotel & Casino. This restaurant offers guests exquisite cuisine and sweeping views of the Caribbean Sea. Santo Domingo is a perfect destination for travellers who want to experience the best of the Caribbean, including culture, history, and luxury.
Getting there:
Las Américas International Airport (SDQ, MDSD) is located about 29 kilometres east of the city centre and offers a private jet terminal. The second airport serving Santo Domingo is La Isabela International Airport (JBQ, MDJB). The distance from Isabela International to the centre is 17 kilometres northwest of the city.
La Romana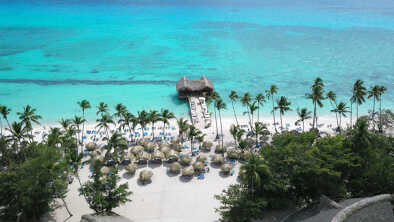 La Romana, offers upscale lodging at Casa de Campo, renowned for its personalised service and activities like golf, tennis, and water sports. The resort features world-class golf courses designed by legendary golfers Pete Dye and Teeth of the Dog, with the latter offering stunning views of the Caribbean Sea. Fine dining options, including SBG Restaurant at the Marina Casa de Campo, serve exquisite cuisine with breathtaking views. La Romana is a destination that caters to luxury-seeking travellers with a passion for golf and tropical getaways.
Getting there:
The closest airport to La Romana, a city on the southeastern coast of the Dominican Republic, is La Romana International Airport (LRM, MDLR). This airport similarly to the other airports also is equipped by a private jet terminal operated by Casa de Campo Resorts and Villas and is about 9km distance from the centre. Another airport that is close to La Romana is Punta Cana International Airport (PUJ, MDPC). This airport is about 70km distance to La Romana, however, serves as the main airport for Punta Cana, so why not combine two destinations at once?
The Best event in Dominican Republic to fly in by private jet
Carnival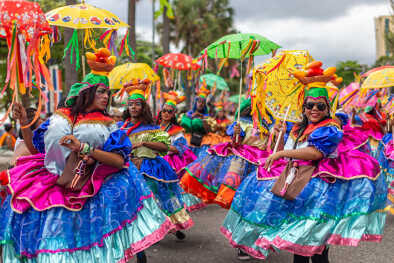 The Carnival is one of the most celebrated and colourful events in the Dominican Republic. This annual festival takes place in February or March and is a fusion of African, Spanish, and Taino traditions. The carnival is a time for Dominicans to come together and celebrate their cultural heritage through music, food, and dance. The festivities typically include a series of parades that feature dancers in elaborate costumes and masks, with some parades being held in different cities throughout the country. The music of the carnival is dominated by merengue and bachata, two popular genres of music in the Dominican Republic. In addition to the parades, there are also beauty pageants, street fairs, and other events that showcase the country's culture and traditions. Overall, the carnival is a vibrant and joyful celebration of Dominican culture and heritage that is not to be missed.
Getting there:
As this event is celebrated nationwide you can attend the celebration from anywhere in the country. Here are the top 5 airports to fly into by private jet
Punta Cana International Airport (PUJ/MDPC)

Las Américas International Airport (SDQ/MDSD)

Gregorio Luperón International Airport (POP/MDPP)

Cibao International Airport (STI/MDST)

La Romana International Airport (LRM/MDLR)