Hire a private jet to Poland
With a private jet, you can enjoy the ultimate luxury, allowing you to maximize your time exploring Poland's many treasures without worrying about the hassles of commercial air travel. Whether you're travelling for business or pleasure, a private jet to Poland will provide an unforgettable experience that is sure to leave you wanting more.
How can you hire a private jet in Poland?
At LunaJets, we stand to our pillars; simple, fast and reliable and will ensure the best travel for you and your loved ones. With our long-standing history and being the market leader in this sector, we have an extensive fleet of 4800 aircraft. Moreover, we will adapt to any of your needs, whether a cargo charter a group charter or a last-minute charter.
We invite you to download our new LunaJets App and follow the steps for your dream charter.
The advantages of the App are:
Book a flight anytime and anywhere

Store manage and retrieve documents

You will have geolocation with directions to the respective airports

Compare all the pricing options online

Compare the aircraft and their features

Maintain informed thanks to live updates
If you prefer contacting us the old-school way, call any of our aviation advisors today and get the best private jet charter option.
Some of the advantages of charter flights are:
You get to choose your own schedule, with no delays or long queues

You get to choose your route, with no annoying layovers

The flight is tailormade to all your preferences (be it dietary, additional luggage etc)
What are the best cities to visit by private jet in Poland
Poland is a country of remarkable diversity, with a range of landscapes, cultural heritage, and a complex history spanning from medieval times to the modern-day. Below are the favourite cities frequented by our LunaJets clients.
Krakow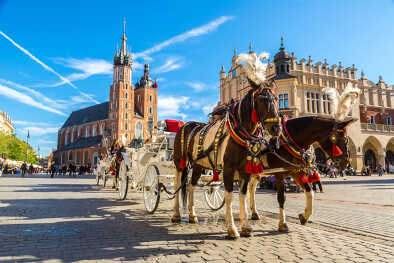 Krakow, the former royal capital of Poland, is a city steeped in history, culture, and culinary delights. The city boasts a Michelin-starred restaurant, the Bottiglieria 1881, where diners can indulge in contemporary Polish cuisine created by award-winning chefs. For those seeking the ultimate luxury, the Bachleda Hotel is an exceptional choice. This five-star hotel, located in the heart of Krakow's Old Town, combines historic architecture with modern amenities to provide a truly unforgettable stay. Its elegant rooms and suites are furnished with antique pieces and offer breathtaking views of the city. With its rich history, vibrant culture, and exquisite dining and accommodations, Krakow is a destination not to be missed.
Getting there:
The main airport serving Krakow is Kraków John Paul II International Airport (KRK, EPKK). There is also a smaller airport located in the city of Katowice, about 100 kilometres from Krakow, called Katowice International Airport (KTW, EPKT), which can also be used to reach Krakow.
Warsaw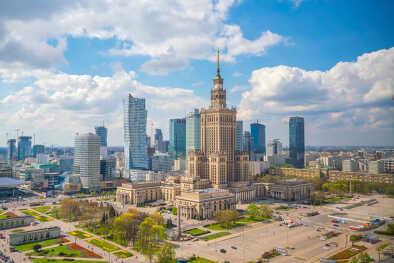 Warsaw, the capital of Poland, is a city that offers a mix of old-world charm and modern amenities, making it a must-go-to destination for any traveller. With its rich history and stunning architecture, Warsaw offers a range of attractions to explore, from the charming Old Town and the magnificent Royal Castle to the modern skyscrapers that dot the skyline. To experience the ultimate in luxury, visitors can stay at the Raffles Europejski Warsaw, a five-star hotel that combines elegant 19th-century architecture with contemporary design and state-of-the-art amenities. For a culinary experience like no other, you can dine at Atelier Amaro, where Chef Wojciech Amaro uses traditional Polish ingredients to create innovative and delicious dishes.
Getting there:
Warsaw has two main airports, the larger one being Warsaw Chopin Airport (WAW, EPWA), and the smaller being Warsaw Modlin Airport (WMI, EPMO). Get in touch with our private aviation advisor today, who will suggest you the best airport for your needs.
The Best event in Poland to fly in by private jet
Wiglila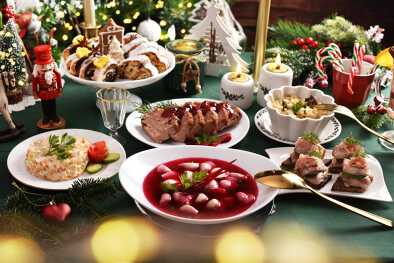 Wigilia, the Polish Christmas Eve, is one of the most traditional events celebrated in Poland. Families come together on December 24th to share a festive meal, exchange gifts, and sing carols. The evening starts with a prayer and the breaking of the opłatek, followed by a 12-dish meal representing the 12 apostles, and ends with the opening of presents. Wigilia is a significant event for both religious and secular Poles, and it's deeply rooted in Polish culture and tradition.
Getting there:
As Christmas Eve is celebrated everywhere in Poland, you can choose which city you want to fly to. The most popular airports are
| Rank | Airport | IATA, ICAO |
| --- | --- | --- |
| 1. | Warsaw Chopin Airport | WAW, EPWA |
| 2. | Kraków Airport | KRK, EPKK |
| 3. | Katowice Airport | KTW, EPKT |
| 4. | Gdańsk Lech Wałęsa Airport | GDN, EPGD |