Hire a private jet to Montenegro
How can you hire a private jet in Montenegro?
At LunaJets, we stand to our pillars; simple, fast and reliable and will ensure the best travel for you and your loved ones. With our long-standing history and being the market leader in this sector, we have an extensive fleet of 4800 aircraft. Moreover, we will adapt to any of your needs, whether a cargo charter a group charter or a last-minute charter.
We invite you to download our new LunaJets App and follow the steps for your dream charter.
The advantages of the App are:
Book a flight anytime and anywhere

Store manage and retrieve documents

You will have geolocation with directions to the respective airports

Compare all the pricing options online

Compare the aircraft and their features

Maintain informed thanks to live updates
If you prefer contacting us the old-school way, call any of our aviation advisors today and get the best private jet charter option.
Some of the advantages of charter flights are:
You get to choose your own schedule, with no delays or long queues

You get to choose your route, with no annoying layovers

The flight is tailormade to all your preferences (be it dietary, additional luggage etc)
What are the best cities to visit by private jet in Montenegro?
Montenegro's rich history and cultural heritage are evident in its charming old towns and ancient ruins. Explore the UNESCO-listed Kotor Old Town, stroll through the cobblestone streets of Budva's medieval quarter, and visit the iconic Ostrog Monastery perched on a cliff. Discover the country's intriguing past and immerse yourself in its vibrant traditions, below are the must-visit cities.
Podgorica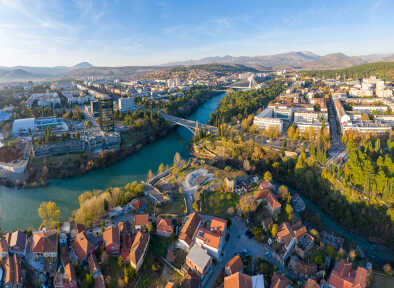 Travelling to Podgorica, the capital city of Montenegro offers a unique blend of history, culture, and modernity. While Podgorica is known for its vibrant atmosphere and bustling streets, it also offers luxurious accommodations and fine dining experiences. One of the top luxury hotels in Podgorica is the Hilton Podgorica Crna Gora. This five-star hotel boasts elegant rooms, exceptional amenities, and impeccable service, providing a lavish and comfortable stay for discerning travellers. For a memorable dining experience, one can visit the Murano Restaurant. This upscale restaurant offers a refined atmosphere and a menu that showcases the finest local and international flavours. Guests can indulge in exquisite dishes prepared with locally sourced ingredients, paired with a curated selection of wines.
Getting there:
The airport serving Podgorica, the capital city of Montenegro, is called Podgorica Airport (TGD, LYPG). It is the main international gateway to Montenegro, connecting the city with various destinations across Europe and beyond. The airport offers modern facilities, including restaurants, shops, and car rental services, ensuring a convenient and comfortable travel experience for visitors arriving or departing from Podgorica.
Kotor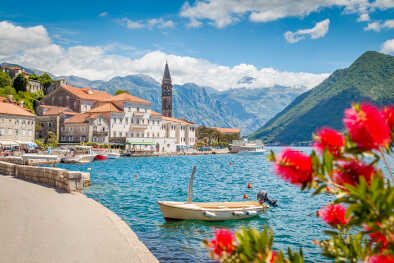 Travelling to Kotor, a UNESCO World Heritage site in Montenegro, promises a captivating journey through history and natural beauty. To enhance your experience, consider staying at the luxurious Hotel Forza Mare. This boutique hotel offers stunning views of the Bay of Kotor and boasts elegant rooms, a tranquil ambience, and personalized service. When it comes to dining, the highly acclaimed Galion Restaurant is a top choice for a luxurious culinary experience in Kotor. Located by the waterfront, this upscale restaurant offers a blend of Mediterranean and international cuisine, prepared with fresh local ingredients. Indulge in exquisite flavours while enjoying panoramic views of the bay and the majestic mountains surrounding Kotor.
Getting there:
The closest airport to Kotor is Tivat Airport (TIV, LYTV). Tivat Airport is conveniently located just a short distance away from Kotor, making it a popular choice for travellers visiting the area.
Tivat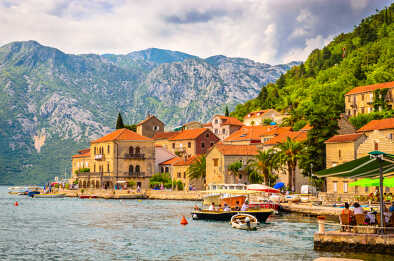 Tivat, a coastal town in Montenegro, offers a delightful blend of natural beauty, rich history, and modern attractions. Situated on the Bay of Kotor, Tivat is known for its stunning marinas, picturesque waterfront promenade, and charming old town. Travellers seeking a luxury experience in Tivat can choose to stay at the Regent Porto Montenegro, a five-star hotel renowned for its opulent accommodations, impeccable service, and panoramic views of the marina. When it comes to dining, the One Restaurant & Lounge Bar is a notable choice in Tivat. Located within the Regent Porto Montenegro, this upscale establishment offers a refined dining experience, featuring a fusion of Mediterranean and international cuisines. Guests can savour delectable dishes prepared with the freshest local ingredients while enjoying the elegant ambience and beautiful marina views.
Getting there:
The airport serving Tivat is called Tivat Airport (TIV, LYTV). Tivat Airport is a popular hub for travellers visiting the Bay of Kotor region, including Tivat itself, Kotor, and other nearby towns and resorts.
The best event where you can fly in by private jet to Montenegro
Opera Festival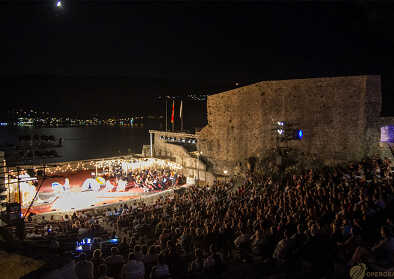 The Opera Festival Montenegro is an annual cultural event that celebrates the art of opera in Montenegro. Held in various venues across the country, including the historic cities of Kotor, Budva, and Herceg Novi, the festival showcases world-class opera performances by renowned artists and ensembles from Montenegro and around the globe. The festival offers a diverse program, featuring both classical opera productions and contemporary interpretations, allowing audiences to experience the beauty and power of this timeless art form. With its stunning venues and exceptional performances, the Opera Festival Montenegro is a must-visit for opera enthusiasts and culture lovers seeking an immersive and unforgettable cultural experience in Montenegro.
Getting there:
The Opera Festival in Montenegro is held in various cities across the country, so the closest airports will depend on the specific location of the festival. Here are some airports near popular festival cities:
Tivat Airport (TIV, LYTV): This airport serves Tivat, which is a common host city for the Opera Festival. It is located in close proximity to Kotor as well.

Podgorica Airport (TGD, LYPG): Podgorica is the capital city of Montenegro and may host the festival in some years. Podgorica Airport is the main international airport in Montenegro and is well-connected to various destinations.

Dubrovnik Airport (DBV, LDDU), Croatia: If the festival takes place in cities near the Montenegro-Croatia border, such as Herceg Novi, Dubrovnik Airport can be a convenient option. It is located just across the border and offers international connections.