Hire a private jet to Grenada
Grenada consists of the island Grenada, two smaller islands Carriacou and Martinique and several smaller islands, that offer crystal blue water, various watersports activities and beautiful waterfalls. One thing Grenada is known for is its spices, such as nutmeg. You will be able to go to the plantations and see the process of how all those spices are grown and processed.
How can you hire a private jet in Grenada?
At LunaJets, we stand to our pillars; simple, fast and reliable and will ensure the best travel for you and your loved ones. With our long-standing history and being the market leader in this sector, we have an extensive fleet of 4800 aircraft. Moreover, we will adapt to any of your needs, whether a cargo charter a group charter or a last-minute charter.
We invite you to download our new LunaJets App and follow the steps for your dream charter.
The advantages of the App are:
Book a flight anytime and anywhere

Store manage and retrieve documents

You will have geolocation with directions to the respective airports

Compare all the pricing options online

Compare the aircraft and their features

Maintain informed thanks to live updates
If you prefer contacting us the old-school way, call any of our aviation advisors today and get the best private jet charter option.
Some of the advantages of charter flights are:
You get to choose your own schedule, with no delays or long queues

You get to choose your route, with no annoying layovers

The flight is tailormade to all your preferences (be it dietary, additional luggage etc)
What are the best islands to visit by private jet in Grenada
The island nation consists of 3 main islands: Grenada, Carriacou, and Petit Martinique. Below are the explanations for each of those islands.
Grenada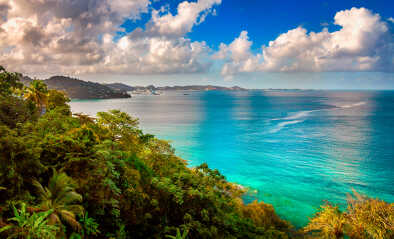 Grenada is a beautiful island located in the Caribbean, famous for its lush greenery, white sand beaches, and vibrant culture. The capital and only city on this island is St. Georges. One of the best luxury hotels in Grenada is the Silversands Grenada, located on the beautiful Grand Anse Beach. This hotel offers spacious rooms with private plunge pools, a world-class spa, and an infinity pool with breathtaking views of the ocean. As for dining, The Beach Club at Calabash is a must-visit for foodies visiting Grenada. This award-winning restaurant serves contemporary Caribbean cuisine using fresh, local ingredients, and its beautiful beachfront setting is perfect for a romantic dinner or a special occasion.
Getting there:
To get to Grenada our private aviation advisors suggest the Maurice Bishop International (GND, TGPY), serving as the island's only airport and the nation's only international airport.
Carriacou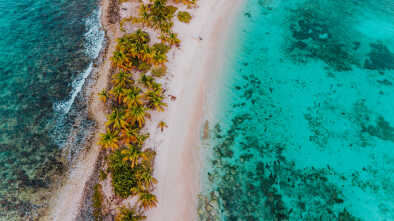 Carriacou is a beautiful island located in the Caribbean, known for its unspoiled natural beauty, crystal-clear waters, and laid-back vibe. One of the best luxury hotels on the island is the Anse La Roche Hotel, which offers stunning ocean views, beautiful gardens, and private beach access. The hotel's spacious suites are elegantly furnished, and the staff is warm and welcoming, ensuring a comfortable and relaxing stay. As for dining, the Slipway Restaurant & Bar is a popular spot for both locals and tourists. This seaside restaurant serves a variety of fresh seafood dishes and another Caribbean-inspired cuisine, and its outdoor seating area offers panoramic views of the ocean.
Getting there:
The only airport located on the island of Carriacou is Lauriston Airport (CRU, TGPZ). Although it serves as a domestic airport, LunaJets can organize your private jet directly to the island of Carriacou. Get in touch with our aviation advisors today!
Petite Martinique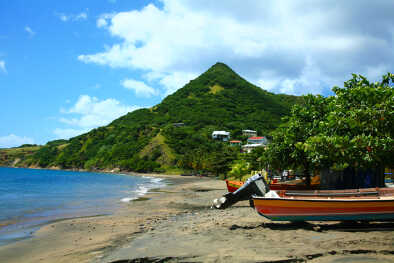 Petite Martinique is a picturesque island in the Caribbean, known for its peaceful atmosphere, pristine beaches, and crystal-clear waters. Although a small island, it has a lot to offer visitors who come to relax and unwind. One of the best luxury hotels on the island is the Petit St. Vincent Resort, which offers a secluded and luxurious getaway experience. The resort's beautiful villas and cottages are set in lush tropical gardens, and guests have access to a private beach, spa, and other excellent amenities. As for dining, the Palm Beach Restaurant at the resort is a top-rated restaurant on the island, serving a variety of international and Caribbean-inspired dishes.
Getting there:
The closest airport to Petite Martinique is Lauriston (CRU, TGPZ). There is a ferry which takes approximately 15-20 minutes to Martinique. However, if you are in for the ultimate VIP experience, hire a boat directly to your Hotel.
The Best event in Grenada to fly in by private jet
National Day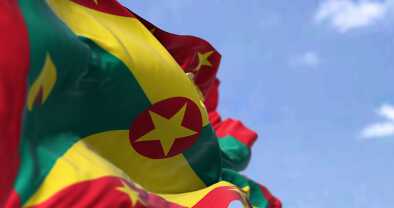 National Day in Grenada is an important cultural event that celebrates the country's history, heritage, and identity. Grenada celebrates its National Day on February 7th each year, which commemorates the country's independence from British colonial rule in 1974. The day is a public holiday and is celebrated throughout the country with great enthusiasm. The National Day celebrations usually start with a formal ceremony attended by government officials, dignitaries, and the public. One of the most popular traditions during National Day celebrations is the "carnival" parade, which features colourful costumes, music, and dancing.
Getting there:
As the only two airports serving Grenada, you can either choose to get to Lauriston or Maurice Bishop Airport. Get in touch with our LunaJets advisors today and organize your trip to the idyllic islands.