Hire a Private Jet to George Town
What Can You Do in George Town, Cayman Islands?
Due to its high-brow reputation, George Town has a number of luxurious excursions and activities on offer for discerning tourists. These include yacht charters, distillery tours and day trips to the botanical park.
Private Luxury Yacht Charter to Stingray City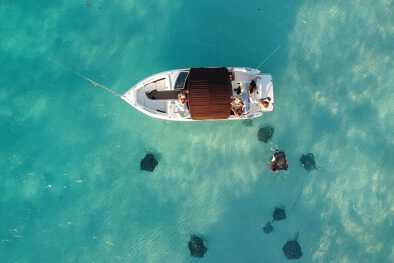 For a luxury day on the ocean to remember, consider chartering a private yacht to explore the sights of Grand Cayman by sea. The trip includes a skipper, boat crew, and a snorkeling expedition in the barrier reef to view the beautiful coral.
Distillery and Rum Tasting Tour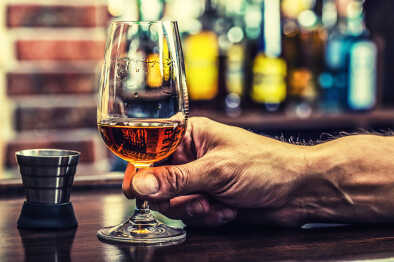 George Town and The Cayman Islands are well-known for their high-quality rums. So, when you rent a private jet to George Town, consider visiting the island's only distillery.
The tour of the Cayman Spirits Co. Distillery includes a tasting experience, including the Distiller's Special rum, which is only available directly from the distillery.
East End Activities Tour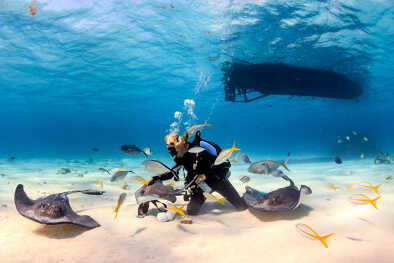 For an immersive and comprehensive Grand Cayman experience, book yourself onto the East End Activities Tour when you rent a private jet to George Town.
The tour includes a trip to Pedro Castle, the Queen Elizabeth II Botanical Park, and the Tortuga Rum Cake Factory.
Where to Stay In George Town?
As a result of its charming surroundings, George Town is a popular destination for luxury travelers and those who wish to hire a private jet. Therefore, the area is brimming with high-quality hotels that cater to the most discerning of customers.
The Ritz-Carlton, Grand Cayman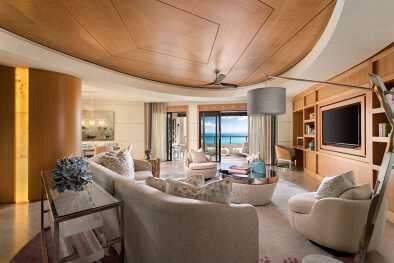 This five-star resort is located on the white sands of Seven Mile Beach. Residents at the hotel can enjoy views over sparkling blue waters and impeccable service.
The Ritz-Carlton Grand Cayman hotel also boasts a heated swimming pool, fitness center, SPA, butler service, and six restaurants.
Kimpton Seafire Resort and Spa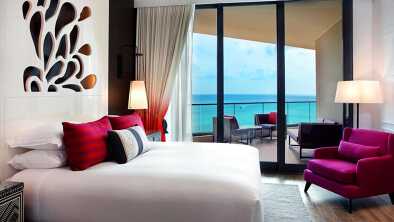 Kimpton Seafire Resort and Spa is another contemporary hotel located on Seven Mile Beach with views over the Caribbean Sea. With lush green gardens and gorgeous pools, this hotel is the perfect place to relax.
Palm Heights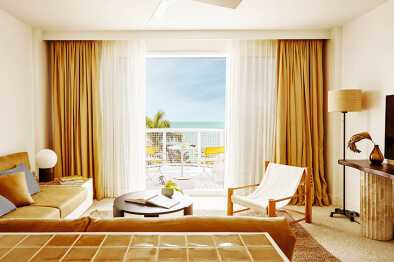 Palm Heights is a family-friendly resort for those looking for a rejuvenating stay that also offers activities for the kids. The hotel is one of the most luxurious resorts on the island and is renowned for its guest-only pools and beach club, water activities, and wellness spa.
Where to Eat in George Town?
As the area attracts such refined tourists, George Town is the perfect spot to find restaurants that are as elegant as they are appetizing.
The Brasserie
Serving traditional Caribbean food since 1997 and specializing in seafood dishes, The Brasserie is one of Grand Cayman's more highly-rated restaurants.
The restaurant is also one of the most sustainably run establishments on the island and uses its private garden to reduce food miles and food wastage.
Blue By Eric Ripert
A favourite of both tourists and Caymanians, Blue By Eric Ripert is one of the best options on the island for seafood. Located within The Ritz-Carlton Hotel, the restaurant enjoys a AAA Five Diamond Restaurant Rating and a relaxing ambience.
Grand Old House
With views across the ocean, Grand Old House has the best positions in George Town. The restaurant serves African and Caribbean cuisines and boasts an award-winning wine list.
Events to Attend in George Town?
George Town is a city full of culture and vibrancy, so the area isn't short of events to keep holidaymakers entertained.
Taste of Cayman
If you want to sample the diverse cuisines found in the Cayman Islands and taste some of the area's finest drinks, the Taste of Cayman food festival is the event for you.
Jazz Night
For a sophisticated evening, take a trip to Next Door on a Tuesday or Thursday night for the venue's Jazz Night.
The event platforms some of the finest local jazz musicians and serves a range of exquisite cocktails.
National Carnival Batabano
For a week of colour, dance performances, street parades and live music, visit Grand Cayman's National Carnival Batabanoin in the first week of May.