Hire a private jet to Colombia
Besides being an absolute paradise for leisure travellers, Colombia, is an emerging economy attracting a lot of business travellers and investors to their beautiful country. Its economy is largely represented by its agriculture, especially coffee and bananas.
Whether you want to travel for pleasure or for a business meeting, Colombia offers it all. With countless lodging options ranging from business hotels to resorts and endless high-end restaurants, the only thing you are missing is arriving in Colombia on a private jet with LunaJets.
How can you hire a private jet in Colombia?
At LunaJets, we stand to our pillars; simple, fast and reliable and will ensure the best travel for you and your loved ones. With our long-standing history and being the market leader in this sector, we have an extensive fleet of 4800 aircraft. Moreover, we will adapt to any of your needs, whether a cargo charter a group charter or a last-minute charter.
We invite you to download our new LunaJets App and follow the steps for your dream charter.
The advantages of the App are:
Book a flight anytime and anywhere

Store manage and retrieve documents

You will have geolocation with directions to the respective airports

Compare all the pricing options online

Compare the aircraft and their features

Maintain informed thanks to live updates
If you prefer contacting us the old-school way, call any of our aviation advisors today and get the best private jet charter option.
Some of the advantages of charter flights are:
You get to choose your own schedule, with no delays or long queues

You get to choose your route, with no annoying layovers

The flight is tailormade to all your preferences (be it dietary, additional luggage etc)
What are the best cities to visit by private jet in Colombia
Below are the two main cities to visit when in Colombia. Our LunaJets private aviation advisors will adapt themselves for any additional need you may have, whether it is travelling with pets, arts or heavy equipment. Charter your private flight to magical Colombia today.
Cartagena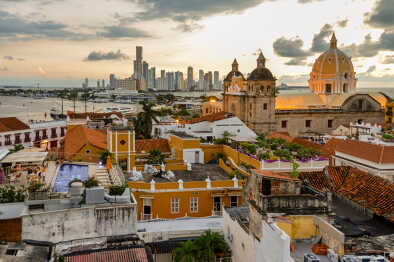 Cartagena is one of the top destinations in South America. With its beautiful clear blue waters, rich architecture ranging from castles to churches, amazing handcrafts and welcoming people, it is no wonder, people love this city so much.
The best way to see Cartagena is by renting a luxury villa and chartering a yacht. For dining options, you can choose a variety of dining options and if you love to party, then Cartagena is the right destination for you. An absolute must-go dining option if you like seafood is Magoga.
Getting there:
Cartagena is served by two airports, Rafael Nunez International Airport (CTG, SKCG) and Ernesto Cortissoz International Airport (BAQ, SKBQ). Our aviation advisors suggest landing at Rafael Nunez Airport, as it is closer to the city and the installations are better.
Bogota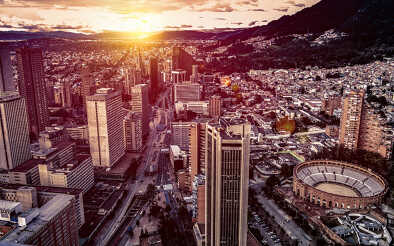 As the capital of Colombia, this historic city has been one of South America's treasures. With art galleries, theatres, architectural buildings and museums this city is very rich in heritage and culture. Apart from being a perfect city to visit with your loved ones, Bogota is a main economical hub and is frequented by businessmen.
Stay at Casa Medina in Bogota, the property by Four Seasons is a gem, combining classic and colonial architecture. Hire a helicopter and see Colombia from above. And see the local dances while tasting their authentic food. And by flying in and out of Bogota privately, your experience will be even more enhanced.
Getting there:
Bogota has two airports, the main airport El Dorado International Airport (BOG, SKBO) and La Vanguardia Airport (VVC, SKVV). El Dorado, serving as the main airport, is usually the preferred choice for our private jet travellers, due to the proximity to the city. As it is a very transitted airport though, La Vanguardia may be an alternative, however, much further away from the centre.
What is the best event to reach by private jet?
The Barranquilla Carnival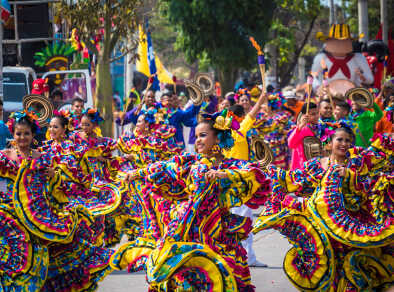 One of Colombia's most important folkloric traditions is the Carnival of Barranquilla, taking place each year in February. The four-day celebrations welcome all tourists together with the city's inhabitants and Spanish palotea, African Congo and indigenous mico and micas dances are performed. The Carnival has been proclaimed a cultural Masterpiece the city lights up in colours with authentic Colombian costumes, parades and delicious street food.
Getting there:
The closest airport serving Barranquilla is Ernesto Cortissoz International Airport (BAQ, SKBQ). Get your phone call your aviation advisor and enjoy the Carnival in Colombia.