Hire a Private Jet to Chamonix Mont Blanc
With our global network of private jets and helicopter charters, let LunaJets private jet charters get you to Chamonix and back. No matter your departure point or time, LunaJets has a private jet ready for you. Ready to hop on a private jet right now? Before you go, learn about what to do, where to ski, and where to stay in Chamonix.
What Can You Do in Chamonix?
Though many people fly to Chamonix for its unrivalled backcountry ski trails and luxury resorts, there's more to this scenic mountain oasis. After flying in with LunaJets and wearing yourself out on the slopes, relax by taking in some sights and culture.
Aprés-ski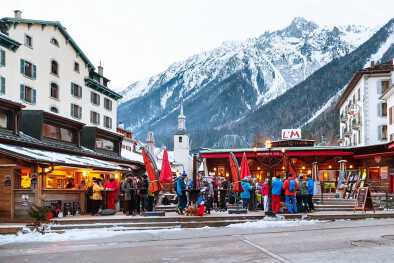 Aprés-ski is the Nordic tradition of relaxing with friends over food, drinks, and entertainment after a long day on the slopes. As a world-class ski destination, Chamonix practically defines aprés-ski. British-owned Jekyll and Hyde combines elegant tapas and duck dishes with a relaxed pub atmosphere. With live music and happy hours, Savoy Bar is one of the areas oldest skiers' haunts.
Weekly Village Markets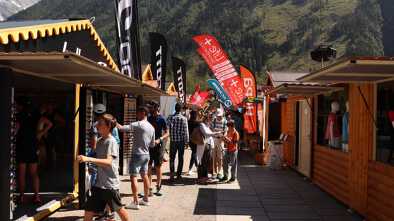 Enjoy the quaint, stall-lined streets during weekly markets. While you can visit 10 markets around town or charter a helicopter to Swiss or Italian villages just over the border, the main market showcases local honey, woodcrafts, cheeses, wine, and more.
Merlet Park and Zoo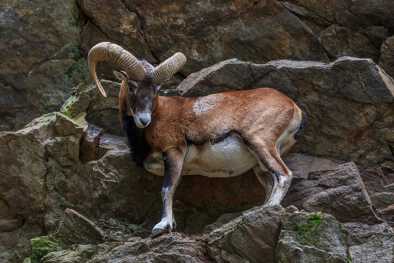 Perfect for animal-lovers of all ages, Merlet Park lets visitors hike alongside native mountain animals, enjoy community events, and take in panoramic views of the Mont Blanc mountain range.
Where to Ski in Chamonix?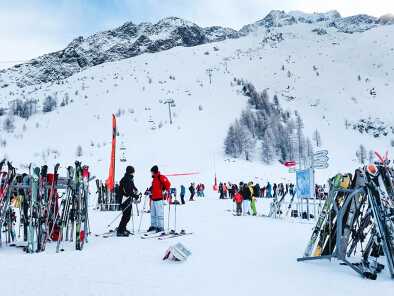 If you're chartering a private jet to Chamonix with LunaJets, you're probably doing it to ski. As the host of the first winter Olympics in 1924, Chamonix has developed into a ski destination for enthusiasts of all capabilities. Fortunately, visitors can access almost all of Chamonix's slopes through Mont-Blanc Natural Resort's ski pass system. Many areas are even connected by lifts and gondolas.
Les Grands Montets
The peaks of Les Grans Montets reach up to 3,295 meters. As Chamonix's largest ski area, experienced and novice skiers alike can enjoy lower mountain, mixed alpine, and steep alpine terrain.
Le Brévent
While there is one green run, this area is more suited to intermediate and advanced skiers. With the Charles Bozon black diamond run, Le Brévent ski station is a potential host for Red Bull's Extreme Skiing competition.
La Flégère
La Flégère offers pistes fit for every level of skier at elevations ranging from 1,030 to 2,525 meters.
Les Houches
The tree-line and off-piste runs of Les Houches are perfect for beginner skiers and intermediates. At Ski Camp, beginners can take classes while children play games.
La Vormaine
La Vormaine contains the largest complete beginner's area in Chamonix. With freestyle areas, children's games, and a snack bar, this area is fit for frigid family fun.
Where to Stay in Chamonix?
Grand Hôtel Des Alpes
Resting in the center of Chamonix, Grand Hôtel Des Alpes is a grand historic hotel that opened in 1840. Fully renovated with spas, a lounge, and a variety of cozy, wood-trimmed suites, these conveniently-located accommodations are perfect for families and first-time visitors.
Le Hameau Albert 1er
The five-star hotel Le Hameau Albert 1er is Chamonix's home for relaxation. From its gastronomic, Michelin-starred restaurant to spas, private chalets, and green courtyard, this hotel is in a class of its own.
Héliopic Hôtel & Spa
At the foot of Mount Blanc, Héliopic Hôtel & Spa blends modern aesthetics with luxurious amenities. The Nuxe Spa offers various baths, saunas, hammams, an ice cave, and a lap pool.
Why Fly with LunaJets?
There's many ways to get to your next alpine adventure, but for maximum comfort and efficiency, charter a LunaJet private jet. With a network of partner operators, 24/7 service through our app, and over 4,800 aircraft in our system, LunaJet can get you a private flight to Chamonix from almost anywhere in the world.
Unlike flying commercial, when you rent a private jet, LunaJet is on your time. Take time to check your luggage and relax. With empty leg flights and a top-tier loyalty program, save on private flights and spend more time and money on the ground.
For mountain destinations, LunaJets offers helicopter transfers to finish your journey. For day trips from alpine retreats like Chamonix, a helicopter charter can get you to Italy, Switzerland, and nearby French towns.
Don't waste time on layovers and packed planes. Let LunaJets private jet charters get you there and back without the hassle.