Hire a Private Jet to Auckland
What Can You Do in Auckland?
Auckland offers diversity in things to do ranging from experiencing nature to more thrill-seeking adventures. Travelers can experience culinary delights as well as wine tasting expeditions.
North Island Luxury Tour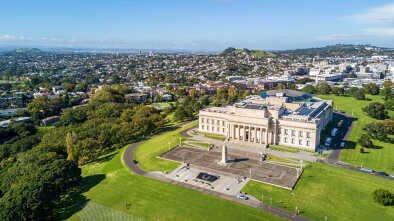 Take your own luxury vehicle to visit Whitianga, Coromandel, Rotorua, Tongariro, Wellington, and National Park. Travelers will experience nature walks, relax in hot springs, and leisurely strolls along the beach.
Tandem Skydive and Gannet Experience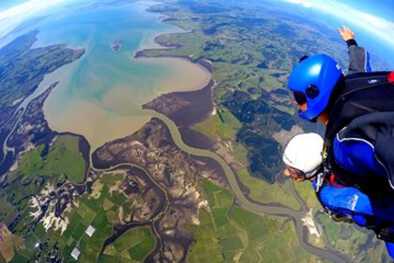 Providing a spectacular backdrop of the west and east coast of New Zealand, take in the beautiful emerald, green fields as your parachute opens allowing you to slowly float at a comfortable pace. Designed for a relaxing pursuit to thrills for the high-adrenaline junkie, everyone will enjoy this experience.
Private Tour Auckland's Cheese Honey and Matakana Wine Trail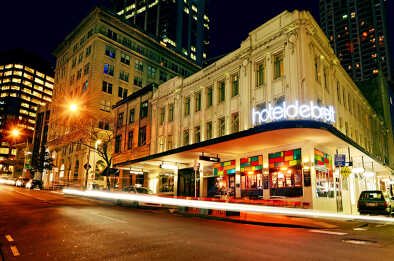 Enjoy the decadent delights of Puhoi Valley Cheese Company and Warkworth Honey Center prior to experiencing a guided tour to the location's finest eateries and vineyards.
Where to Stay in Auckland?
Enjoy being in the lap of luxury with these spectacular hotels and villas. Whether you prefer to stay in an all-encompassing hotel or an intimate villa, there are many options available for that perfect get-away.
Hotel Fitzroy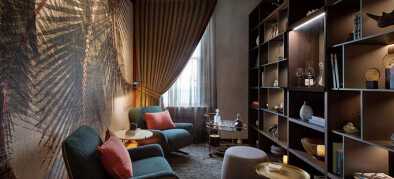 This elegant two-story villa is in the fashionable Grey Lynn district. It is the ideal blend of contemporary settings and classic luxury. This villa is a restored landmark providing indulgent treats, quiet relaxation, and luxury rooms that cater to the individual.
Park Hyatt Auckland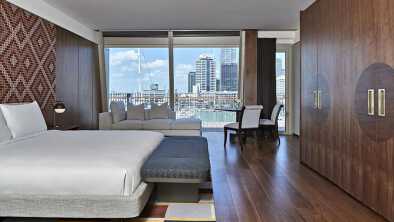 This hotel is beautifully located on the water's edge with impressive views over Wynyard Quarter's Lighter Basin all the way to Waitemata Harbour. With a sophisticated waterfront residence, it has 195 guestrooms, an infinity pool, and a luxurious five-star experience.
Hotel DeBrett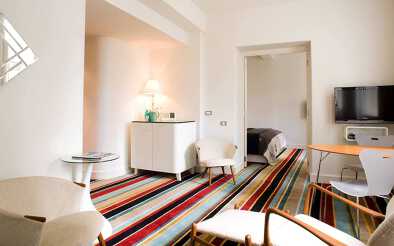 Hotel DeBrett is a luxury boutique located in the heart of Auckland City. It combined old-world charm with an iconic waterfront. Each one of their 25 rooms contains a district personality with a mix of modern furniture and New Zealand art combined with contemporary comfort.
Where to Eat in Auckland?
Eating in Auckland involves a fine dining experience in restaurants that embody the ultimate sophistication with locally sourced ingredients.
Sails Restaurant
The Sails Restaurant captures the essence of Auckland. Situated amid the Southern Hemisphere's largest marina, each table overlooks thousands of yachts. Over the past 30 years, this restaurant has become known for being New Zealand's top restaurant. Only using the freshest ingredients, talented chefs wait to dazzle you with stunning cuisine.
Ahi
Ahi offers a sophisticated yet laid-back wine and culinary experience. The menu honors the diversity of those living in Auckland with growers and suppliers locally sourced. They tell the true story of Aotearoa.
Paris Butter
This restaurant creates a refined, classic ambiance and couples it with a modern dining culinary experience. Using interpretive French cuisine, Chef Nick Honeyman has adapted their dishes to New Zealand ingredients which are locally sourced.
What Events to Attend in Auckland?
Auckland is rich in culture and art. It offers a diversity of events ranging from classic entertainment to interpretations of artwork. Whether you are a fan of classical works or more contemporary pieces, there is something for you to enjoy.
Opera on the Harbour
Guests will be awestruck with this evening of entertainment and open-air music. The Wynyard Wharf is that backdrop to this first-ever opera experience where Suzy Cato will be The Star keeper. Attendees will experience the musical Carousel for their enjoyment alongside New Zealand's best talent.
Michelangelo- A Different View
The Vatican Museum has licensed this exhibition from Michelangelo. It contains an authentic and complete reproduction of the ceiling frescoes of the Sistine Chapel. With 50 pieces, guests will experience this Florentine's interpretation of creation in an unimaginable way.
Auckland Ars Festival
This is a globally recognised programme designed to celebrate both culture and art. It will uplift, unify, and inspire you by using an annual collection of performances and events. The 2022 programme's theme visually explored "truth" through design while balancing layers of light moving into darkness.