Hire a Private jet between Nice and Zurich
The company offers customers access to a fleet of 4,800 private jets, including light, mid-sized, and super large planets from manufacturers like Cessna, Boeing, Gulfstream, and Airbus. With such a large variety of aircraft, LunaJets is able to find the right private jet for a range of scenarios, flight routes, and flight durations.
LunaJets has established itself as Europe's leading jet charter company, so if you need to hire a private jet between Nice and Zurich, do not hesitate to get in touch.
What Can I Expect When Traveling to Zurich?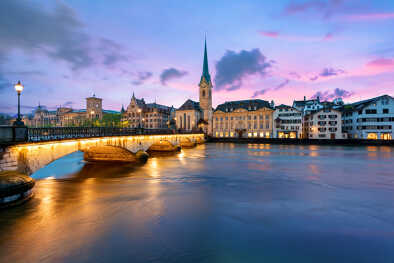 Despite not being its capital, Zurich is the biggest city in Switzerland. Lying at the end of Lake Zurich, the city is picturesque and rich in history and culture, which dates back 5,000 years. Zurich is separated into 12 districts, including the old town, a university district, and three creative quarters. The Swiss city is also famous for its world-leading banking and ICT businesses. With such a diverse culture and beautiful scenery, Zurich has become a popular destination for holidaymakers, academics, and business people alike.
Luxury Tourism in Zurich
If you would like to hire a private jet from Nice to Zurich, it is great to know the best local luxury tourist spots in the city.
One of the most popular trips to take in Zurich is a private panoramic train tour around the swiss alps and glaciers. The trip leaves from the Zurich city center and takes approximately ten hours.
Although, if luxury food is what you're looking for, make a reservation at The Restaurant at the Dolder Grand. The double Michelin Star rated restaurant is known for its lavish interiors, award-winning food, and superb views over Lake Zurich.
Additionally, some of Zurich's most popular luxury hotels include Baur au Lac hotel, Park Hyatt Zürich, La Réserve Eden au Lac Zurich, and Savoy Hotel Baur en Ville.
What Can I Expect When Traveling to Nice?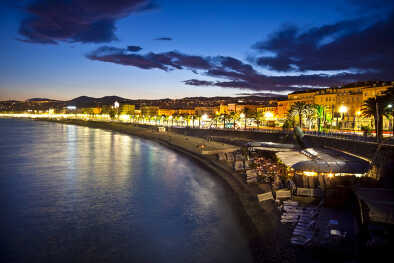 Located on the French Riviera, Nice is a cultural haven with beautiful Mediterranean beaches. The city boasts beaches on the Cote d'Azur, historical architecture, and close proximity to Saint Tropez and Monaco. With mild winter temperatures and summer averages of 27°C, Nice is the perfect place to visit for a leisure trip or corporate event.
Luxury Tourism in Nice
For discerning visitors looking for a luxury visit, Nice has much to offer. One of the most popular activities in Nice is yacht or boat charter. Plenty of luxury yacht charter services operate in and around Nice offering fully catered day and overnight boat trips with tailor-made itineraries.
For luxury dining, visit Jan in the bohemian area of Nice Port. The South African restaurant boasts a Michelin Star and serves traditional South African favorites, such as melktert and biltong.
If you're still looking for somewhere to stay in Nice, some of the city's most prestigious hotels include Hotel Negresco, Hyatt Regency Nice Palais de la Mediterranee, and Hotel Suisse Nice.
Why LunaJets?
Opting to rent a private jet from LunaJets is a wise choice for any customer who is looking for a personalized, luxury service. The company's fleet includes luxury VIP private jets, such as the Embraer Lineage 1000 and the Boeing BBj3 airliner, as well as smaller crafts like the Cessna Citation M2 and the Gulfstream G150. With such a range of aircraft, LunaJets is sure to have a plane to suit your needs and party size.
Additionally, LunaJets offers a range of chartering services between Nice and Zurich, including cargo charters, emergency charters, same-day flights, corporate travel, and leisure charters. This means the company can arrange travel for those with extremely specific needs, such as repatriation and private delivery of vital goods.
As LunaJets is the market-leading private jet rental service in Europe, customers can expect a high quality of service and extra attention to detail from the team. To assure customers that this high operating standard is maintained from day-to-day, LunaJets also holds an ARGUS certification, which the private jet charter industry considers as the top symbol for excellence.
Rent a Private Jet Today
When you choose to rent a private jet through LunaJets, you can rest assured that you will receive nothing but the finest services and amenities. So, to receive a quote today, contact your local LunaJets customer service team.