Experience the Upcoming FIFA World Cup 2022 with LunaJets
The FIFA World Cup 2022 in Qatar, from 21 November to 18 December, is a can't-miss event for football fans worldwide. Many plan a trip to Doha to watch the games in person.
Those who prefer to travel in the speed and comfort of a private jet are booking ahead to ensure availability. In light of the spike in demand for private jets flying to this event, we recommend that LunaJets customers reserve their aircraft as soon as possible.
Which jet is right for you?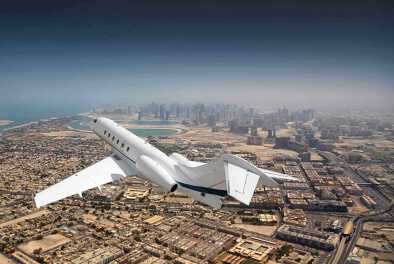 Your best choice of private jets for this journey will depend on a few key factors:
The distance between your departure airport and the destination.

How many people will fly with you?

What onboard accommodations you'll need?
Given the distance to Doha for the FIFA World Cup 2022, midsize and large jets will have the highest demand. Some may travel in a small group of up to ten passengers with family and close friends. A Midsize Jet or Super Midsize Jet is likely your best choice. These aircraft have an adequate range to fly non-stop and offer room to stretch out, sleep, and relax during your flight. Enjoy personalised service, in-flight entertainment, connectivity and catering tailored to your needs.
If a shorter flight time is a priority, The Citation X is the fastest Super Midsize Jet, flying up to 972 kph with a range exceeding 5,600 km. It's a popular choice for LunaJets clients when time is of the essence.
The Gulfstream G200 and G280 are famous for their 1,91m cabin height. With a range of 6,000 km, they are also an excellent choice for longer trips.
Another popular Midsize Jet choice of our clients is the Bombardier Challenger 300. It's a roomy choice with a large cabin and high luggage capacity. It can also fly at a higher altitude than other Midsize Jets, which makes for a more comfortable journey.
A full-size jet might be a better option if travelling to Doha from further around the world or in a larger group. We offer a broad range of aircraft suitable for larger groups and longer journeys, from a Dassault Falcon 2000EX to an apartment-in-the-sky Airbus Business Jet ACJ318, in a VIP configuration with loads of comfort features and room for up to 19 passengers.
You can compare all the Midsize Jets, Super Midsize Jets, and the many other aircraft options available in our fleet using our unique LunaJets Private Jet Comparator.
LunaJets advisers are available around the clock to answer your questions and help you decide which jet best suits your travel plans.
Other football fans may want to take advantage of our LunaGroup Charter services to plan a trip for a larger group travelling together. It's an ideal solution for large families, groups of supporters and fan clubs, national federations, tour operators, and more.
Planning your travel to Doha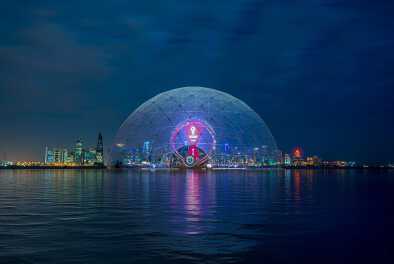 Doha International Airport (OTBD) will be the main airport for the event's chartered and private flights. Since the opening of the Hamad International Airport for commercial flights, Doha is now dedicated to private aviation and the Qatar Emiri Air Force. Travellers will appreciate the proximity of this airport to the heart of Doha, only a quick 15-minute drive away.
Other alternatives include flying into Abu Dhabi (Al Bateen Executive Airport is the Middle East's only fully-dedicated business aviation airport), Bahrain, and Dubai. Add a few days to your trip before or after the games, and enjoy a mix of the rich experiences available in this region, from luxury shopping to fine dining, water sports, boating, and desert escapes. Your visit to the World Cup is sure to be memorable.
Don't forget to ask your LunaJets advisor about our full range of concierge services, including local ground and air transport. Whatever your goal, LunaJets can tailor-make a flight experience that will make getting to the FIFA World Cup 2022 games (and back) a genuinely pleasant journey.