Hire a Private Jet to Uruguay
Our aviation advisors will help you choose the correct aircraft and airport so you can charter the perfect plane and ensure a first-class flight.
Uruguayan cities and airports
Clients traveling for work, often charter a private jet to Montevideo Carrasco International airport (MVD) which lies about 25 kilometers from the city center and is the largest international airport in the country. Montevideo is not only the capital city of Uruguay but also an important economic hub in South America. However, the country's largest tourism hub is Punta del Este in Maldonado. Private jet travelers fly to Aeropuerto Internacional de Laguna del Sauce (PDP), which serves as an international airport for some commercial airlines but mostly for private jet purposes, so you can enjoy the sea and warm vibe of this coastal city. It lies about 20 km away from Punta del Este.
Popular destinations amongst leisure travelers in Uruguay include Jose Ignacio, Punta del Este, la Barra, Colonia del Sacramento, and Cabo Polonio, which get extremely busy during the South American summer, as they are a great place for a relaxing holiday by the sea and the perfect escape from European winter. Luxury travelers are especially delighted by the mix of bohemian vibe and lifestyle this country has to offer.
Contact us any time to discuss the best flight options for your upcoming trip to Uruguay.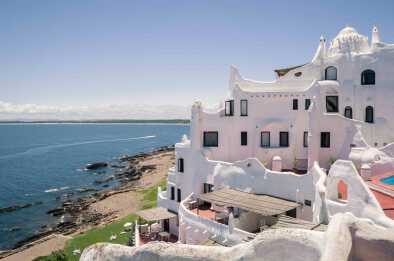 Uruguayan events
Uruguayan cities and the countryside are full of traditional cultural events and festivities of different kinds. As their neighboring country Brazil, they also like to put great enthusiasm into celebrating Carnaval for example.
No matter the reason, no matter the season, LunaJets is at your service for your business trips and leisure travel. We help you charter the ideal private jet for your next flight to Uruguay. Contact us any time, we are available 24/7.