Hire a private jet to Norway
Hiring a private jet to Norway can offer many advantages, including flexibility, convenience, and privacy. With a private jet, you can avoid the hassles of commercial air travel, such as long security lines and flight delays, and enjoy a more personalized and comfortable flying experience. You can choose your itinerary, travel on your schedule, and even fly directly to smaller airports that may be closer to your final destination. Ask LunaJets for your flight to Norway today!
How can you hire a private jet in Norway?
At LunaJets, we stand to our pillars; simple, fast and reliable and will ensure the best travel for you and your loved ones. With our long-standing history and being the market leader in this sector, we have an extensive fleet of 4800 aircraft. Moreover, we will adapt to any of your needs, whether a cargo charter a group charter or a last-minute charter.
We invite you to download our new LunaJets App and follow the steps for your dream charter.
The advantages of the App are:
Book a flight anytime and anywhere

Store manage and retrieve documents

You will have geolocation with directions to the respective airports

Compare all the pricing options online

Compare the aircraft and their features

Maintain informed thanks to live updates
If you prefer contacting us the old-school way, call any of our aviation advisors today and get the best private jet charter option.
Some of the advantages of charter flights are:
You get to choose your own schedule, with no delays or long queues

You get to choose your route, with no annoying layovers

The flight is tailormade to all your preferences (be it dietary, additional luggage etc)
What are the best cities to visit by private jet in Norway
Some of the best cities to visit by private jet in Norway including Oslo, Bergen, Tromsø, Stavanger, and Trondheim. These cities offer a range of attractions and activities, from cultural landmarks and museums to outdoor adventures and stunning natural scenery. Below we have chosen the two biggest cities you may want to visit.
Oslo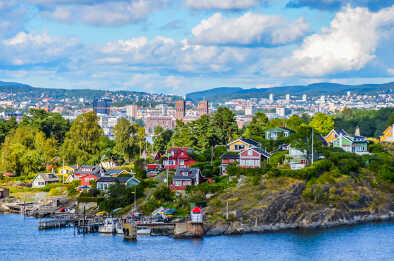 Oslo, the capital city of Norway, is an ideal destination for luxury travel, with its stunning natural beauty, rich cultural heritage, and modern amenities. The city boasts several world-class luxury hotels, such as The Thief, located in the heart of the city's trendy Tjuvholmen neighbourhood. The Thief offers guests luxurious amenities, including a rooftop bar, a full-service spa, and panoramic views of the Oslo fjord. For a memorable dining experience, head to Statholdergaarden, a Michelin-starred restaurant that features an innovative menu of Norwegian-inspired dishes. Charter a private jet with LunaJets to this spectacular capital today, and upgrade your trip just a little bit more.
Getting there:
Oslo is served by two airports, Oslo Airport, Gardermoen (OSL, ENGM) and Torp Sandefjord Airport (TRF, ENTO). OSL is the main international airport, located 35 km northeast of Oslo city centre. Torp Airport is a smaller airport located 118 km from Oslo city centre. Both airports have private jet terminals. LunaJets recommends Oslo Airport when flying to the Norwegian capital.
Bergen
Bergen is a charming coastal city in Norway with a rich cultural heritage and stunning natural scenery. Visitors can explore the colourful wooden buildings in the historic Bryggen district, take a funicular to the top of Mount Fløyen for panoramic views, or stroll along the picturesque waterfront. For a luxury stay, Hotel Norge by Scandic offers stylish accommodations, a rooftop bar with a panoramic view of the city, and a spa. Enhance your culinary experience at 44, a Michelin-starred restaurant that serves creative dishes made from locally sourced ingredients.
Getting there:
Bergen has one major airport, Bergen Airport, Flesland (BGO, ENBR), located 20 km south of the city centre. It is the second-busiest airport in Norway and has domestic and international flights.
Best events where you can fly by private jet in Norway
National Day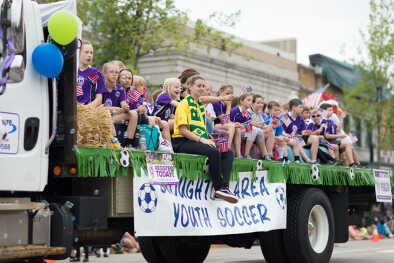 One of the most significant national events in Norway is the National Day, also known as "Syttende Mai" or May 17th. This day is celebrated in honour of Norway's constitution, which was signed on May 17th, 1814. The celebration usually involves parades, traditional costumes, speeches, and plenty of Norwegian flags. Schools and communities organize their parades, with children and adults alike proudly waving their flags and singing patriotic songs. It's a day of national pride and unity, and Norwegians from all walks of life come together to celebrate their country's history and heritage.
Getting there:
To get to the National Day you can arrive at any airport in Norway as this event is celebrated nationwide. Join in the festivities and enjoy the day with fellow Norwegians!