Hire a Private Jet to Medina
What Can You Do in Medina?
Medina is renowned for its pilgrimage tours since it is the second holiest city in Islam. Mecca and Medina are known to be the two most popular sites in Saudi Arabia because of their history to the prophet Muhammad.
Medina hosts two million visitors annually due to pilgrimages.
Madain Saleh Tour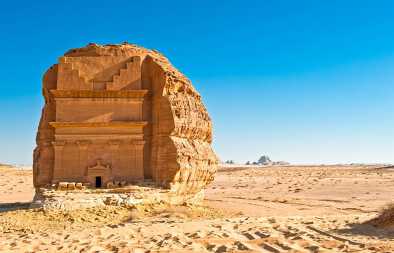 Get ready for a scenic adventure tour! Experience the natural wonders located in Al Ula, the Hijaz Railway Station which was one of the principal railroads of the Ottoman Turkish Empire, then return to Hegra.
Madina's Famous Sites Tour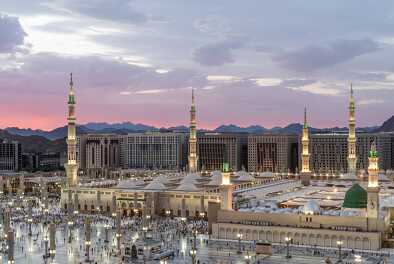 Go on a historical pilgrimage beginning with the age of prophet Muhammad ending with the Ottoman Empire.
Explore Medina Holy & Historical Places
This exploration begins with the first mosque built by Muslim people, Masjid-e-Quba. Then, experience the breathtaking Masjid-e-Quilblateen where Muhammad was commanded to change the Quiblah. The tour progresses to Masjid-3-Juma where he prayed his first Juma.
You will experience the historic 7-Mosques, Shuhada Uhud, Hararat Salman Farsi Garden, and Shuhada Uhud.
Where to Stay in Medina?
Medina hotels are among the most prestigious, and beautifully furnished locations in Saudi Arabia. They offer scenic views close by major attractions.
Dar Al Taqwa Hotel
Place yourself in the lap of luxury at this opulent and prestigious hotel. Close to historic places and airports, this hotel boasts of beautifully furnished rooms, scenic views, and a restaurant serving international cuisine. It also has a beautiful tea garden for light snacks and desserts.
Madinah Hilton Hotel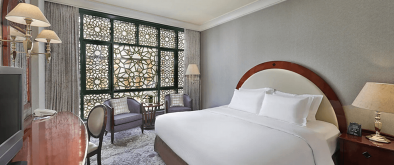 This luxury hotel is the highest rated in the region. It is close to the Prophet Mosque and is in the centre of the shopping district.
The 24-hour front desk facility can help guests at any time of the day or night. If you want to know what sites to see, it also contains a tour desk.
Dallah Taibah Hotel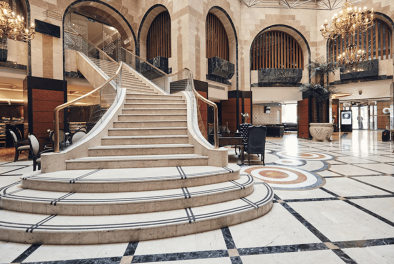 Located in the heart of Medina, this luxurious, five-star hotel is close to major historic sites and the airport.
Rooms are spacious and offer spectacular views of the city. Decorated using an understated classical motif, it provides an air of individuality and sophistication. Each room contains a private bathroom.
Where to Eat in Medina?
Medina's restaurants are beautiful in architecture and scenery. Freshly made cuisine offers a tantalizing experience for your senses.
The Moghul Room
Enjoy an elegant fine dining experience serving authentic and contemporary North Indian cuisine. The Mogul Room is in the lobby level of The Oberoi and contains a stunning view of the piazza Al-Masjid An-Nabawi.
The Mogul Room offers a screened private dining room, or you can create an intimate experience by watching a chef handcraft delicacies in their copper show kitchen.
The Horizon
This stunning rooftop restaurant provides a gorgeous view of Al-Masjid An-Nabawi, and Uhud Mountain. The Horizon contains an elegantly, international menu with freshly prepared specialties from Asia and the Mediterranean.
Al Mandara
Enjoy international cuisine in this contemporary, elegant restaurant. Engulf yourself in an atmosphere that is reminiscent of a luxurious terrace from an ancient palace. The view is breathtaking and the food, divine.
What Events to Attend in Medina?
Medina events are held in Al-Ula known for their breathtaking natural scenery. Events range from attendance in a private members' club, to exhilarating vintage flights, to a romantic, elegant evening under the stars.
Winter at Tantora
Winter at Tantora spans six incredible weeks of dynamic entertainment. This event offers a unique blend of boutique events specializing in culture, music, horse heritage, and food.
Experience Flight in a Vintage Aircraft
This adrenaline-rich event will take you back in time by taking you on a flight in a vintage aircraft. You will experience memorable moments viewing the most beautiful landmarks from the sky.
Ihmah Fashion Cavalry Show
This is where high fashion meets horses in this pinnacle event featuring fashion for riders and mounts. This has been described as a fashion show unlike any other with a dressage team outfitted by global fashion houses.