Hire a private jet to China
Besides, the economic boom and business opportunities this country offers, China is full of surprises that will want to make you come back. The country is full of a glamorous life in the cities of Shanghai, and Beijing and spectacular nightlife will await you in Macau. If you want to travel to the tech capital of the country, private jet charter to Shenzen and if you want to opt for nature, you can go to the interior of the country and even climb Mount Everest.
How can you hire a private jet in China?
Chartering a private jet with LunaJets has never been as easy as this. Ask any of our business aviation advisors for the best possible flight to any Chinese city of your preference. LunaJets can arrange an on-demand charter at your convenience. You can either go to our webpage, download the LunaJets app or call directly. Our aviation advisors stand at your disposal 24/7 and with our fleet of over 4800 aircraft models, you can charter any option you can think of.
What are the best cities to visit by private jet in China
Chinese culture is full of history, tradition, economy and a palette of activities that will keep you entertained at all times. The UNESCO heritage destination of China, has a wide range of offerings, going from alpine climate to tropical monsoon climate.
The longstanding history and beautiful sights of China await you, private jet charter today and go visit one of the wonders of the world.
Shanghai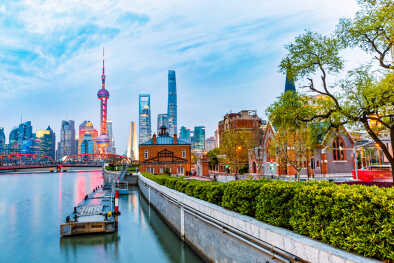 This outstanding city is not only the economical hub of China but has over the years maintained its old-school charm. This is why LunaJets organises many flights to this astonishing city. This urban city by the sea will leave you with incredible views over the skyscrapers.
If you want to get away from the city and balance it out with a feel of the Ming and Qing dynasties stay at Amanyangyun Hotel. Just outside of Shanghai and in the province of Jianxi, this hotel will leave you speechless. Have a relaxing day at the Spa and look at the picturesque surroundings that will make you travel back in time.
Getting there:
Shanghai has two airports, Hongqiao (SHA, ZSSS) and Pudong (PVG, ZSPD). At about 13km from the centre is Hongqiao Airport which is also the most used airport by our private jet clients. Pudong Airport is the commercial airport of Shanghai and at about 30km distance from the centre, it is advised to use Hongqiao airport as it is closer and does not get that crowded.
Beijing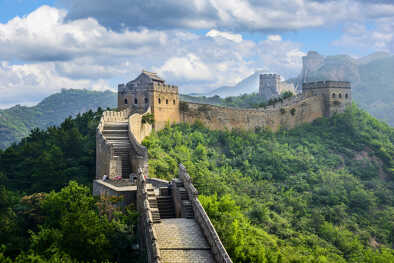 After walking along the great wall of china and stepping foot into the forbidden city for example, the Jing Yaa Tang Restaurant, with one Michelin star, offers the best Peking duck in town and exudes understated luxury.
Getting there:
Beijing has two airports Beijing Capital International (PEK, ZBAA) and Nanyuan (NAY, ZBNY). Capital International being the primary airport of Beijing, has about 100,000,000 passengers yearly, this is why our business aviation advisors suggest chartering to Nanyuan, as Capital airport may get too busy even for private jet travellers. Ask for your private jet charter from Shanghai to Beijing or vice-versa.
Macau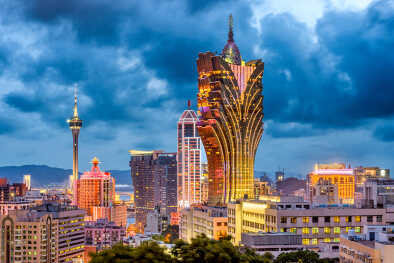 This former Portuguese colony with a view of Hong Kong is the ultimate gambling paradise. Having been transferred back to China in 1999, it is often referred to as the Las Vegas of the east and of course includes all kinds of luxurious stays and activities.
If you want to have the real Macau experience, why not stay at the Venetian Palace and of course, arrive by private jet? The Venetian Palace offers 3000 suites and is the world's largest casino Resort. Amongst the resort, there are 30 dining options and a shopping area, in case you are not a fan of gambling. There is also a wide variety of shows available for every taste.
Getting there:
Macau, like Beijing and Shanghai, also offers two airports. Macau International Airport (MFM, VMMC) and Zhuhai Sanzao (ZUH, ZGSD). Even though Macau Airport is closer, Zhuhai Airport has better facilities and is more convenient for business jet travellers. It hosts the largest airshow in China, China International Aviation and Aerospace Exhibition.
What is the best event to reach by private jet?
The Lunar New Year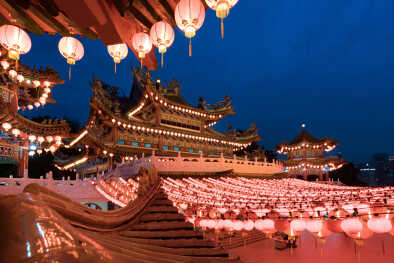 Also called Chinese New Year, begins on the new moon appearing between the 21st of January and to 20th of February. The holiday, defined by the moon lasts for 15 days, which are filled with all kinds of celebrations nationwide. It also marks the transition of the zodiac signs, 2023 being the year of the rabbit. Being the biggest festivity in China, it traditionally honours deities and ancestors and is celebrated amongst family and friends.
Getting there:
As this festivity is nationwide, you need to choose, where you want to charter your jet. Beijing has temple fairs, Guangzhou has flower fairs, Hong Kong has large extravaganzas and Harbin has its snow and ice festival. Why not private jet charter to all locations and combine your 15 days of celebrations with tourism and culture?