How Much Luggage Can You Take On A Private Jet?
One of the perks of flying on a private jet is that you have far fewer limitations than when flying with commercial airlines. You have no hidden luggage fees to worry about and no concern over lost luggage in transit.
But there are a few details to consider when selecting the right jet for your journey. Some space and safety-related luggage limitations still apply. The best strategy is to select a jet with the right capacity for your luggage needs.
When flying private, you can carry some bags inside the cabin and the rest in the aircraft hold. We measure the capacity of the aircraft's hold in cubic metres. A cubic meter is more room than you might think. For example, a washer and dryer combined can fit a cubic metre of space, as can a love-seat sofa for two. But you're probably not flying with your appliances, so what about luggage?
You can calculate the cubic metres of your luggage as follows:
Length (in metres) X Width (in metres) X Height (in metres) = Cubic metres (m3).
A small cabin-sized suitcase measures 45 cm X 32 cm X 18 cm. That equals 0.026m3 of the private jet's hold capacity.
We've created a handy chart to help you figure out most of your luggage needs.
| Luggage Category | Height | Width | Depth | Cubic Metres |
| --- | --- | --- | --- | --- |
| Small cabin suitcase | 45 cm | 32 cm | 18 cm | 0.025 m3 |
| Large cabin suitcase | 50 cm | 36.5 cm | 23.4 cm | 0.043 m3 |
| X-large cabin suitcase | 56 cm | 38 cm | 24.5 cm | 0.052 m3 |
| Medium checked suitcase | 60 cm | 43 cm | 26 cm | 0.067 m3 |
| Large checked suitcase | 69 cm | 47 cm | 35.5 cm | 0.115 m3 |
| X-Large checked suitcase | 81 cm | 55.8 cm | 35.5 cm | 0.16 m3 |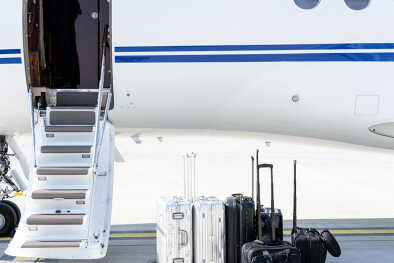 If you travelled with one each, combining all six suitcase sizes listed, your total luggage volume would be under half a cubic metre (0.462 m3). Most private jets can accommodate that (and more).
For example, a very light jet, like the Embraer Phenom 100, which seats four passengers, has a luggage capacity of 1,5 m3. That's usually enough luggage room for passengers travelling alone or as a couple. When you reach the maximum seating capacity of four, however, you want to ensure that your party's combined luggage can still fit onboard.
If you need extra luggage space, you may want to consider booking the next larger jet. A Midsize Gulfstream G150, which can seat six, has a luggage capacity of 2.2 m3.
If you've got a lot more to carry, the Midsize Embraer Praetor 500 has a cabin large enough to accommodate eight passengers and offers a generous luggage capacity of 4.38 m3.
Irregularly sized items may affect your aircraft's luggage capacity. Two standard adult bicycles, for example, will use up a cubic meter of storage volume. You may also want to check how skis, folding baby strollers, wheelchairs, or similar items combine with your luggage needs.
Our aircraft comparison tool will help you find the right jet for your needs. You can compare luggage capacity, seating capacity, speed, range and other important factors. Consult your LunaJets advisor when booking if you have any doubts.
The luggage you carry in the cabin should not pose a risk of injury during unexpected turbulence. You may be asked to store certain items in the hold instead of bringing them onboard. Your flight attendant may stow away some bags for take-off and landing.
All aircraft have technical limits on their take-off weight. The combined weight of your luggage must fall within the aircraft's weight limitations for safe operation. If your luggage contains heavier than usual items, you may want to consult your LunaJets advisor.
If you're flying on an Airbus or Boeing VIP airliner aircraft, luggage volume increases dramatically. They can also accommodate your luxury car and that Ducati motorcycle you picked up during your holiday in Bologna's Motor Valley.
No matter which jet you select, you won't have to worry: your luggage will travel with you, will be kept safe on your jet, and will be available to you immediately after landing. That should make you feel lighter when you fly in luxury and privacy with LunaJets.